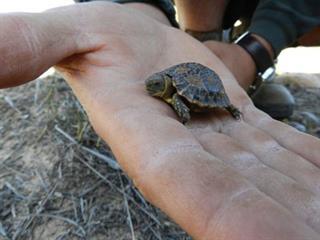 South Africa is a tortoise hotspot, with more species of these reptiles than any other country: no fewer than 12 species are found here. One, the geometric tortoise (Psammobates geometricus), is endemic to the Western Cape, and today only about 1 000 of their number are left. The species is on the brink of extinction.
In 2012, half of the largest population of the tortoise – all in a nature reserve – were killed in a veld fire. Only 250 tortoises survived.
Reserve manager, Bernard Wooding, says that the geometric tortoise has been conserved in this reserve since its establishment in the 1970s.(The name of the reserve is being withheld so as not to reveal the location where the tortoises are being kept.)
Captive young tortoises are reared in veld habitat to ensure a correct diet.
A research and breeding programme was set up after the veld fire and this is currently the only breeding project for the species. Because they do not survive out of their natural habitat, the breeding project is in situ.

Dramatic decline
The most recent survey, carried out in 2002 by Cape Nature, estimated that about 3 000 geometric tortoises remained in the wild in pockets of habitat. Tortoises in the nature reserve were estimated at between 1 000 and 2 000 of the total population. However, after the 2012 veld fire, a different picture emerged.
"We found there were only about 500 tortoises in the reserve and at least half of these had been killed in the fire," explains Bernard. Of the 100 tortoises rescued by a team of 30 people working for two weeks, 60 went into the breeding project and 40 were returned to the reserve.
The geometric tortoise is listed as Critically Endangered on the IUCN Red List and under the SA National Environment Management Biodiversity Act.
Habitat loss, fire, competition from other animals and predation all pose serious threats to the species' tiny population.
The tortoise's habitat of Lowland Renosterveld is itself severely restricted due to encroaching wheat and grape farming, degradation by feral pigs, invasive vegetation and fire.
"It would have been easy to say that the fire was nature running its course, but because there are a lot of artificial negative impacts on the tortoises we stepped in to help," Bernard explains. He adds that fires have become more frequent due to drought, possibly linked to climate change.
Predators of the geometric tortoise include feral pigs, baboons, white-necked ravens and pied crows.
"We think the feral pigs have learnt to eat tortoises, because while the pigs have been in the area almost as long as the tortoises have, we've recently been finding tortoise shells bitten in half by pigs."
Yet another threat to the species comes from poachers supplying the illegal pet trade.
"Luckily, the tortoises are very difficult to find," says Bernard.
Even so, Czech poachers were caught in 2002 with 23 geometric tortoises destined for the illegal pet trade market. Geometric tortoises have been advertised for sale in Germany on the Internet.
When tortoises are picked up they expel their pungent urine as a defence mechanism.Unfortunately, this
also causes them to dehydrate quickly, which means that poached tortoises seldom survive for long.

Breeding programme
"We have two camps in the project," explains Bernard. "The main breeding camp, is obviously for males and females. The other is for egg-laying and growing out the hatchlings. The egg and hatchling camp is electrified to keep out feral pigs, honey badgers and baboons. Even ostriches will eat little tortoises."
Fire-induced mortalities reduced the population of geometric tortoises in one area by 50%.
A firebreak has been established around the enclosure and the tortoises in the programme are fitted with transmitters so they can be found quickly. Adult tortoises are weighed monthly to check they are maintaining condition.
"Just before the egg- laying season in September, ultrasound scans are conducted to see how many eggs each female is carrying," says Bernard.
Prof Margaretha Hofmeyr from the University of the Western Cape performs the scanning and visits the reserve again at the end of January to see how many eggs have been laid. The tortoise nests are protected with netting and adults are taken out of the egg-laying camp to prevent any digging up of eggs. They are then moved to a larger area with a wide selection of food and shelter, which helps them to stay in good condition.
"When eggs hatch at the end of March and in early April, we search the area daily to pick up hatchlings. Even mice predate on newborn hatchlings," explains Bernard.
As the hatchlings are found, they are removed from the veld and taken to a terrarium planted to mimic the veld with food, water and shelter. Here the young tortoises are well fed and cared for over the course of a year as part of an intensive programme.
Hatchlings are weighed every 10 days, with weight used as a measure of successful diet.When the tortoises are a year old, they are taken to an aviary in the veld. Here they are protected from ground and aerial predators and start learning to forage for themselves.
"We grow indigenous food plants and carrot sprouts for them in our nursery," says Bernard.
The main focus is on natural food, which is what the reptiles learn to select. After seven years the tortoises will be moved to a bigger camp. They are generally safe from predation by crows when they measure more than 10cm in length.
After about 10 years, when they reach breeding age, they will be released into the greater reserve. The goal of the programme is to breed 150 to 200 animals to replace those that died in the fire. Since its inception four years ago, 40 tortoises have been raised.
"With this in situ breeding, we have a survival rate of about 80% of hatchlings, so it really kicks things into high gear," Bernard explains.
The survival rate in the wild is unknown at present but we think it's similar to turtles, where fewer than 1% of eggs laid make it to adulthood."
Because the reserve is part of the CapeNature stewardship programme, a conservation initiative programme for farmers, CapeNature also keeps an eye on the wild tortoise population in the greater reserve. Conserving the geometric tortoise is a prestigious part of this stewardship programme. "Amongst other things, CapeNature helps us with alien plant clearing and fire- fighting," says Bernard.
Egg cycle and climate change
Ten years ago, Prof Hofmeyr scanned female tortoises and discovered that they could lay eggs twice a year. Today, however, their egg-laying cycle occurs later – just before summer. Late cycles mean that tortoises can lay only one batch of eggs a year, which cuts the number of eggs by 50%.
This single-cycle pattern may be due to climate change. Asked about the lack of publicity around these critically endangered reptiles, probably the tortoise species closest to extinction, Bernard says: "It may be because they're very cryptic and difficult to find and see."
Every species has value in a diverse system and the efforts of Bernard and his team should be supported.
Phone Dr Andrew Turner, at CapeNature on 021 866 8000 or email [email protected].