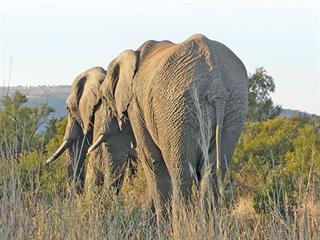 According to the Convention on International Trade in Endangered Species (Cites) 17 000 elephants were illegally killed in Africa in 2011 at sites monitored by the organisation for Monitoring the Illegal Killing of Elephants (Mike). Cites estimates that the African elephant population has declined since 1989 from 600 000 to 470 000. Ivory poaching in South Africa with its population of about 23 000 elephants (African Elephant Database) is nowhere near the levels it is to the north – but according to some, it's a matter of time.
Death zones
In Kenya, Zambia, Mozambique, Zimbabwe, Tanzania, the Central African Republic and the Democratic Republic of Congo (DRC) elephants are killed by poachers at an alarming rate. In SA they are currently focused on rhino. "I've heard of an elephant cow being poached in Tembe (elephant park in Zululand), but only rumours about the Kruger National Park," says Dr Henk Bertschinger, expert on elephant contraception.
Read: Erecting fences in the memories of elephants
According to Julian Blanc, data analyst for Cites' Mike programme, poachers will select rhino as the reward is higher than the risk. "But if the price of ivory increases, they will turn their attention to South Africa's elephants," he cautions. Mozambique lost an estimated 2 500 elephants between 2009 and 2012. In Zimbabwe recently, 103 elephants died after several waterholes and salt licks in Hwange National Park were poisoned with cyanide. Many other animals, including lions, antelope, hyena and birds, also died.
Markets and the law
The market for Africa's ivory is linked to a growing class of wealthy Asian consumers. About 25% (300 millon) of China's population are considered to be middle class. Their increasing spending power has fuelled a demand for previously unaffordable status products such as shark fins, rhino horn, lion bones and elephant ivory.
In Africa, anti-poaching attempts are hampered by a lack of proper legislation. A recent study by the Conservation Action Trust (CAT) into poaching legislation and penalties in 11 southern and central African countries found that laws dealing with the illicit trade and hunting of wildlife were woefully inconsistent.
"In some cases, laws don't properly convey the message that poaching is a crime," says CAT founder Francis Garrard.
In an attempt to curb elephant poaching in Africa, the International Union for Conservation of Nature (IUCN) has called an Emergency African Elephant Summit in December. It will be hosted by the government of Botswana, and will include heads of state, civil society organisations and conservation experts.
According to the IUCN, elephant poaching poses serious security, economic, political and ecological threats. "These crimes increase in frequency and severity, and expand into previously secure elephant populations. Criminal gangs and militia use sophisticated military hardware to kill elephants and they take advantage of corruption at high levels to move ivory across borders and off the continent.
"In some cases, proceeds from the illegal ivory trade are used by criminal networks to undermine democratic rule in African states and to fund armed militias and rebels engaged in internal and cross-border conflict," says the IUCN statement.
According to IUCN, these groups include al-Shabab, which used ivory proceeds to fund the Westgate Mall attack in Nairobi.
Many elephant range states have ivory stockpiles, and pressure is mounting for these to be put on the market.
Read: Dating tusks to curb ivory trade
In 1989 the USA imposed a unilateral ban on the import of ivory followed by a Cites ban. Under pressure from South Africa, Zimbabwe, Namibia and Botswana, Cites down-listed elephant protection and allowed a once-off sale of ivory stockpiles. In 2008 it approved another stockpile sale.
A report by the International Fund for Animal Welfare (IFAW), Making a Killing, states that after the Cites-approved sales China imported 62t of ivory. According to the IFAW the legal trade in China 'sustains and perpetuates a rising demand for elephant ivory'.
Prof Rudi van Aarde, a scientist who has worked with elephants for more than a decade, says that "the precarious status of Africa's elephants is not really a matter of debate" and that "large-scale poaching driven by syndicates may be more intense than ever before".