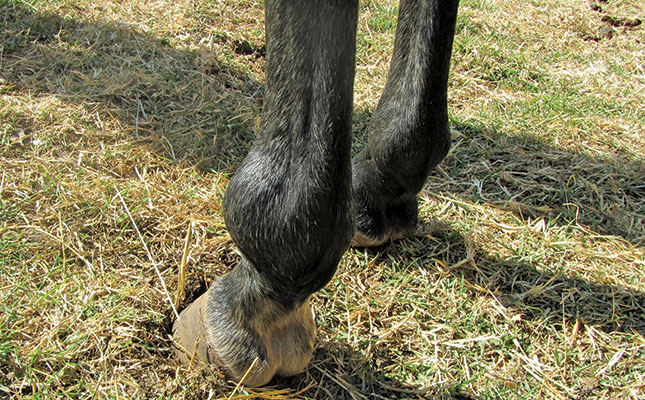 Equine osteoarthritis, also known as degenerative joint disease, is a common reason for euthanasia in racing and performance horses.
Although it is mainly seen in older horses that have worked hard, it can be found in horses as young as three years old, just after they are put into training. It is characterised by damage and loss of the articular cartilage found within joints.
The main joints affected by osteoarthritis are the pasterns and fetlocks of all four limbs, the carpus (front knee joint) and the hock and stifle.
Damage to articular cartilage can be caused by repeated low-grade trauma, such as trotting on a hard surface or overextension of joints during galloping, or even a single incident such as a kick from another horse.
The damage to the cartilage is usually already very severe by the time the horse becomes lame.
Treatment
There are three main forms of treatment for equine osteoarthritis. Traditionally, vets used corticosteroids, often injecting them directly into the affected joint. Although this often results in rapid clinical improvement, there are risks and side effects.
Cortisone is a potent anti-inflammatory, and the only healing effect is the indirect result of decreased inflammation in the joint. Pain and swelling decrease, but the damaged cartilage does not regrow.
There is also the possibility of septic arthritis if pathogens are introduced into the joint during injection. Over the long term, even injecting cortisone intramuscularly or mixing pills in the feed can result in severe side effects.
The second treatment is the use of non-steroidal anti-inflammatory drugs. Phenyl-butazone was very popular in the past, but has been withdrawn, mainly due to its toxic effects on humans who consume horsemeat or beef from treated animals.
Several newer proprietary drugs such as Rimadyl and Metacam have come onto the market, but although very effective in the short term, these drugs have long-term side effects on kidney function, and are likely to result in stomach ulcers.
They are also palliative in that they reduce pain and inflammation, but do not promote healing.
The third treatment is a group of chemicals that claim to have curative properties, and contribute to healing the damaged cartilage. While many practising vets support the use of glycosaminoglycan, such as Adequan, and hyaluronidase, such as Legend, their use is controversial as researchers have repudiated claims that these drugs, used individually or together, can repair damaged cartilage.
Recent research by the manufacturers has suggested that both drugs can be used intramuscularly, which is much safer than intra-articular or intravenous use. Although they were previously available over the counter, international regulatory authorities have now made them prescription drugs.
Costly and regulated
Glycosaminoglycan and hyaluronidase are mainly used for performance horses. They are not locally available, but your vet may be able to supply similar compounds that are available here.
However, they are costly at about R1 500 per day for a five-day course of injections.
These drugs are often used if swelling or pain is seen in a fetlock, carpus, hock, or stifle joint directly after the horse has participated in an event. Some vets and owners also use them before the event. However, this must be done in line with FEI rules where applicable.
Dr Mac is an academic, a practising equine veterinarian and a stud owner.