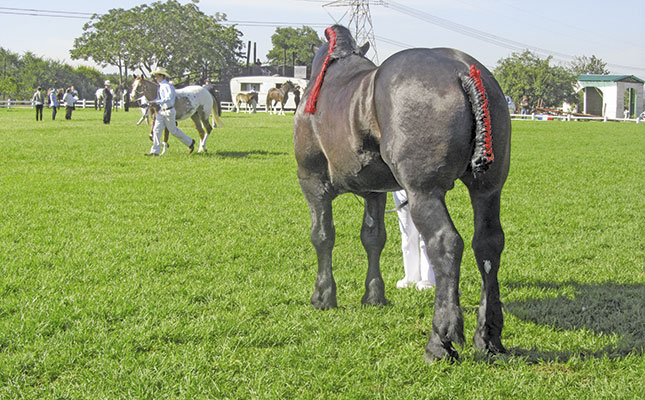 Agriculture may have been mechanised, and showing these days mainly involves fast-paced light horses. Yet the numbers of Percherons are increasing, not decreasing, around the world. The history of this big French draught breed is well summarised on the breed society website, percheronsa.co.za.
Percherons were brought to South Africa shortly before the Anglo-Boer War, to work in the winelands and on the wheat farms of the Western Cape. They were also used in urban areas to pull heavy loads, as they were easier to manage and stronger than oxen.
The first entries in the South African Studbook were two stallions imported from France called Hammer and Jones. More imports, mostly by the government, followed and the horses were bred at state-owned farms and colleges, notably Potchefstroom, Grootfontein and Elsenburg near Stellenbosch. They were also used for breeding draught mules with Spanish Donkey stallions at the Onderstepoort Veterinary Institute, where they were used for draught, ploughing, planting and harvesting lucerne until about 1970.
Today, South African Percherons are bred only at Elsenburg, but a large number of private breeders have emerged and the breed is becoming well-known at the Horse of the Year Show and other major showing venues.
The gentle groundshaker
One breeder explains the allure of the Percheron succinctly: "They are heavier and much slower than other breeds, but when you ride them at the canter, the ground shakes and the thunder of hooves is exhilarating." Percherons are bred for stable temperament and are generally easy keepers. They are also used for crossbreeding to produce handy hunters – horses that can be used for anything from farm work to eventing, jumping or working hunter at local shows.
Of course, they are also wonderful carriage horses and, although the huge teams of eight to 10 horses exhibited at wineland shows in the 1950s and 1960s are now seldom seen, they are still shown four in hand or as a matched pair.
Farm worker
From a farmer's point of view, draught horses are still a feasible option today for haymaking and other tasks, and in fact have become increasingly attractive as the price of diesel climbs. It's certainly a way your hobby can pay for itself. A word of caution: working a horse like this is not recommended if you do not understand horses well.
Breed characteristics
The breed society states that a good Percheron must stand over 16 hands high and give an overall impression of weight and strength. Individuals weigh between 800kg and 1 000kg. Temperament is important: the horse should be a willing worker and easy to handle. Hindquarters must be massive and well-muscled.
Despite their size, Percherons are active, easy movers. This trait goes back to the fact that Napoleon Bonaparte, who always rode Arabians and named them after the battles he won, decided to breed Arabian blood into French draught horses.
Besides contributing to the good movement, the Arabian influence can be seen in the refined heads and kind eyes of these gentle giants.