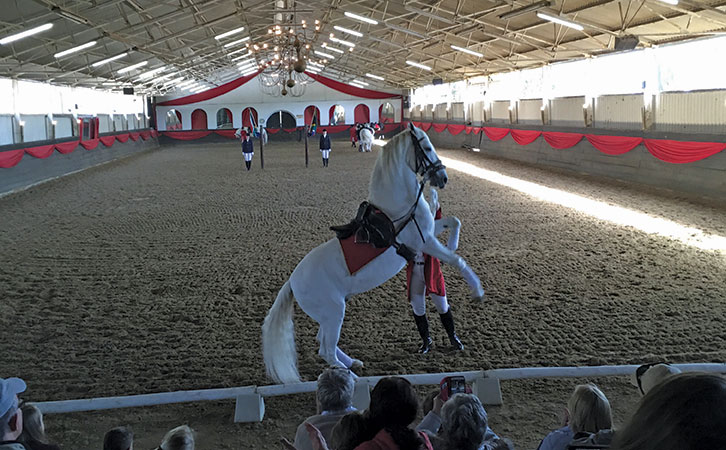 The Lipizzaner breed dates back to 1580, when Archduke Charles II of Austria started a stud in Lipizza, a city in modern-day Slovenia.
Barb and Arabian bloodlines were crossed with Baroque-type horses of Spanish and Neapolitan descent to breed light carriage and riding horses. The Spanish Riding School originated over a century later in 1729, when Emperor Charles VI commissioned the building of the Winter Riding School in Vienna.
During the Second World War, the Lipizzaner stallions at the Spanish Riding School, as well as the brood mares and foals, were rescued by the US Army.
The South African Lipizzaners, however, originated from a private stud owned by Count Jankovich-Beson. They were rescued from the Russian advance in 1944, and then exported to England in 1947.
When the count and his family immigrated to South Africa in 1948, the mares and stallions ended up on a farm near Mooi River. Georg Iwanowski, who had been in the horse-breeding department of the Ministry of Agriculture in Poland, immigrated to South Africa in 1948, and started working as a riding school instructor, where he promoted the art of classic dressage.
The count, after meeting Iwanowski at the Royal Show in Pietermaritzburg, asked him to train the three-year-old colt, Maestoso Erdem. Erdem went on to win the National Dressage Championship. By 1960, Iwanowski had built up an equestrian centre in Kyalami, and in 1969 built the covered arena, which is where the South African Lipizzaners still give displays every Sunday.
Breeding and training
Lipizzaner horses are relatively small (about 15hh) and stocky, with powerful hindquarters. Originally occurring in many colours, Lipizzaners are now mostly grey, although they are born black or bay and lighten over time.
There are six classical lines that trace back to the Lipizza stud, namely Pluto, Conversano, Maestoso, Favory, Neapolitano, and Siglavy.
All stallions are given two names: the first is that of the sire, which indicates which of the six lines he belongs to, and the second is the name of the dam.
Only stallions are used for exhibition. They are brought in for training at between three and four years of age, and are lunged frequently to build muscle. Positive reinforcement is used during groundwork to build the partnership between rider and horse.
Once the horse is accustomed to being ridden, it is taught to steer and move forward freely. This is the remount phase, which lasts about a year. During the campaign phase, which generally lasts three to four years, the stallion is taught collection, balance, flexion and lateral movements at all gaits.
Haute école ('high school') dressage, where the horse learns flying changes, piaffe, passage and airs above the ground, is the third phase.
This systematic approach to training is probably why Lipizzaners are able to do advanced dressage up to the ages of between 20 and 30.
Dr Mac is an academic, a practising equine veterinarian and a stud owner.