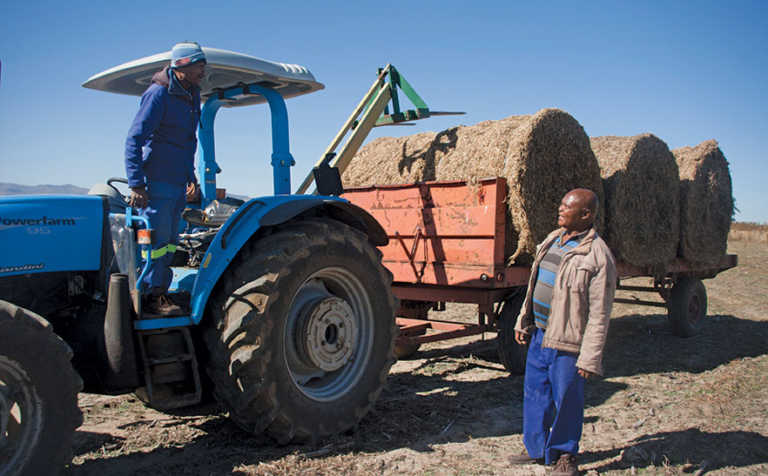 It's a bright, clear winter's day at Daniel Maqala's farm in Rosendal in the eastern Free State.
When we arrive, his wife, Dineo, is sitting in the sun outside the shed, sifting through a hail-damaged sugar bean harvest. She's looking for beans that will still make the grade for delivery on a contract Maqala has with the World Food Programme.
READ How Nerpo boss and his sister rescued a land reform farm
This has not been an easy production season. However, through mentorship by various role players, a by-the-book approach and a willingness to put in the necessary hard work, this up-and-coming commercial grain farmer is still on track for a good yield.
The son of a farmworker in Ficksburg, Maqala remembers how, after school, he would sneak off to the lands to ride on the tractor with his father.
He left school at 15 years old to work on the farm after his father died, but soon left for Johannesburg, where he spent years as a truck driver for Bakers. "I can still smell the biscuits," he recalls.
His next foray into agriculture was when he bought an old Bedford truck to sell cabbages. He then ran his own general dealer business in QwaQwa in the eastern Free State for years before selling the shop to venture into the taxi business in the early 1990s.
Around 2000, Maqala felt the need for a change and started his first livestock venture with 60 cattle run on land leased from the municipality.
He also applied for land through government's Proactive Land Acquisition Strategy and in 2005 was granted a 30-year tenure for the 326ha farm Die Hoop in the Rosendal area.
He later approached the Land Bank for a loan, which he used in 2010 to buy his own land: the adjoining 197ha farm, Kosmos.
In addition, he has leased more lands to bring the total area on which he runs his mixed cropping and livestock operation to about 700ha.
Guiding hand
Today, Maqala is a recognised new commercial farmer and can lay claim to having become a member of the Grain SA 500t Club. He's also one of three finalists in the annual Grain SA New Era Commercial Farmer of the Year competition.
He is doing things by the book, under the mentorship of Johan Kriel, the regional manager of Grain SA's farmer development programme. Other partners in his development include
The Jobs Fund, the Grain Farmer Development Association, government, and VKB.
Simply the fact that for the past three seasons Maqala has been granted a full production loan by VKB says a lot about his business acumen, notes Kriel.
In January this year, he harvested 168t of wheat. He also planted 102ha to maize, 78ha to sunflower, 67ha to soya beans and 69ha to dry beans (sugar beans) for the 2017/2018 summer cropping season.
The crops were battered by hailstorms in February but Maqala had insurance, which paid out damages on 40% of his anticipated maize harvest, 50% of his sunflower crop, 70% of the soya crop and 90% of the sugar bean crop.
Reviving an industry
"I'll be able to pay back all the debt on my production loan," he says. The season improved from there, and crop recovery was far better than expected.
Now he's diversifying his cropping activities and hedging against risk by investing in the rejuvenation of an industry that was once very prominent in the eastern Free State, namely asparagus.
He is collaborating with four other farmers who have planted some 75ha as part of an initiative driven by VKB. He's hopeful it will generate good income, but says it's about more than that.
READ Sugar beans: A good harvest against the odds
"I don't want to be doing what everyone else is doing," he explains.
He personally established 30ha dryland asparagus in August last year: 15ha for himself and 15ha for another farmer. He will also be managing the crop during various production phases.
According to Kriel, who used to manage an asparagus farm in the region in the 1990s, properly established asparagus lands can produce for about 12 years.
He says the crop was farmed extensively in this region, and estimates that there were 1 500ha to 2 000ha under asparagus between the 1990s and mid-2000s.
Numerous factors played a role in the decline in production, he experienced in the export market, currency challenges, labour legislation issues, and the closure of a canning factory in Ficksburg.
An asparagus land is not much to look at, putting one in mind of a common roadside weed known as katbos or wild asparagus. Stems die down every year in winter, but masses of fleshy roots thrive beneath the soil. These increase in number and put out new shoots each spring.
The immature shoots or 'spears' are then harvested 'green' or 'white', to be consumed fresh or for canning purposes.
Asparagus must be quickly pre-cooled after harvest and immediately graded and prepared for delivery to fresh or processed markets.
Kriel, who is now passing on his years of first-hand experience to Maqala, says asparagus production is labour-intensive and has huge seasonal job-creation potential.
He recalls that when he was in the industry, they would house about 200 employees at the farm for the entire harvest period. He estimates about 16 000 seasonal jobs were provided when asparagus production was at its peak.
Harvest time comprises 10 to 12 weeks of non-stop precision activity. Timing and handling are critical as asparagus is considered highly perishable and needs to be managed carefully to prevent loss of tenderness, flavour or nutritional quality.
Harvesting is carried out by hand and begins before sunrise each morning, as soon as the tip of the spear starts to emerge above the ridges. Maqala will probably be able to take off his first small harvest, spanning about six weeks, from mid-September.
The future
He has big plans for his farm. Walking around with his three-year-old son, named Maqala, in his arms, he speaks about the house he intends to build with sandstone he has had cut from a quarry on his farm.
READ Hire a farmer to grow your food
He has four older children who live in town. They are eager to get involved in agriculture, he says. "They help me when I am busy pulling up sugar beans – they like it a lot."
Maqala is upbeat about getting the asparagus business off the ground with the help of his mentors. He believes the collective approach the farmers are taking will mean better use of expensive resources, such as equipment or a packhouse, as well as providing market access through the relationship with VKB.
He is thankful to have formed good working relationships with many local farmers.
He enjoys being a farmer, but admits it is not an easy occupation: "It can be tough – you have to be willing to work hard."
Phone Daniel Maqala on 072 542 4715 or Johan Kriel, regional manager of the Grain SA farmer development programme, on 079 497 4294.