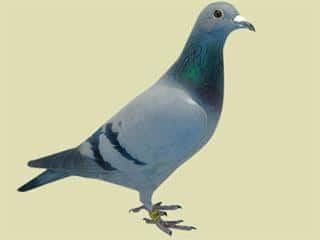 The Dinokeng Racing Pigeon loft complex is situated near Pretoria and the Dinokeng Game Reserve. The final event of the 2013 Dinokeng International One Loft Pigeon Race was held on Sunday, 25 August. The liberation point was Gariep Dam, about 623km away. In contrast to a fast, pre-final training season, the race was flown in a nasty north-easterly wind. Only 22 of the 644 participating pigeons managed to make it back to the loft before nightfall. At the time of writing, more than 400 birds had returned. The total prize package exceeded R1 million. Table 1 shows the top 10 pigeons home.
Ace Pigeon
The Dinokeng Ace Pigeon (Best Bird) was decided over four pre-final races – Ventersburg (304km), the three Super Turbo Races and the main race. The velocity of every pigeon entered (calculated at m/min) was added together over the five races to decide the winner, as shown in Table 2. The R35 000 Two Bird Competition was won by the first entrant with two pigeons home in the main race. This was Clausing & Engelbrecht of South Africa with A1-Shortcut (1st) and A1-Airoflite (15th).
The R35 000 Three Bird Competition, for the first entrant with three pigeons home in the main race, went to Alwyn Bester of South Africa, with Kiki (7th), Zulika (38th) and Christien (57th). SA's Pigeon Friends picked up R35 000 as the first entrant with most birds home in the first 200 places (11).
Super Turbo Races
There were three Super Turbo Races, with R17 500 going to the winner in each instance:
From Bloemfontein (1 447km) – won by Rasim Nihat of Bulgaria with Rebecka.
From Bloemfontein (2 447km) – won by Boshoff and the De Kok family of South Africa with Darius.
From Trompsburg (556km) – won by Diaz One Loft & Jacques de Coning of South Africa with Bazzy-Baz.
Club members could pool together and enter a pigeon in the name of the club. These automatically qualified to participate in the pre-final competitions, as shown in Table 3.
Watch the pretraining of pigeons. For more training videos visit www.dinokenglofts.co.za