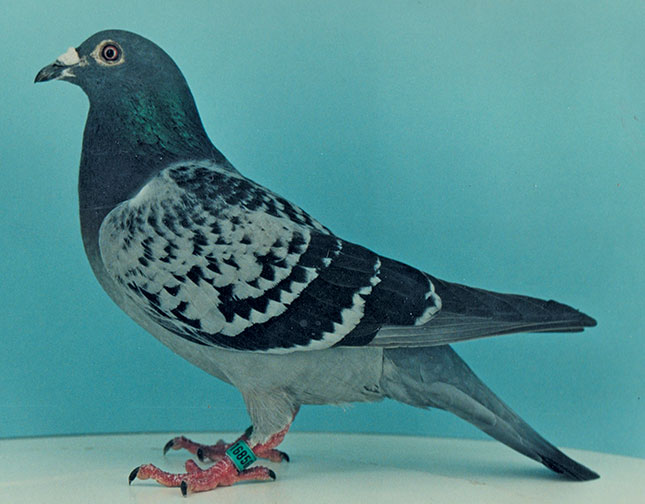 Gysie Britz was introduced to racing pigeons at the age of 10 by fanciers Andries van Straten and Josie Ferreira.
"I started with active pigeon racing at Westdene Racing Pigeon Club in 1959," he recalls.
"Later, I participated at Mayfair Racing Pigeon Club and the Mayfair South Golden Reef Racing Pigeon Association, then rejoined Westdene.
"I stopped racing pigeons in 1970, but in 1986 the pigeon bug bit again and I established a loft in Brackendowns, which fell outside the membership boundaries of the Transvaal Racing Pigeon Federation and the then Transvaal Homing Union."
At the time, there were 26 fanciers in the area and they formed their own club, which was affiliated to Meyerton Racing Pigeon Club.
"The pigeons were basketed for the race events at my home and transported to Meyerton," says Gysie.
He moved to Mayberry Park in 1989 and joined Alberton Homing Society in 1990.
"I retired from pigeon racing in 2004, but, at 80 years old, I'm still involved in the sport in numerous ways," he says.
"My preferred strain or pigeon bloodlines are: Oscar De Vriendt [and] Huyskens Van Riel, from Ivan Kitchenbrand via Hilton Harper; Janssens, from Trevor Gilbert; and Fihrens, which often had to be brought back to the loft from an outside toilet where they insisted on making nests!"
Highlights
Asked about his performance highlights, Gysie recalls that in 1990, during his first year at Alberton, he timed in the only pigeon back on the same day of liberation from Richmond.
"In 2002, again from Richmond, only 10 pigeons made it back on the same day of liberation, and mine scored first, third, fifth and seventh.
"It was also very special to score top union position in the short- and middle-distance out of 4 000-plus birds, as well as winning the long-distance union event in the Three Sisters Old Bird National out of 2 110 birds, all in 1993.
"In 1999, one of my favourite pigeons, SA TRPF 98 16856, won 1st Club/1st Union from Cradock, beating 4 378 birds entered by 232 members."
Inspiration
Over the years, Gysie has been inspired by a number of other fanciers. Chief amongst these are Lou Holbert and Chris Neethling.
"[Their] pigeons formed part of the proudly SA pigeon families during the early years of our sport until the present day," he says.
Fanciers Cilla Keizer, Aubrey Louw and Trevor Gilbert were also an inspiration to him.
Advice for beginners
Asked what he would do differently if he had to begin all over again, he replies: "I'd
start with the best genetic quality I could afford, as the sport is very competitive and expensive. You can't waste time and money with mediocre pigeon stock!"
Beginners in the sport should also start with the best basic loft they can afford.
"It doesn't need to be expensive, but it must be effective in terms of its construction, providing good shelter and ventilation.
"Make friends with a champion fancier you can trust and learn the basics of how to be successful in pigeon racing early in your career; this will give you a head start."
Thomas Smit is a racing pigeon selector, and a freelance journalist and writer.