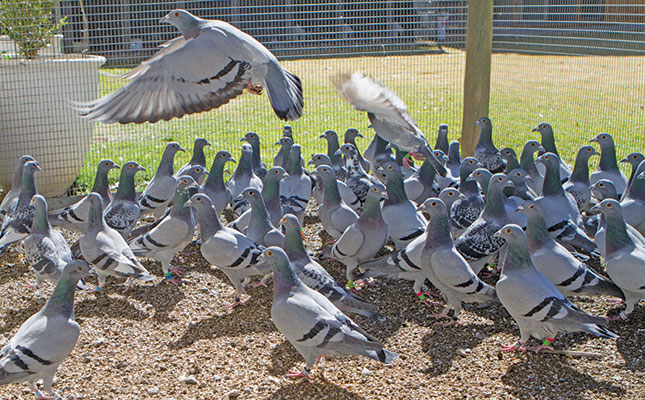 There is not a cloud in sight on a crisp Free State winter's day as brothers Daniel and Justin King scan the open sky above them.
They dismiss each speck that flutters by until they spot the flash of white in the distance. The racing bird circles closer, distinctly different from the wild pigeons that flew past earlier.
This pigeon is small and streamlined, built to race. It has flown nearly 450km since being released that morning and is the first of 16 birds expected to clock back in at Kingslea Lofts today.
The King brothers and their father, John, have been involved in pigeon breeding and racing for many years, and are currently members of the Shannon Pigeon Club under the Bloemfontein Pigeon Federation (BPF). Last year, they finished second overall in the BPF league. This year, they hope to win as they move forward in their quest to turn their hobby into a full-time career, and ultimately to breed, in their words, "a million-dollar pigeon".
Organised races
All pigeon races in South Africa operate under the auspices of the South African National Pigeon Organisation (SANPO). According to vice-president George le Roux, the annual racing season runs from the first weekend of June for about 18 weeks until the end of September or the beginning of October.
To compete, individual lofts, such as Kingslea, join a club in the area where they are based.
The clubs in a town or region form part of a federation, such as the BPF, and the federations, in turn, fall under SANPO.
There are two race classes, namely yearling races for birds that turn one year old in the year they start racing, and open classes, into which any bird can be entered.
"Normally, people will race a bird up to the age of four or five. After retiring from racing, if the bird has an exceptional race pedigree, it goes to the stock loft for breeding," says Le Roux.
Races are held across three distances, beginning with short flights at the start of the season (280km to 460km), progressing to middle-distance (460km to 600km), and finally building up to long-distance races (600km to 900km).
Races such as the famous South African Million Dollar Pigeon Race are known as one-loft races. Here, breeders or owners enter their birds into the race loft, but take no part in the training or management of the birds thereafter.
Breeding a winner
Breeders base their pairing and selection decisions on various criteria, such as type, conformation and bloodlines. The majority would agree, however, that race or performance pedigrees are the most important factor.
The Kings start pairing in May or June, and breeding continues until December or January. Each breeding pair is placed in its own compartment to breed, hatch and raise chicks.
"The pair will produce three or four clutches per season, with about two chicks per clutch," says Daniel.
The chicks are weaned when they are about 30 days old. After weaning, the young birds are moved to a weaning loft to ensure they are eating well on their own before they are moved into the racing loft.
Some handling takes place during this phase, as the chicks are ringed at about seven days of age.
According to Le Roux, a bird's race pedigree plays an important role when making breeding decisions. The usual approach is to breed a winner to a winner.
"You only breed with pigeons who've flown well. Normally, you'll see that there are multiple winners in their pedigrees, so, generally, the more winners in the pedigree, the better the bird is," he says.
A number of breeders also focus on type, and strive to breed a bird with a longer elbow, for example, as they believe this will make for a better long-distance flier.
Some breeders will even judge the bird according to the conformation and colour of its eyes.
Generally speaking, though, desirable characteristics include that the bird should be small and well formed, have soft, silky feathers, good wing length, and not be prone to becoming overweight.
Pigeon cocks can remain fertile until they are 15 years old, while hens can produce until they are 12. Eight to 10 years is the norm, however.
Flags and whistles
Le Roux explains that young birds are not strong enough to fly great distances, and they therefore need to become fit and strong as part of their training.
The breeder usually opens the loft to allow the young birds that have been moved to the racing loft to venture out, and over the next two weeks they build up enough strength to flutter up to the roof of the loft. As they gain more strength, they start flying on their own.
A breeder also conditions the birds to associate food with a whistle or specific sound. Once the young birds start flying, they are kept in the air for increasingly long periods to get them flying-fit.
Le Roux says that at this point they introduce a flag on a long pole to keep the birds in the air, and the time spent aloft is gradually increased until they can circle the loft for at least an hour before being whistled in for feeding.
When the pigeons are ready for longer flights, they are released 5km to 10km away from the loft, and this distance is gradually increased to 15km, then 25km, and so on.
Daniel explains that they have an "open loft" set-up from mid-October to February, during which the birds are allowed to come and go as they please.
"What's nice about this is that the older birds are in the loft, going in and out, and the younger birds see them and learn from them."
Justin says that about two months before racing season, they start the real training, beginning with chasing the pigeons up and encouraging them to fly around. Once the birds are flying strongly, the brothers take them out to be released, building them up to the point where they can comfortably manage a distance of 300km.
"Two weeks before the first race, we take them to the race start point and release them, just to make sure they're fit enough to cover the distance."
Feed and health
Justin has carried out research into various feed mixes, and prefers raw ingredients such as maize and sunflower in combination with a balanced pigeon pellet produced by a local company.
"Our birds eat between 42g and 47g each a day when they're racing properly. In the off-season, when they're not racing, it's about 28g/bird/day," he says.
The feed mix gets adjusted throughout the week, starting with a higher protein ratio and moving to a higher fat and carbohydrate percentage as they approach race day.
Major health ailments include respiratory infections, coccidiosis and crop cancer.
"We do preventive treatment, medicating on a three-week programme, and treat for mites and lice throughout the year," he says.
Vaccinations for pox and paramyxovirus are administered in line with SANPO regulations.
Aiming for the big win
Although management, health and training are important, the Kings believe that at least 80% of a bird's success will be due to its genetic ability.
"We go on performance," says Daniel simply.
Their philosophy is to breed their best racers to each other to produce offspring that are better than the parents. "As with athletes, you get sprinters and long-distance runners."
At the time of the interview, the Kings were at the top of the BPF log for this season, after having finished a close second last year. They are hoping their birds will stay on form and finish first.
The next step will be to enter them into major one-loft races, such as the Million Dollar Race.
Other big international races are the Victoria Falls World Challenge in Zimbabwe, the Hoosier Classic in the US, the Derby Arona race in the Canary Islands, and the Algarve Golden Race in Portugal.
Birds entered into the Million Dollar Race are reared at a loft in Vanderbijlpark that can house up to 8 000 birds. It costs US$1 000 (about R14 500) to enter three birds.
"One is entered and two serve as reserves. If the first bird is injured before the race, a reserve can fill in. If all three are fine, you can activate the two reserves as well for another US$1 000 each," says Daniel.
All birds that finish the race are put up for auction, with the owner receiving 50% of the price.
"That's where you get the big prices, like R1,4 million for a bird. All the birds are auctioned off and then the next year's birds come in."
Owners may not opt to keep their birds but can bid for them on auction, which means they will only pay half of the final bid amount.
"We definitely want to keep improving our birds every year. The first step is to try to win the federation this year and then keep winning it."
Phone George le Roux on 082 643 0898, or email him at [email protected].
Phone Justin King on 082 373 2046, or email him at [email protected].
Phone Daniel King on 082 517 3202.