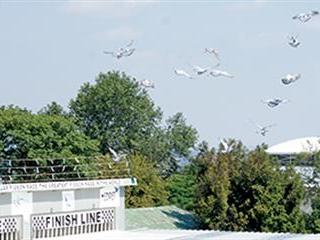 With the race venue moving this year from Sun City to Linbro Park, north-east of Johannesburg, the Sun City Million Dollar Pigeon Race has, in its 17th year, become the South African Million Dollar Pigeon Race (SAMDPR). But everything else, in terms of its owners and management, has remained the same, and the event is still presented by Air Sport Internationale, of Geneva, Switzerland. The only real difference is that the loft complex now has room for more than 10 000 pigeons.
By the time you read this, the chances are this year's SAMDPR will have ended, as the final race is scheduled for 2 February. Weather permitting, it will be held over a distance of approximately 550km. But thanks to fanciers Butch and Elma Einkamerer from Schweizer-Reneke, in North West, SA can already hold its head high. Their pigeon Shiloh snatched the car in the fourth Hot Spot Car Race against 3 000 of the world's best pigeons from 36 countries, with 323 birds having been entered by SA fanciers.
The SAMDPR pays out more than US$1 million. Other prizes include five new motor cars and then there are 10 magnificent gold pendants for the winners of every race. In fact, there are more than 400 different cash prizes per race. The race is the brainchild of veteran pigeon fancier Zandy Meyer, who's currently the SA race director. Champion fancier and young bird specialist Corrie Naude manages the training of the pigeons, with the assistance of fellow champions Dave van der Merwe, André van Wyk and 12 loft helpers.
Car races
Five pre-final training Hot Spot Car Races have been held in the run-up to the final:
Hot Spot 5: 12 January, 2013 – liberation time: 5.35am; distance: 356km; hot conditions. First: MJ 1, entered by Kuwait's Mershed Alnamlan (05:03:55). Second: Thomas Kornelius with Blacky. SA's EW Solomon came in seventh with Wie Is Ek, and the Gaddin Bros (Gigi and Raymond) and Charl Stander came eighth with Buy And Purchase.

Hot Spot 4:

29 December, 2012 – 5.20am; 303km; humid conditions. First: Shiloh, entered by SA's Loft Einkamerer (04:14:44). Second: Germany's Hans Hirn with Cast A Shadow. Gerhard Koopman from the Netherlands scored three positions within the top 20.

Hot Spot 3:

15 December – 5.30am; 233km; normal conditions. First: Puch, entered by the Jan Hooymans-Hu Zhen Yu partnership (03:04:36). Second: Ewa, entered by Poland's Tomasz Jopek. Third: Slovakia's Las Vladimer. Gerhard Koopman scored in the fifth, sixth and seventh positions. SA's Club Stellenberg clocked in at 11th.

Hot Spot 2:

1 December – 8.20am; 176km; normal conditions. The official race winner was unpaid. The US pigeon King Arthur Hees, entered by Carter Mayotte, won the car (02:44:18). Second: Joe Nemelka, also from the US, with Call Me Maybe. Third: Kuwait's Saad Alqanem with Marzouq 1.

Hot Spot 1:

25 November – 7.30am; 126km; normal conditions. First: the Brothers Landewe from the Netherlands, with Typhoon (01:14:27). Second: Frysian Angel, entered by Sam Syndicate, also from the Netherlands. Third: Anita, entered by Denmark's Tage Graversen.
Leading champions
Grand Averages Champion: Blue River, entered by the German partnership of Atmiks & Soudy, leads the league at the time of going to print. Germany has eight pigeons in the first 20 and SA five in the top 50.

Champion Pigeon,

Hot Spot Car Races:

Omat, entered by Germany's Horst & Frank Zander. SA had two pigeons within the top 30.
Win with the SAMDPR
For more information about the South African Million Dollar Pigeon Race, contact the event's public relations manager Joan Holt on 011 452 6474. If you wish to take up a punter pigeon and stand the chance of winning US$200 000 (R1,75 million), contact Marion Branford at 011 680 1118, or visit www.samdpr.com.
Contact Thomas Smit on 082 861 5593 or at [email protected]. Please state 'Pigeons' in the subject line of your email.