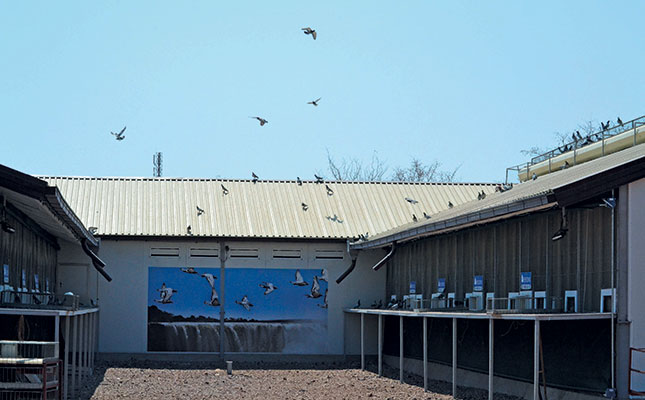 You are only as good as your competition. If you are club champion in a weaker club and move house, your race team might struggle at a stronger club.
The quality of the birds aside, other factors that make one club 'weaker' than another are loft location and prevailing wind direction. These may place an entire club at a disadvantage.
When the wind direction changes in their favour, the pigeons are expected to score, but if most don't arrive in time, the performance of the club as a whole suffers.
A poor loft location is no excuse not to register a score. At club level, it could mean the difference between first and third, say, or fourth and fifth, but not between first and nowhere!
Watch the weather, and when the wind is in your favour – smile! If you stay off the scoreboard no matter how the wind blows, stop complaining about loft location, upgrade your management system and acquire better pigeons.
That's if you want to be competitive, of course.
I joined my first club as a schoolboy in the 1970s. I clearly remember a fancier who always sat on the same chair in the same corner with a big smile on his face, even though his pigeons came last week after week.
He never insisted that the race secretary recalculate clocking times because one of his pigeons came second by a decimal point; he was happy simply being a 'hobbyist'.
If you're a little more ambitious, you have to be prepared to put in the time, instead of making excuses! And once you've upgraded your management and your pigeons, it's time to get 'competition strength' in perspective.
Larger groups
When members of a smaller club manage to score top positions at federation or union level, the larger grouping is only a better testing ground if competitive members of the other clubs have the same level of skill.
If this is not the case, you'll simply have a few top fanciers competing against themselves within the federation or union.
Granted, they will have the better management and higher class pigeons, but it's also true that the more fanciers who share in the overall prize kitty at union level, the stronger that union.
For this reason, don't look only at the performances of the birds that come first. Check the margins separating those which come second, third, fourth or fifth. The narrower these margins, the tougher the competition.
And while the points champion certainly deserves praise, the runners-up also deserve a handshake!
In addition, remember that there are different performance categories – Young Bird, Yearlings, Short-, Middle-, and Long-Distance – and you can't do well in all of them! Rather look for consistency when judging quality.
Greatest competition in the middle distances
These days, the pressure is on for a fancier to get rid of underscoring pigeons very quickly.
Therefore, it doesn't matter if we're talking of 400, 4 000 or 40 000 birds, the average quality is high.
This said, beating 4 000 birds is better than coming first out of 400, while beating 40 000 is something to be extremely proud of. Not only will there be more top quality birds in the flight; there will be a greater number in superb form on race day.
With this in mind, some fanciers argue that the fiercest competition is found in the middle distances, in classics such as the Yearling National and Young Bird Derby, because specialist fanciers plan their breeding and training management with the sole aim of winning these races.
The cream of the maximum scoring birds is identified by these fanciers, who then select matches and pick youngsters.
So even if you end up with only a handful of superstars from this superior genetic group, you can expect to perform at the highest level.
And if you suddenly find yourself in a stronger club, your competitors will be taken by surprise!
Thomas Smit is a racing pigeon selector, and a freelance journalist and writer.