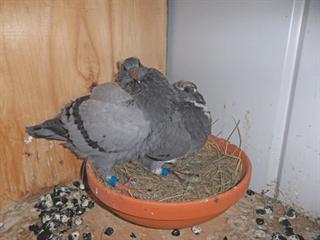 Many pigeon fanciers in SA are wealthy, with seemingly unlimited funds to buy the best quality pigeons and build the best lofts. But you don't have to be rich to beat the competition, just smarter. Some factors to consider when deciding on your pigeon racing goals:
Do you have the time to commit to race training your pigeons for the duration of the racing programme? The programme for most provinces runs from the first week of June to the first week of October.

Do you want to focus on short, middle, or long distance racing? Preparation for each is different. As a guideline, short distance races are up to 400km, middle distance races are up to 580km and long distances are beyond 640km. (These may vary slightly from province to province.). If you own a plodding type from the old South African pigeon strains, rather focus on long distance races and use the shorter distances to give your pigeons experience and help improve their fitness. If most of your race team consists of young birds and yearlings, I suggest you enter them into the short and middle distance races and withdraw them when the long distances begin. They can be more valuable in your race team as experienced two-year-olds.

Do you want to chase points in the Champion's League? This requires an extraordinary effort, as one bad weekend can cost you the championship title.

Do you want to score in the Classic races, such as the Yearling National, the Yearling Derby, the Old Bird National, the Two-year-old Challenge and so on? Fanciers go the extra mile to prepare for the Classics and enter their best pigeons, therefore scoring high in these races carries enormous prestige.

Do you want to win a car? The winner of a race which offers a car as first prize is either decided on a single race, or the best combined performance in two or more different race events. This is an ideal challenge for a small-team fancier, because you need to focus on preparing a few quality pigeons for a specific distance and you have the entire season to plan for it.
Housing
The ideal pigeon loft is one with stable day and night temperatures. If these are extreme in your area, you may need adjustable window louvres and ceiling boards that can be closed to keep the cold winds out during winter nights.
The loft front should be north-facing, although some say 25° east of north is better, as the loft will catch a little more of the morning sun this way. There must be no leaks and enough space for the number of pigeons kept.
Health
The agriculture department specifies that it's compulsory to annually inoculate your young pigeons against pigeon pox and all your birds against paramyxovirus disease. One champion fancier says he never inoculates and his pigeons never get paramyxovirus disease. Consequently, two pigeons he recently sold infected the buyer's entire loft and necessitated the destroying of an entire round of youngsters.
Pigeons are basketed together for race events and so are exposed to the neglect of other fanciers. Therefore general routine treatment for basic pigeon diseases is essential. If you live in a malaria area, for example, you have to inoculate against pigeon malaria.
Racing
Racing pigeons require a 365-day commitment. Winning in the race season starts in the off-season. Fanciers who get a late wake up call in May and try to arrange super hygiene, loft discipline, fitness and other factors in one month, after nine months of neglect, are easy to beat.

Finally, remember you have to be a member of a pigeon club that is affiliated with the South African National Pigeon Organisation. If this isn't the case, any results you score with your pigeons will be null and void.
Contact Thomas Smit at [email protected]. Please state "Pigeons" in the subject line of your email. •FW