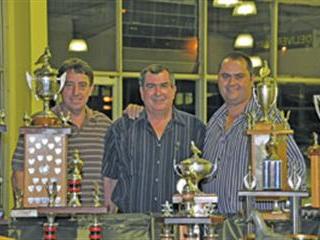 The short distance series of the Transvaal Racing Pigeon Federation (TRPF) consists of two races held over six consecutive Saturdays. The first liberation is reserved for yearlings only, the second is an open race. Distances range from 280km to 399km.
As will be seen, hens won 10 of the 12 races, making 2012 'the year of the hens'.
Race 1 & 2:
Winburg (280km)
In the yearling race Charles Carlson Jnr had a field day, booking the top three positions while racing for both the Eland Racing Pigeon Club (ERPC) and Johannesburg Pigeon Racing Club (JPRC). J Cronje from the Sandton Racing Pigeon Club (SRPC) scored a remarkable victory with a yearling against the older birds in the open race.
Race 3 & 4:
Winburg (280km)
The Boshoff Family from the Alberton Homing Society (AHS) dominated the yearling race, while the Johan Schmidt and Roland Bouwer partnership, also from the AHS, did the same in the open race.

Race 5 & 6:
Bloemfontein (370km)
There were nail-biting seconds between the first three birds home in the yearling race, won by attorney Johan Grobbelaar. Another attorney, Gys Louw, just stopped Schmidt & Bouwer from dominating the open race for a second week.
Race 7 & 8:
Ladybrand (340km)
The husband-and-wife team of Chris and Anna Smith of the Boksburg Racing Pigeon Club (BRPC) won the yearling race.
The open race was won by Charles Kerekes from the Randburg Racing Pigeon Club (RRPC).
Race 9 & 10:
Dewetsdorp (399km)
Alan Bevan, chairperson of Edenvale Racing Pigeon Club (EWDK), scored the club's first federation win for the 2012 season in the yearling race, while fellow club member Pieter Burger went on to clinch the first and second positions in the open race.
Race 11 & 12:
Bloemfontein (370km)
Gys Louw scooped another yearling win, and Boksburg fancier Pat Wright recorded a praiseworthy first place in the tough final race of the short distance series.
DETAILED RESULTS *Velocity is measured in metres/minute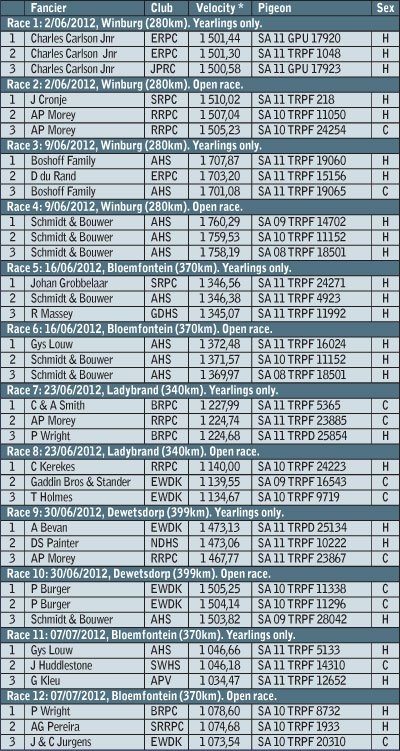 Contact Thomas Smit on 011 680 4778 or at [email protected]. Please state 'Pigeons' in the subject line of your email.