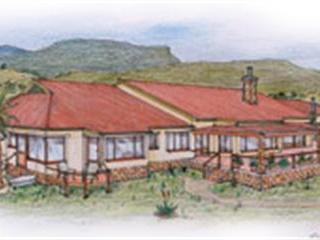 The house must be single-storey, eco-friendly and not too expensive to build. We like the basics of farm living. The house must blend with the natural surroundings and will look out over the dam. We would like three bedrooms and three bathrooms with large open-plan living. We want to bring the bush 'into' the house, so the kitchen, dining, and lounge should flow onto a patio where you can relax and eat al fresco.
A braai area on the patio should have a view on the dam, so it must be big enough for a dining table and some couches.The main bedroom must be large (at least 26m²).The second bedroom is for my son, so it needs a bit of extra space for a small lounge and a bathroom with only a shower. The other room is a guest room with a bathroom with bath. We would also like to incorporate a cellar into the lounge-dining area plus a storeroom and laundry cupboard.
The kitchen (open-plan) must have a big enough scullery to accommodate a laundry as well as a pantry.Furthermore, my hubby will need an office where he must receive some clients, so an entrance from outside and entry into the house will be necessary. I've always wanted an old farm house-style house with a stoep and stone pillars but I am not sure if my requirements will be able to fit the style. I love the big exposed wooden beams in the ceilings but the doors and windows can be made of recycled plastic which resembles wood.
Kind regards
Yvette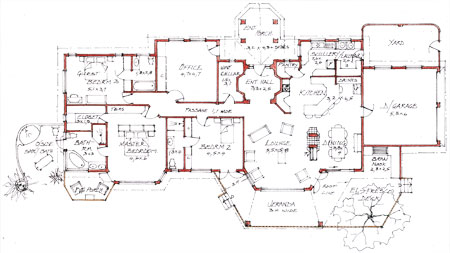 Hi Yvette
Thanks for your detailed description. Here is a sketch of what I imagined you had in mind. I've raised the centre section of the roof over the living area, which can be open beam. The windows are large full pane, to appreciate the views while the bay windows add the farm house character. The rooms are spacious but need not cost that much more; phone me and I'll explain.
The stone-work is typical of the old farm houses. The rock can be either genuine or 'mock-rock'. It's difficult to tell the difference. In the colour sketch you will note that the roof is red and the walls are cream to contrast with the background. To blend in with the environment, the roof should be dark green and the walls all rockwork.
Let me have your further thoughts.
Best regards
Jonno