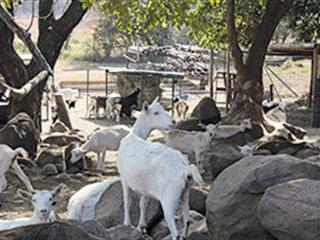 Award-winning milk goat farmer Alastair Catto drinks cow's milk in his coffee. But his products are in such high demand that there is none left for household use. Alastair started farming chickens 25 years ago until theft escalated to the point where it was no longer viable. Then seven years ago a cancer scare drove Alastair into producing organic dairy products to aid his health.
"I've always wanted to farm with goats and needing healthy food, free from unnecessary additives, was all the incentive I needed.
"I was also in contact with Marianne Joos at that time. She had moved to South Africa from Switzerland and was struggling to find the type of cheese her palate was accustomed to. She wanted to try her hand at making goat cheese and so we decided to set up a dairy and went into partnership."

Marianne Joos and Alastair Catto. Photo courtesy of Goat Peter
Getting started
Alastair bought a mixed flock of 16 Saanen, Alpine black and Toggenburg ewes that were about to kid and soon they had an over-supply of milk. "I told Marianne she had better get started with the cheese," he recalls."We weren't really prepared when we first started. I had to act quickly to milk all the ewes, because if I did not do so, their production would have dropped."
Having heard of their idea, the then owners of Goat Peter approached Alastair to take over the venture. "We got the machinery, 78 goats, the brand and the customer base. All we needed to do was tweak the recipes to suit our own palates. We were able to give our customers a regular supply when we took over, and this helped to establish our name."
Alastair oversees the dairy and the goat flock, while Marianne is in charge of cheese making. After beating 847 competitors to win first prize in the SA Dairy Championships in 2010 and receiving the Outstanding Dairy Quality Qualité Mark of Excellence in 2010 and 2012, Goat Peter can't keep up with demand. Since winning the first award, Alastair and Marianne have been in a scramble on Beaumont farm in Hekpoort, Gauteng to increase production and capacity as the success of their smooth, delicate cheese propels the enterprise forward.
Building a flock
Alastair runs 226 goats on two farms totalling 88ha. He has four Toggenburg, one Saanen and one Alpine black ram, and is cross-breeding the Toggenburgs and Saanens to obtain a higher level of milk solids and extend the lactation period. He aims to eventually build his flock to 700 goats. Every year he buys six rams as well as ewes in kid from various farms to add to the flock.
He puts rams with the ewes between February and April. The gestation period is five months. The 220 ewes produce around
350 kids. With a lactation period of 300 days, they produce an average of 3l/ day. Alastair tries to avoid too many triplets as the milk consumption is too high and the kids are too small. This is done by carefully selecting breeding stock with a low incidence of producing triplets.
The best rams bred from the flock are kept for a year and then sold as breeding rams. The others are sold as soon as possible on auction and the best ewe kids are retained as replacement breeding ewes. Newly born kids are left with the ewes for three days to get enough colostrum. Alastair maintains that kids get the best colostrum within the first 24 hours. Some of this milk is frozen to be used for triplets. After three days the kids are taken from the ewes and fed human baby formula.

Goat Peter produces around 2t of cheese annually.
Alastair puts the weaned ewes with the rams when the former reach seven months or 135kg. "This way the kids are born and produce another flock in a period of 12 months." At the end of every season about 25 old (seventh lactation) ewes are culled. "By this time their milk production and udder quality have dropped," explains Alastair.
The goats are fed on lucerne and goat pellets. Seven bales of lucerne are needed per day and three 50kg-bags of pellets, which contain dairy meal especially for goats. Although Alastair has his own vaccination programme, he works with Onderstepoort Veterinary Institute students who oversee his goats as part of their training. "It's a win-win situation as they get practical experience and I get their expertise."
Goat cheese without that goat flavour
Goat Peter cheeses have been lauded for their subtle flavour without the often overpowering goat flavour present in many other goat milk cheeses. The range includes pasteurised milk, plain yoghurt, soft cheeses such as cottage, ricotta and feta, and hard cheeses such as La Punt (cheddar-style), Raclette and Sils (Gouda-style). Their Grison (Pecorino-style) cheese has especially been praised.
Alastair says that producing goat milk cheese without the goat flavour is a secret that they have worked very hard on.
"One of the ways to get rid of the goat flavour is to ensure optimal hygiene. Should only four goat hairs get into 600l of milk, then everything made from that milk will taste like goat. "We wash the ewes before they are milked because they carry a strong pheromone smell after they have been with the rams."
Alastair says that they make cheese according to their own palates, without colourants, preservatives or flavourants. The flock produces 18 000l milk per 300-day lactation cycle, yielding roughly 1,8t of cheese. Milk is quick frozen and then thawed as it is needed to make cheese and yoghurt, ensuring a continuous supply. Frozen milk is also sold to mothers whose babies are allergic to cows' milk.
He explains that making cheese is very time-consuming. "There is a lot of waiting as the milk must be pasteurised, heated and cooled. Cultures and non-animal rennet are added and finally the curds are put in the moulds."All Goat Peter products are packaged on the farm and delivered to customers by a van packed to the brim with cooler boxes.
Challenges
A constant flow of electricity is not a problem, should Eskom let them down. Two generators supply power during power failures: the 30kW generator keeps the fridges running and a 65kW generator supplies power for cheese making. Goat Peter sells its products to delis and health shops around Gauteng, with a small portion flown to shops in Cape Town. Alastair feels that Cape Town is the ideal place to set up a goat milk operation as the consumers are more health conscious and the demand greater.
"There has been a big increase in the demand for goat milk. This is one of the reasons we are expanding our operation and adding a cold room with an additional 400m² of space. I want to position the business so that if demand increases, we will have the capacity to produce more."
Alastair says that although they have been approached by large supermarket chains, it is not feasible to sell their products here. "We can't have our products at the larger chains at this point because they want exclusivity and this is a big risk. They can drop their suppliers at any time and this will sink the business.
"They also expect suppliers to conform to their standards, so suppliers have to add a light here and install a sink there. I am building a state-of-the-art dairy according to my standards." Raking up dairy awards might have sent Goat Peter's sales soaring, but Alastair admits that profits have not followed suit. "The consumers don't want to pay for quality. But we are struggling to keep up with demand because of limited infrastructure. It will be a huge bonus if we could sell more milk."
Alastair's ambition goes further than just wanting to expand his own business. "I want to expand the whole goat milkindustry, not just my own farm. "We first entered the dairy championships to see where we fit into the market, not because we thought we had a chance of winning. It is a great honour to win, especially for the goat cheese business as it has put it on the map. Now it must grow."

Contact Goat Peter on 072 136 2087.