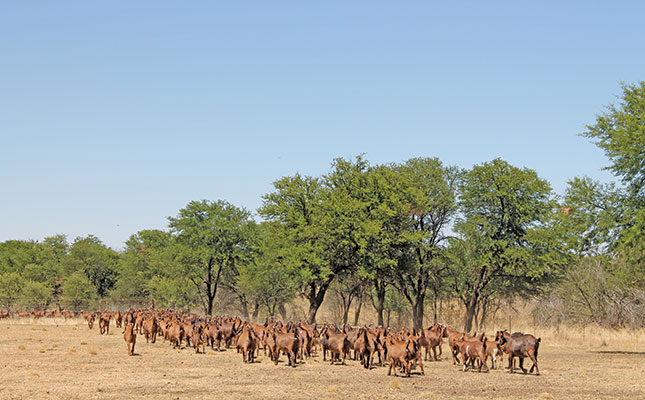 Cobus Meyer, who farms on 1 000ha near Leeudoringstad in North West, says the frequent droughts in that part of the world made expanding the family farming business a matter of urgency.
Because theirs is a relatively small farm for the area, horizontal expansion was not an option; they had to expand vertically to add value.
After conducting detailed research, Meyer and his father, Cobus Sr, decided on Kalahari Red goats, as they were impressed with the breed's hardiness, adaptability, fertility and excellent meat production. In 2009, they established the Greenstone Kalahari Red Goat stud.
The climate in North West is one of extremes. The temperature drops to below 0°C in winter and increases to the low 40s in summer. And while the farm receives an average annual rainfall of 550mm, the region is often subject to dry spells. Under these taxing conditions, Meyer needed a hardy goat breed.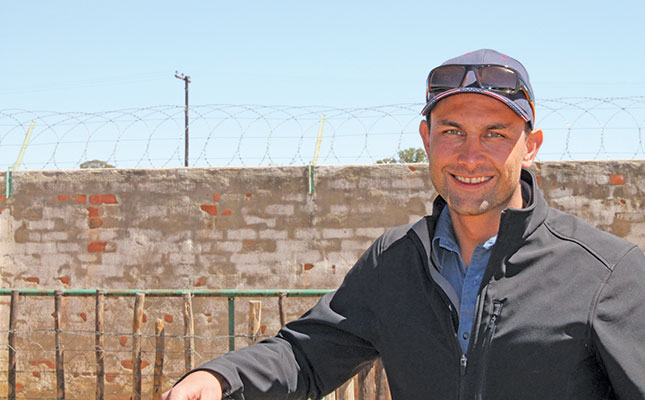 Kalahari Reds met all his requirements, as they are ideal for extensive farming conditions, and are a truly economical breed. In addition, they are known for accelerated growth, and are ideal for commercial meat production.
"The bottom line is that there's money to be made from Kalahari Reds." Demand for these goats far exceeds supply, and this means top prices for both stud and commercial breeders, he says.
An estate agent in Pretoria, Meyer has been running the Kalahari Red Stud since its inception. This year, he decided to return to the farm, so it was important to find a profitable business that could contribute to the income of his household as well as that of his parents.
The farm's beef production concern had come to a standstill because of the drought, and the goats now constitute the primary source of income.
Intensive breeding
The goats are kept on 200ha and farmed intensively. The area is divided into six camps of 2ha each, planted to Smuts finger grass (Digitaria eriantha), two 40ha veld camps, and 108ha of additional grazing planted to Smuts finger.
The natural veld consists mainly of red grass (Themeda triandra). The woody component includes raisin bush (Grewia flava), karee (Searsia lancea) and sweet thorn (Vachellia karroo).
The 40ha camps are grazed rotationally and the flock is moved as needed. The 2ha camps are reserved for in-lamb ewes and ewes with kids. The in-lamb ewes have access to a 1ha lucerne field for 30 minutes daily, six weeks before and after kidding.
The kids have unrestricted access to creep feed from birth. Creep feeding reduces weaning stress, as the kids are already accustomed to dry rations by then.
The Greenstone flock comprises 350 ewes and seven rams, and maintains a kidding percentage of 170%. The kids, which have an average birthweight of 3,3kg, are weaned at 30kg.
Top stud ewes are sorted into phenotypical groups, synchronised by treating ewes with progesterone for 10 to 12 days to synchronise oestrus.
At breeding, the ewes are matched with appropriate rams to breed well-balanced goats that comply with the stud's breed standards. One ram is used for 10 to 20 synchronised ewes.
The rest of the flock is divided into groups of between 20 and 50 ewes per ram for a 42-day mating period. Ewes are mated once a year.
The flock is divided into two mating groups for easier management. The first is put to the rams in March and April, and the second mating is carried out in October and November.
Ewes that do not conceive are given a second chance; those failing to do so in the second cycle are culled.
"About 99% of the ewes conceive in the second cycle, which we credit to the breed's exceptional fertility," says Meyer.
Proven genetics
The first Greenstone goats were purchased in 2009. Meyer insisted on top genetics from the outset. He bought 55 ewes from Tollie Jordaan, one of the pioneers of Kalahari Red breeding in the country. He also purchased Jordaan's South African Reserve Champion ram.
These animals formed the nucleus of the Greenstone stud. Genetics from other pioneering breeders, namely Albie Horn, Ben Vorster and André Pienaar, were also introduced over the years.
Meyer decided on stud breeding to add optimal value in the process of vertical expansion. He argues that it costs virtually the same to rear a stud animal as a commercial animal, while the return on investment for a stud animal is considerably higher.
Maintaining a stud, however, does carry additional costs, such as attending shows, marketing, show preparation and stock management software.
Initially, the farm had no infrastructure for goat breeding. Ordinary fences thus had to be replaced with jackal-proof fencing, and goat handling facilities had to be constructed.
Meyer opted for designs supplied by the Agricultural Research Council.
He built the facilities himself, and says that all possible requirements of the animals were considered. For example, while a goat can stand in the rain all day, it has to stay dry at night. For this reason, the kraal and pens are roofed. Kraaling the flock also protects them against thievery and predation.
The rest of the facilities include a crush and sorting pens, which make handling far easier.
"This allowed me to cut down on labour costs because the flow of the designs makes it possible for two or three people to manage the entire flock comfortably."
Meyer had to learn as much as possible, as quickly as possible, about the breed. To achieve this, he attended inspection courses, joined the Central South Africa Boer Goat Club, read as much as possible about Kalahari Reds, and visited breeders.
"I can't even begin to describe how much I learnt from other role players in the industry. Their expertise, support and advice have been invaluable in getting the Greenstone stud to the standard I want it to be," he says.
Breed standards
The ideal Greenstone ram is balanced, very masculine, and breeds quality kids that comply with the official breed standards. Such a ram needs to maintain top condition all year round, including in the mating season.
Greenstone ewes must be feminine and fertile. They should produce sufficient milk, and have healthy, well-placed and well-developed udders as required by Kalahari Red breed standards.
The ideal ewe should be able to raise multiple kids with ease.
Top meat production and high carcass weights are also essential.
"I select and breed goats with the commercial breeder in mind. As a stud breeder, it's my responsibility to supply breeding material that adds to the long-term profitability of his or her flock. For commercial breeders to achieve this goal, they need top meat production and functionally efficient goats," says Meyer.
Disease management
Kalahari Reds are disease-resistant, which simplifies management and reduces input costs.
The breed's exceptional functional effectiveness is a bonus, says Meyer. Kidding problems are virtually unknown and the ewes give birth and rear their kids on the veld.
The kraal and holding pens are kept immaculately clean to prevent the spread of disease, and to limit ticks and other ectoparasites. Meyer keeps a flock of Australorp chickens in the kraal and pens to keep parasites and fly larvae in check. He says the birds form an integral part of biosecurity.
The goats are vaccinated annually against clostridial diseases such as tetanus and botulism. They are treated against wireworm according to the FaMaCha (Faffa Malan Chart), and inoculated against Rift Valley fever and enzootic abortion (chlamydiosis).
The latter is generally caused by Chlamydia psittaci bacteria, which are found in the intestines of healthy goats. The disease usually spreads among goats during kidding.
The FaMaCha system was developed in South Africa by doctors Faffa Malan, Gareth Bath and Jan van Wyk to combat drug-resistant worms. It involves studying the colour of the mucous membranes of the eye in sheep or goats.
Anaemia is assessed using a chart to assess the severity of parasitic infection.
The animals are also innoculated against pasteurella, an infectious disease caused by the Pasteurella multocida bacterium. Meyer says it can be particularly devastating in young animals at weaning, and is a common cause of morbidity and mortality in kids, especially those that have not received adequate colostrum.
Meyer selects rigorously for animals with a deep-red, even coat colour. Uniformly coloured animals underscore the genetic integrity of the breed, and prevent multi-coloured kids.
He applies stringent selection criteria in terms of conformation: ewes without two well-defined teats are culled to prevent teat problems in their progeny, as it could affect a ewe's ability to raise kids effectively.
The Greenstone selection criteria are based on the official South African Kalahari Red stud breed standards. Meyer emphasises that breeding functional and adaptable goats maximises profits.
Phone Cobus Meyer on 083 512 0629, or email him at [email protected].