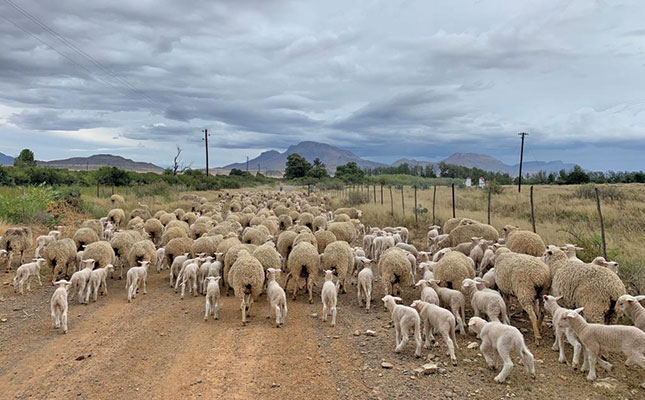 The recently formed Nu Poll Merino Group, based in Middelburg in the Eastern Cape, is the first of its kind in South Africa's Merino stud breeding industry. According to member Tinus du Plessis, the decision to focus on these animals was based on hard-nosed economics: polled weaners realise a premium of R1,50 to R1,80 more per kilogram from certain feedlots.
There are a host of reasons for this. Polled sheep are easier to handle and manage, and there is no need to regularly dehorn weaners, which reduces the on-farm workload. Injuries caused by fights between rams are also largely eliminated.
In addition, polled Merinos are easier to shear, and there are no horns to become entangled in fences or in the horns of other sheep.
"Currently, the majority of Merino rams in the country are still horned, with only about
10% to 15% being polled. However, we expect demand for polled animals to increase substantially in the future because of the benefits they hold for both stud and commercial flocks.
We've therefore decided to put only polled animals on offer at our group's next production sale, which is planned for 20 January 2023. We also plan to put a limited number of polled ewes on offer," says Du Plessis.
Group members
The Nu Poll Merino Group consists of Tinus and Triegaardt du Plessis (Buffelspoort Polled Merino Stud), Robert Southey (Lucernedale Stud), Stuart Southey (Southfield Stud), Eben and Jacques du Plessis (Macasserfontein Stud), Jannie Moolman (Rusoord Stud) and the Grootfontein Student Stud. The group's animals comprise about 12 000 stud and commercial ewes on some 36 000ha.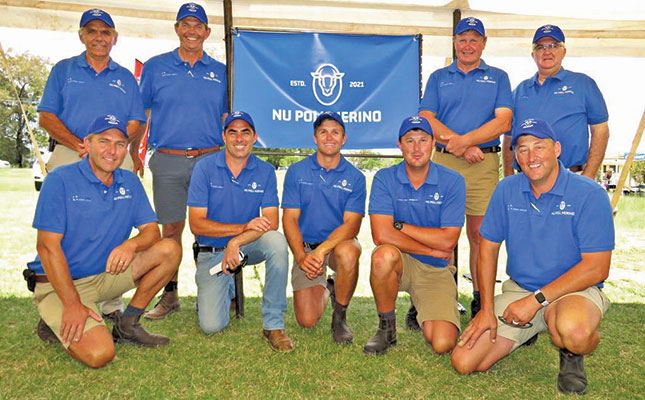 The respective flocks are run under extensive Karoo conditions, characterised by extreme heat in summer and below- freezing temperatures in winter. The area forms part of the Upper Karoo, 1 279m above sea level.
The vegetation types here are made up of succulent and non-succulent shrubs up to 0,5m tall on stony ground, and grassy patches on sandy soil. The herbaceous vegetation type occurs on sedimentary and dolerite rock and on calcrete.
Increased demand
Some members of the group started breeding polled rams as early as 2006. Demand from South African farmers has since increased considerably, with the advantages of polled animals gaining wider publicity. One sign of this demand has been the spike in the importation of polled genetics from Australia.
Many breeders already run flocks of both horned and polled rams. The group's mission is therefore to provide the best polled Merino genetics in South Africa in order to increase the profitability of their flocks and those of their clients.
Danie Vorster, CEO of Merino South Africa, explains that a polled Merino's skull has a 'depression' rather than a horn.
A knuckle or small hornlike growth may be present in the depression, but is not allowed to exceed 30mm. According to Merino South Africa, five variations of horn growth are found on the horn site in Merinos. Although knobs or scurs may sometimes be found in depressions, for simplicity's sake the five types are classified as follows:
Poll: a depression or hollow in the skull at the horn site;
Knob: a hard, bony lump at the horn site that may have a horny cap; it is generally less than 12mm in length;
Scur: a horny growth that does not have the shape or size of a true horn;
Small horn: horn growth in some half-poll rams that has true horn characteristics, but is shorter and thinner than a true horn; and
True horns: robust, curled horns in rams, and smaller, curled horns in ewes.
It is often argued that hornless sheep are the result of 'sports'. A sport is the common word for a mutation in a gene brought about by radiation, amongst other factors. Genes are highly stable, however, and the chance of a natural mutation is just 0,001% .
This means that a stud producing 2 000 rams a year might see a sport (and it need not be hornless) once every 50 years.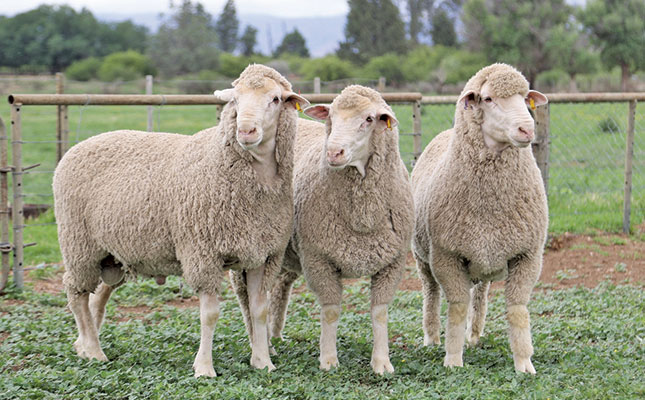 "This is too rare to be of any consequence," says Vorster. "It's certain that there have always been a small proportion of ewes in our Merino flocks with depressions at the horn site, probably about 1% of them. These ewes may have either one or both poll genes and go unnoticed, as no one normally examines the horn site at classing time."
Du Plessis says there is a lingering perception that polled animals are inferior and less robust than horned ones, but this is simply not true. In recent years, Poll Merino breeders in South Africa have bred outstanding animals that are highly adaptable and hardy, with excellent growth rates and top-quality wool.
Record-keeping
The Nu Poll Merino Group's sheep are subjected to comprehensive performance testing supported by BKB's radio frequency identification (RFID) system. Having accurate records of an animal has become more important than ever; by means of the RFID system, Nu Poll Merino Group members keep close track of each individual animal's performance.
According to Du Plessis, the system is a valuable tool for the detection of poor performers, and gives members the opportunity to remove these animals from their flocks in good time.
The traits recorded through RFID include weaner weight, wool weight and fibre quality. This enables the group to determine the economic value of individual animals according to the number of animals weaned and the kilograms of wool produced.
The animal performance data gathered in this way is expressed in indices that give prospective buyers the opportunity to select rams well suited to their specific farming conditions and the best genetics to take their flocks into the future. The Nu Poll Merino Group's objective, as far as possible, is to put only those rams that have an index of 100 on the market.
Nu Poll members make extensive use of BKB's Decision Support Services (DSS) to apply the information and thereby identify good and poor performers in each flock. The DSS system focuses mainly on ewe productivity as the production units in a sheep-farming concern. Obviously, the rams' progeny performance is also monitored.
The members can thus apply corrective mating visually as well as employ data for optimal decision-making. To increase efficiency and productivity, they select replacement ewes from preferred ewe lambs amongst the top 75% in the flock.
The Nu Poll Merino Group's rams are subjected to a rigorous six-month veld test regime, which is of particular value for ensuring that they excel under all extensive grazing conditions. A specific value is attached to traits such as growth and adaptability, and these are eventually expressed as an economic index.
Having accurate, complete and comprehensive records of livestock has become crucial; these economic indices are clear and proven indications of the potential genetic contribution that a ram can make to a Merino breeding concern, irrespective of where a buyer is located.
"Nu Poll is committed to producing animals that are highly fertile, give birth to the optimal number of lambs per ewe, achieve above-average kilograms of meat per hectare, and have lambs that reach target weight as soon as possible.
"Wool quality and quantity are non-negotiable, and so is adaptability. Genetic integrity forms the cornerstone of our business and we'll always stand by this commitment to our clients."
Email the Nu Poll Merino Group at [email protected].