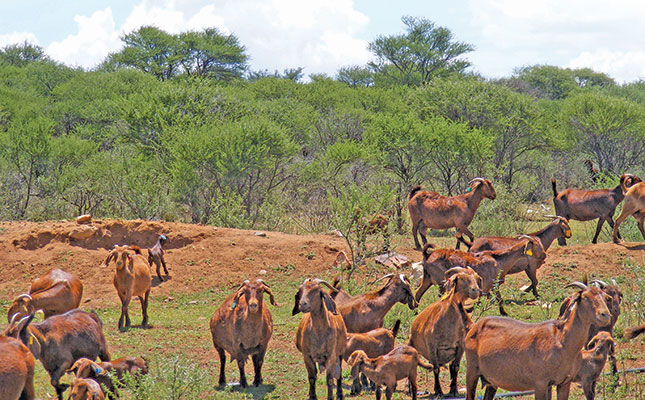 Most of South Africa's rural communities suffer from poverty and a lack of employment. The area around Moruleng, north of Rustenburg, is no exception.
In an effort to improve the situation, the Bakgatla Ba Kgafela Traditional Authority (BBKTA), representing 350 000 people living in 32 villages, has developed an economic master plan with commercial goat farming as its central pillar.
"As a community, we explored a number of avenues to add value to our land. Goat farming has been part of the region and our culture for centuries. Our community members are experienced goat farmers, so we decided to tap into their skills base," says BBKTA leader Kgosi Nyalala Pilane. The result was the launch last year of the Kalahari Red goat stud project in Dwarsberg.
"Through this project, we want to improve the genetic quality of the local herds, which will ultimately result in increased production and greater returns on investment. By using our land optimally, the entire community stands to gain," he explains.
Nyalala and his team employed the South African Agricultural Initiative (SAAI) to present an agricultural strategy for the farm. They then signed a service level agreement for technical advisory service and execution of the agricultural projects to be initiated at Dwarsberg.
Beneficiaries of the project
The BBKTA obtained funding from various sources, including Anglo Platinum, for the goat project. Anglo Platinum allowed the BBKTA to buy shares in its Swartklip division; the dividends earned from these shares were used for the project.
The BBKTA's master plan includes seven economic clusters, six of which are earmarked for agricultural development. The BBKTA land consists of 200 000ha, including the 1 800ha Dwarsberg cluster. The goat project is situated on the 400ha farm Vogelstruisdraai in Dwarsberg, where 70% of the households keep goats.
"We identified 33 farmers as the first beneficiaries; they run a total of 470 goats. The rams that will be distributed to the farmers will be closely monitored and controlled. We'll assist them with building proper infrastructure such as fencing, kraals and sheds," Nyalala explains.
The beginning
The community began working on the project last July. "We bought our first 107 goats from Attie Britz's Sterkfontein Stud, 465 from Dawie van der Linde's Molopo Stud and 150 from Tollie Jordaan's Jordania Stud.
He was one of the pioneers of the Kalahari Red breed industry," recalls Nyalala. "We wanted to create a sound and varied genetic pool from the onset to ensure long-term sustainability and profitability."
The BBKTA's main stud ram, Ramkat, was world champion in 2011. "This ram's genetics are highly sought after – one of his sons was sold for R135 000 recently, while a daughter sold for R60 000. Ramkat also produced the junior world champion ram and ewe of 2012. "In future, we'll start marketing our own stud rams on the open market."
The Kalahari Red
The BBKTA decided on the Kalahari Red because of the breed's hardiness, adaptability, fertility and optimum meat production. Its full pigmentation enables the animals to endure extreme heat, making it the ideal breed for extensive farming.
The pigmentation also serves as camouflage against predators. Another advantage of Kalahari Reds is that they are not susceptible to diseases, which makes for easy management and saves on input costs.
"We decided on Kalahari Reds for their exceptional functional effectiveness," says SAAI manager Jan Hepburn. "The ewes are fertile and produce plenty of milk. Lambing problems are virtually unknown – the ewes lamb and raise their kids in the veld. The goats have a long deep body and are taller than most breeds, which gives them excellent mobility. It can cover vast distances grazing and browsing."
He also praises the Kalahari Red for its lean, tasty meat (chevron). Local supermarket chains have shown interest in stocking chevron and the BBKTA is looking into co-operating with the only EU-approved abattoir in South Africa, situated in Rustenburg.
"You can imagine how relieved we are that South Africa has regained its foot-and-mouth disease-free status. We plan on exporting chevron as soon as we're in full production," says Jan. The Kalahari Red flock currently consists of 800 ewes and 26 stud rams; 76% of the ewes are registered stud goats.
The goats are run on 400ha sweetveld savanna with an average rainfall of about 450mm per year. The farm is divided into 12 camps of 50ha each. All camps have their own watering point supplied by three boreholes.
The sweetveld savanna includes white buffalo grass (Panicum coloratum), black-footed signal grass (Brachiaria nigropedata) and Natal red top grass (Melinis repens).
Browsing species include raisin bush (Grewia flava) and a number of acacia species such as prickly acacia (Acacia nilotica) and sweet thorn (Acacia karroo). The goats are kept mainly on the veld, with a 300g lucerne-based supplement daily. The veld is grazed rotationally. The goats are bred in summer and winter at a ratio of one ram for every 30 ewes.
"This means that the lambing ewes have access to sufficient grazing while suckling lambs. The average birth weight is 3,5kg, the weaner weight 35kg at 100 days and the year-old weight 70kg," says Jan. The average inter-lambing period is eight months, with a lambing rate of between 180% and 200%.
"We're not making use of artificial insemination yet, but will certainly look into the possibility should the need arise. In the meantime, we're collecting and storing our top rams' genetics. Embryo exports are another economic avenue we're looking into, particularly to Brazil and Argentina," he says.
Securing the future
Nyalala believes that this project is the answer to the economic future of the Bakgatla Ba Kgafela's rural communities.
"Our main aim is to support our members to become fully fledged commercial goat farmers and actively contribute to food security. We have the land, people and dedication to make it work. This initiative could be rolled out to other similar communities."
Phone Maureen Sibeko-Eberl, BBKTA media relations manager on 011 463 7792 or 082 678 0117 or email [email protected].