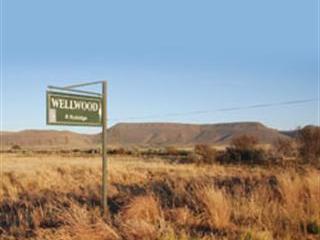 The Graaff-Reinet Herald of December 15, 1860 advertises a private sale on Wellwood farm in the Graaff-Reinet district. Offering 600 to 800 Merino ewes from Charles Rubidge's 'celebrated flock' it states: "These ewes need no recommendation as Rubidge has spared no expense in the improvement of his flock for the last 22 years. They are admitted to be the best sheep in the Eastern Province, if not in the colony, combining fineness, weight of fleece, and carcass."
This dates the origin of Merinos at Wellwood to 1838, and spells out the standard for subsequent generations of Rubidge farmers. Each generation at Wellwood, from Charles Rubidge through Richard, Sidney, Richard and now Robert, has contributed to the evolution of quality in the South African Merino.
In the family room surrounded by portraits of Wellwood rams spanning 174 years, Robert says: "The family legacy is a fair responsibility, but at the same time it's important for me to simply focus on what I need to do and what I love doing, which is livestock farming."
A good start
Robert, now 55, joined his father Richard on Wellwood when he was 25 and took over the running of the business when Richard retired. He and his wife Marion and their three children live in a gracious Cape Dutch style homestead on Wellwood. The first house built on the farm was a thatched cottage, built by Charles in 1840. "My father lives in the original cottage. He is still very active; when we're working with sheep in the kraal he enjoys being there," says Robert, admitting that he continues to seek his father's advice.
In his book The Merino on Wellwood, self published in 1979, Richard documents the Wellwood history describing Charles Rubidge's arrival in South Africa in 1821 and relocation from Grahamstown to Graaff-Reinet in 1838. Here, in the Karoo, where, "not only were conditions more favourable for sheep-farming, but there was also farming land available as a result of the Great Trek".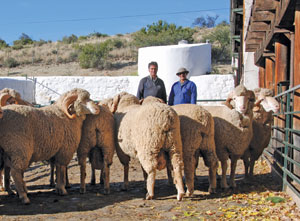 Robert and his stud master Peter Koopman with whom he has worked for 16 years.
Charles, the oldest son of Robert Henry Rubidge, started the farming venture at Wellwood. Investing in the best possible 'bloodlines' from the outset, Charles bought Rambouillet rams and Josephine ewes, both of French origin, known for fine wool and good meat.The investment paid off through the generations.
Flock management
The Wellwood flock is currently running at 3 000 to 3 500 Merinos, including 700 stud and 700 commercial ewes, bred to suit modern needs. Robert runs them extensively on about 10 000ha of veld. Situated at the foot of the Sneeuberg range, the terrain is rugged. There is no irrigated land on Wellwood, but Robert has 20ha of irrigated pasture 20km away near Nieu Bethesda. He runs 200 to 300 of his 4 to 5 year old ewes on this pasture, when their teeth start wearing, to get two to three more lambs from them. The twinning rate on pasture is more than 80%.
Wellwood is a closed stud and sells from 100 to 150 rams annually. "We sell out of hand off the farm in March, and again at the annual Merino SA sale in Middelburg in September," explains Robert. His top 2011 stud ram sold for R86 000 at last year's Middelburg sale to Pat Eustace of Himeville. The average price for the 15 stud rams he put on that sale was R27 000. "It was a lucky year," he modestly admits.Before selling them he selects and uses a number of his best 18-month stud rams on stud ewes at a ratio of 60 to 70 ewes per ram, obtaining an overall conception rate of 99% in the flock.
Marketing
"We have an established clientele and new buyers from all over the country – Ermelo, the Free State, Swellendam, the Karoo. There's a good demand for Merinos these days," explains Robert. "The wool price is far higher than it was a few years ago and the modern Merino is a more adapted, meaty animal. There has been a loss in wool quantity as a result of this, but Wellwood has managed to maintain more wool than the Karoo average.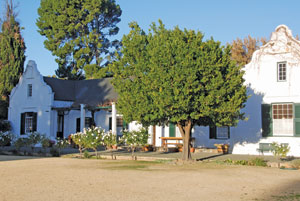 Wellwood's homestead was the second house built on the farm. The first was a thatched cottage, built in 1840.
"We shear in July and average about 5kg and 19, 5 microns," says Robert. "Ewes produce 6kg to 7kg, 10-month old lambs 3,5kg to 4kg and hamels around 5kg." He markets the wool through BKB and seldom holds anything back. "I might gamble with a few superior lines if it's been a bad sale but generally I meet the market."
Robert puts 18-month-old (2-tooth) maiden ewes to the ram in April and runs one lambing season a year. "They keep their condition better this way. I don't believe in putting them under too much pressure, mating them too early or three times in two years, as drought is the norm in these parts and they are run extensively," says Robert. "We cull those that don't conceive. Ewes are a crucial part of the flock and we constantly work at improving their quality and productivity."
Feeding
All his stud ewe and ram lambs are evaluated at 11 months, based on a combination of conformation, body weight, fleece weight and micron value. From here he selects approximately 30 of the best ram lambs, which are then fed maize and molasses meal and SS200 as additional rations.The remaining rams are sold to commercial farmers as two-tooth veld-raised flock rams.
Apart from the 30 selected rams, he supplies no supplementary feed to his animals, except during drought. Hamels that graze suurpol-dominated mountain veld get a salt lick and protein block in winter. During a drought, the sheep are fed chopped blue agave (Agave americana), a sisal-like native of South America, introduced to the Karoo about 100 years ago. Robert agrees with his grandfather that the plant provides good fodder for livestock.
"I believe in the value of agave and old man salt bush (Atriplex nummularia), both of which grow on the farm, as drought reserves," Robert explains. Dipping and dosing is kept to a minimum, as he wants the sheep to be well adapted and parasite resilient. "I strive to constantly improve the standard of stud and commercial sheep," says Robert.
Commercial and stud ewes are raised for wool and lambs. Robert runs commercial hamels for wool until they are full mouth, when they go to the butcher. He selects the best stud and commercial maiden ewes just before 18 months as replacements and sells surplus ewes to other breeders. Between 20% and 25% of the flock's breeding ewes are replaced annually.
Diversifying
Robert is upgrading a commercial herd of 110 cows and 30 heifers to Boran. "I bought my first three-quarter Boran bull eight years ago and liked the progeny, so I started investing in SP bulls (registered bulls that have passed inspection) and am now part of an SP bull sharing project with Norman Kroon of the Camdeboo," he explains. He sells steers and cull cows, and keeps the F1 heifers to build the herd.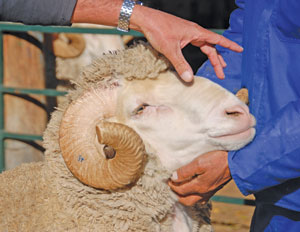 Robert shows the strong and masculine head of a top quality stud ram.
After 30 years on Wellwood, Robert's passion for farming is undimmed. He regards it as "a fantastic quality of life even though it's tough. "There are so many variables beyond our control, from weather to fracking. I have to be prepared for it all because the buck stops with me every time."
Robert is an ardent supporter of the anti-fracking legal initiative led by attorney Derek Light of Graaff-Reinet. "Several Karoo farmers' associations contribute to this initiative because, if fracking is approved, the consequences for farmers will be devastating," says Robert. "We have to fight this together. It's not negotiable."
No stranger to threats, be they political, economic or natural, he believes in tackling them head on while continuing to farm "as if I will be here forever". "If we didn't adopt this approach we wouldn't have been farming all these years." Robert and Richard both pay tribute to farmers' wives for the central role they play in keeping the hearth burning.
"Women are the nucleus and the essence; a family is only as strong as its women," he says. "The family is our greatest asset." His father echoes this sentiment in the closing paragraph of his book as he writes: "No Rubidge male could have achieved even half of what they have, had it not been that each in their time were supported and encouraged by dedicated and outstanding wives, prepared for hard work and prepared to make sacrifices. To them, my gratitude and thanks."
Contact Robert Rubidge on 076 913 8907 or at [email protected]