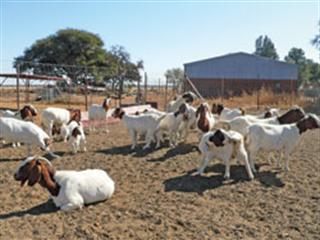 "I've spent all my life organising farmers," says Gideon Morule of Mahikeng in North West. "Throughout this time, I've emphasised the need for a united voice."Born in 1945, Gideon began working for the former Bophuthatswana government as a clerk in 1967. Seven years later, he began farming grain part-time on a 500ha Bophuthatswana government farm in Mogosane outside Mahikeng, and at the same time started participating in organised agriculture.
In 1976, he founded the Ramatlabama Primary Co-operative, which distributed development funds from the Bophuthatswana government to emerging farmers. In the meantime, he continued working for the Bophuthatswana government, rising to become a deputy director at the department of internal affairs.
In 1981, he retired to pursue farming full- time and in the same year co-founded the Bophuthatswana Farmers' Union, remaining its secretary for many years. The union negotiated with the homeland government on behalf of farmers and made proposals for agricultural development. With the arrival of democracy, it became the North West Farmers' Union, which is affiliated to the National African Farmers' Union of South Africa (Nafu). Gideon served as an executive member for many years.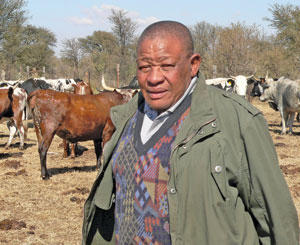 Gideon Morule
Full-time farming
Gideon's opportunity to farm full-time came when the Bophuthatswana government invited lessees to operate on Sekai Farms near Ramatlabama, a village straddling the South Africa/Botswana border. Sekai was a government farm divided into 57 farms of between 100ha and 500ha. Gideon was allocated a 500ha farm on 1 September 1985 on a seven-year lease with an option to buy.
Determined to maximise his output, he kept the 500ha farm in Mogosane as well as leasing a small commercial farm under a fictitious name in South Africa. He was forced to use a false name, as black people were not allowed to run commercial farms. "I leased this farm from my former accountant, a Mr Knight in Mareetsane, from 1979," explains Gideon. He grew maize, sorghum, groundnuts and sunflower on the three farms.
"I planted about 335ha on Sekai, 400ha in Mogosane and 99ha of leased land in South Africa," he recalls. "But the yield was very low because the cultivars were not good. I produced about 1 400t from just over 800ha." Fortunately, Gideon ran a few cattle, goats and sheep on all three farms and this helped to increase his income. He has always believed in the value of mixed farming.
Land woes
In 1992, Gideon's lease on the Sekai farm expired and he put in an offer to buy the land. He was told to wait until the new government took over in 1994 – and it was then that his troubles began. Despite submitting letter after letter of application over the years, Gideon was unable to get a clear answer from the North West Department of Agriculture and Land Affairs on whether he was entitled to the land.
"I even wrote to the then minister of agriculture and land affairs, Derek Hanekom," he recalls. "Although he instructed his officials to grant me the right to buy the land, nothing happened." He kept up the applications, but to no avail. Finally, in 2010, he received a definite answer, but it was not the one he wanted to hear.
"Minister Gugile Nkwinti's officials made it clear that state land would not be sold to emerging farmers," says Gideon. "This is despite the fact that I'd worked on that farm commercially for 25 years." All the state would do is offer him short-term leases. "This makes commercial farming very difficult as I can't get funds anywhere with a short-term lease," he says.
The decision was a blow, as he had invested a great deal in the farm in the belief that he would one day be its owner. He had improved the farmhouse and workers' quarters, drilled boreholes, and installed water pipes and fencing.
Nguni Cattle
Despite his land troubles, Gideon forged ahead with his farming. In the late 1990s, noticing that the area had become drier over the years, he replaced crops with livestock as his main source of income, and for about 10 years ran Simmentalers and Brahmans. In 2007 another opportunity presented itself.
The North West Nguni Cattle Project was launched, and Gideon seized his chance. As one of the first beneficiaries, he received 11 Nguni heifers and one bull. His Nguni herd has increased to more than 90 breeding cows and two bulls. He has since sold off most of his Simmentalers, keeping a small herd of about 30 on communal land not far from his farm.
Gideon has praised the project, and admits he has benefited from it. "Ngunis are worth about R10 000 each, so it's an excellent start to one's farming business," he says.
Nguni cattle – pros and cons
Due to inadequate fencing, Gideon has great difficulty in preventing the bulls from getting to the cows, and this results in year-round breeding. He adds, however, that this has not proved a disadvantage as Ngunis appear to be able to regulate themselves. "They seem to breed when conditions are favourable for them," he says.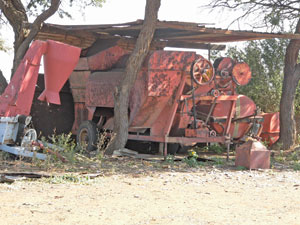 With the uncertainty surrounding land tenure, Gideon was reluctant to drill boreholes. His machinery now lies unused and derelict.
Gideon has also found that he is able to keep more Ngunis on his farm than other breeds; in his experience, 14 Ngunis
have the same grazing impact as 10 larger-framed animals. He rotates his cattle between 14 camps of various sizes and emphasises the need to take good care of the grazing. "I make sure to rest my camps enough and don't overgraze," he explains.
The only disadvantage about Ngunis, he has found, is that they are out of favour in the beef industry. "When you sell Nguni weaners, you'll get much less than any other breed in feedlots," he says. Gideon has also found that although the skins are valuable, they have to be sold in volume to make good money. "One cannot expect to sell 10 or fewer to make profits," he explains. Gideon adds that when the project started, government had recommended that they form a co-operative to produce higher volumes. This, however, had not materialised.
Two markets
Gideon plans to stop selling weaners and concentrate on increasing his breeding stock. "My aim is also to start crossing my cattle with other beef breeds to increase the weight," he explains. His intention is to service both the skin and beef industry. Although the skin quality might be slightly compromised as a result, he believes this will be marginal, as Nguni traits tend to dominate. Another plan in the pipeline is to supply Nguni bulls to breeders in Botswana, due to increasing demand in that country.
Land Reform solution
Gideon maintains that if government refuses to sell the farms, it should at least consider offering 99-year leases with a succession plan. "I have two sons who are keen on farming and are actively involved with the operation," he explains. An alternative, he suggests, is that government could sell the farms with a reversionary clause to ensure that they are sold back to government.
"However, the proviso is that they should sell the land at production value and buy it back at market value," he says. "This way, government would be empowering people, compared with what they are currently doing."
Contact Gideon Morule on 072 151 2725