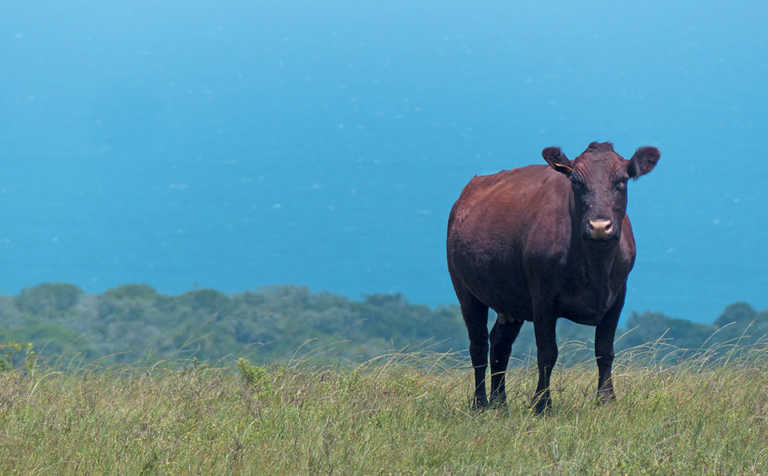 Sussex stud breeder and qualified chartered accountant Linden Hewson admits that when 10 pregnant stud cows were slaughtered by stock thieves in the space of three months in 2002, he considered emigrating.
He was deterred, however, by his long-held love of farming beef cattle, and his determination to continue improving his stud on his 130ha family farm of Grey Maclean, near East London.
Linden's beef initiative has its roots in a few crossbred heifers he received from his father, Mellie, while still in pre-primary school. It triggered a lifelong passion that is today exemplified by a stud which produced one of the country's finest Sussex cows (LJ 06 0209), with an ICP of 359 days over 10 calves.
This achievement is all the more remarkable considering that Linden has to spend great effort and cost to protect his stud animals, including 80 breeding females, from stock thieves.
A love for cattle
During Linden's high school years, he and his father began speculating with cattle, carefully selecting heifers and cows for a small crossbred herd.
By the time Linden left school in 1981 to begin studying through Unisa, the father-son team was running a sizeable herd on Grey Maclean and nearby leased land.
Then in the early 1980s, Linden convinced his father to keep some Hereford heifers – purchased near Port Alfred – and put these to an Afrikaner bull.This produced good results.
Later, Shorthorn and crossbred Shorthorn heifers were added and the herd was closed to produce its own replacement heifers.
In the late 1980s, they introduced a Sussex bull to the herd, producing outstanding two-thirds Sussex and one-third CattleAfrikaner weaners weighing as much as 320kg at eight months.
"I was very impressed with the offspring," recalls Linden.
"Many Sussex breeders committed to the breed after using a Sussex bull in a crossbreeding programme.''
In 1989 the Hewsons decided to buy three Sussex heifers from the Forrester family near Cathcart in the Eastern Cape and register a small stud.
Numbers were boosted in the early 1990s by more purchases from the Forresters and thereafter the Cloete family near Macleantown. During the mid- 1990s, females were sourced from the Start Stud (KwaZulu-Natal) and the Stotterheim Stud (Eastern Cape).
These were followed by more animals from the Fiddlewood Stud (2002) and the Robin-Hill Stud (2005) in the Eastern Cape.
During this period, bulls were bought from a number of studs, in particular the Stotterheim Stud, the Kronsberg Stud (KZN), and the Huntersvlei Stud (Free State).
In 2006, Linden, who had been farming part-time, decided to focus full-time on his cattle, and for the next eight years took control of both the crossbred and stud herds, which had grown to 50 and 80 animals respectively. During this time, he bought in very few bulls, but continued the farm's artificial insemination (AI) programme, which had begun in 1990.
Sussex stud breeding
According to Linden, 2014 was a turning point for him as he decided to commit exclusively to Sussex stud breeding.
"I'd been sitting on the fence because of the political situation [in relation to land reform] and the security on the farm," he recalls. "I decided I had to either go for it or quit."
He began replacing commercial females with stud animals, including eight lots bought at the 2015 Sussex National Sale. These were followed by animals from the Casa Savelli and Pothou Studs in the Free State (2016) and the Avoca Stud in the Eastern Cape (2016).
He also brought some of his best commercial females into the stud via the Appendix A system.
In recent years, he has used bulls from the Eversar Stud (Free State), Platdrif Stud (Western Cape) and Smartt Stud (Northern Cape). Genetics from the Huntersvlei Stud, Faurzyl Stud (Free State) and Madenel Stud (KZN) have been introduced through the AI programme.
Security concerns
Kraaling under the supervision of a guard has been the norm on Grey Mclean for the past 16 years. Currently a guard from Daymax Security – in cellphone contact with a dispatch vehicle – stays on the farm from 6pm to 6am, seven days a week, at a cost of R8 300 a month, excluding VAT.
This has drastically reduced stock theft, but at a cost: crime prevention is an ongoing and expensive factor of Linden's beef operation.
"The cost of security exceeds dipping, and nearly equates to the cost of feeding," he says.
Kraaling has also had a negative influence on production, reducing cow size, fertility and weaning weights. Linden has been forced to breed a medium-framed Sussex cow (between 450kg and 500kg) that is more adapted to the strain of daily kraaling.
Moreover, his heifers' age at first calving has risen from 27 months to between 32 and 34 months as they grow more slowly under kraaling conditions, and first-time calvers sometimes struggle to reconceive.
This impact on fertility is reflected in the current average herd ICP of between 410 and 420 days, a far cry from pre-kraaling days when every cow was expected to have an ICP of 365 days or lower.
Weaning weights have also been negatively affected. Before kraaling, the stud/crossbred females produced weaners at eight months weighing between 220kg and 320kg. Today, they weigh between 200kg and 220kg.
Disease prevention
Grey Maclean is defined by heartwater, redwater and gallsickness veld. All cattle introduced to the farm therefore undergo a strict summer and winter 'blocking' regime. Linden does not use blood vaccines as he has lost faith in the efficacy of the live vaccine.
"I believe Onderstepoort has gone to pieces,'' he says bluntly.
Tick resistance has also been a major concern, with certain injectable parasiticides no longer effective on Grey Maclean. Linden has started using Cipla Agrimed's Attila pour-on dip (effective against bont and blue ticks) with success. Dipping takes place every 10 days in summer and every 14 to 18 days in winter.
Selection and breeding
AI has always been an important tool to ensure genetic progression in the Grey Maclean stud. Linden uses semen from bulls across the country, as well as from self-bred bulls, and 2018believes in storing semen from proven sires for future use.
"You know what you're going to get if you've used a bull extensively in your herd," he says. Up to 25 females are artificially inseminated every season.
When buying herd sires, Linden inspects their dam lines to gauge the quality of their female offspring. Bulls are put to cows – in single sire herds of one bull to 25 females – on 15 October and removed on 28 February. The summer breeding season is then followed by a winter season from 15 May to 15 July to cover females that may have not conceived.
Heifers receive a ration of Molatek Master 20, molasses meal, lucerne and maize every night in the kraal for a couple of months before mating.
This has contributed to an 80% calving rate in the herd. Once the heifers have conceived, they join the cow herd, which receive phosphate blocks in the kraal.
Cattle are also supported on silage produced from sorghum (grown on 8ha), while a winter barley or oats crop (8ha) is also cultivated.
Linden selects about 15 stud bulls a year for sale on the farm or at the annual National Sussex Sale in Bloemfontein. He aims to breed medium-framed, well-muscled bulls with good breadth and depth of body and a smooth coat.
Email Linden Hewson at [email protected], or phone him on 082 461 5767.