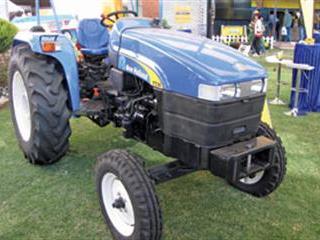 The New Holland TT Compact series comprises three models, ranging from 27kW to 36kW, all of which combine versatility and performance with exceptional fuel efficiency and low emissions. They're available in 2-wheel and 4-wheel drive, and will be ideal for small-scale farmers, who need a highly manoeuvrable tractor for land preparation, hay harvesting, trailer work and other jobs.
The TT35 had a special place on the New Holland stand. Its seat position and controls are designed for easy operation and the layout makes getting on and off a breeze, an important factor for a tractor that will be used in so many different operations. The range also marks a welcome return to this sector by New Holland after an absence of more than 10 years.
A choice of transmissions
There's a choice of transmissions, with an 8×2 standard and an optional 8×8 constant mesh with mechanical shuttle that will be a boon for loader work. In addition to the standard 540rpm PTO with ground speed, an optional 540/540Erpm 2-speed PTO is available.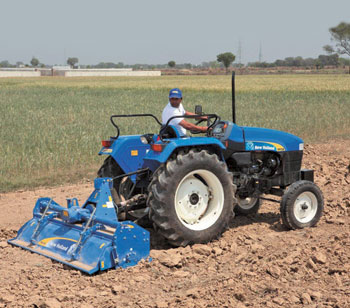 The TT Compact has excellent PTO power.
Power with low emission
The 27kW, 31kW and 36kW 3-cylinder engines are fitted with air and fuel filters designed for harsh local conditions and benefit from New Holland's focus on reducing the environmental impact of its equipment with its Clean Energy Leader strategy. This actively promotes renewable fuel, emission reduction and sustainable agricultural technology. The TT Compact series performs with emissions well below the levels set by local regulations.

The TT35 with a reversible disc plough. Photos courtesy of New Holland
Ideal for transport operations
On the 4-wheel drive models the robust waterproof cast front axle ensures a long life even in the most arduous conditions. The heavy-duty straight rear axle with epicyclical reduction and efficient and durable wet-disc brakes makes the TT ideal for transport operations.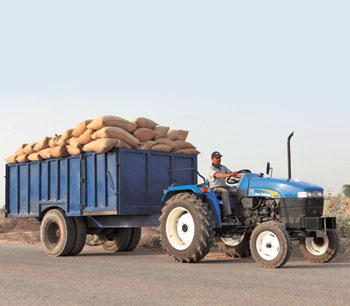 The TT range has undergone extensive testing.