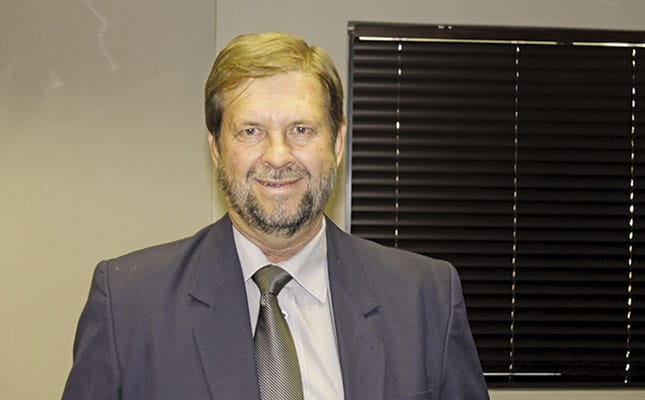 How did you perceive Minister of Rural Development and Land Reform Gugile Nkwinti's unilateral announcement on land caps?
Agri SA's perception on the land caps is that this represents a further move away from market forces towards a centrally planned socialist economy in agriculture. In my view, the minister wants to apply further pressure on farmers and their representative organisations to increasingly contribute to transformation in agriculture.
READ:Young Africa Works Summit puts youth at centre of agri
ASUF chairperson Japie Grobler has said that land reform focuses on white-owned land, despite vast tracts of state-owned land being available for land reform. What is your view?
It is self-explanatory that land reform is about transferring land from white farmers to black people. It would be government's responsibility to buy and transfer land while commercial farmers and their organisations would assist with farmer development. With resolutions adopted at Agri SA's 2014 congress, we accepted the challenge that farmers and their organisations should play a much bigger role within the wider scope of sustainable rural and social development. The productive utilisation of state and communally owned land can and should contribute to this developmental challenge.
What will be the consequences if Nkwinti's plans are implemented?
Recent perception studies by Agri SA show that both producers and consumers are deeply concerned about food security. International experience with centrally planned economies indicates that they negatively affect both production and food security. For South Africa's large, urbanised population, a drop in food production could be catastrophic. It is estimated that about 20% of farmers produce 80% of our food, and the impact of these proposals on their investment decisions may be detrimental for food production. For the average or smaller farmer, it will be almost impossible to implement the 50:50 proposal while sustaining the viability of their farming operations.
As far as Nkwinti's announcement goes, what recourse is there in the Constitution for the commercial farming sector, and what are Agri SA's plans in this regard?
Agri SA always participates in policy consultation processes. We shall therefore continue engaging with minister Nkwinti and the Department of Rural Development and Land Reform. The agreements we reached in the Nareg consultation process following the publication of the Green Paper on Land Reform, as well as the undertakings of the minister at Agri SA's congress, will form the basis of our approach.
We'll also seek support from other organisations in civil society to support our views. If, however, the minister takes steps to enforce land ceilings and the 50:50 proposal, we shall seek recourse in the courts. The underlying principles of these issues are fundamental to the success or failure of the South African state, and we'll treat them as such.
What is Agri SA's land reform plan?
It is a framework that accommodates economically sound transactions in which land ownership is transferred, while production and food security are maintained. The main points of departure are: the empowerment of rural dwellers to determine their own future; the stimulation of agricultural development, including the vast tracts of state-owned land; a non-racial approach to participation; and a sound economic basis that will eventually lead to the social upliftment of rural communities and farm workers.
We view chapter 6 of the NDP as of utmost importance to building an inclusive rural economy which will afford equitable access to the country's agricultural resources. Our proposals are in line with the Constitution, are economically sound and are socially responsible.
The best chance of success is a voluntary, business-based approach with adequate incentives to ensure participation. To achieve this, we must shy away from a one-size-fits-all approach – such as land ceilings and the 50:50 proposal – and recognise the diversity of agriculture. Recognition of AgriBEE scores is also central to the plan. Our proposals give particular attention to the development of a special purpose vehicle as a one-stop shop for financing, as well as an 'ideas bank' offering information on practical options for land reform models.
Land reform should be made attractive to young entrants, so that we can rejuvenate the sector as well as deliver the required transformation.
How was Nkwinti's announcement received at farm level?
From the outset, there were concerns about the safety of investments in agriculture, to the extent where even economists started warning against 'keeping all your eggs in one basket'. However, I sense that farmers regard political pronouncements on land reform as populist and indicative of a government that realises it should be doing something about land reform, but does not know what this should be. Moreover, it cannot be seen as listening openly to sound advice.
There seemed to be a lack of communication between Minister of Agriculture Senzeni Zokwana and minister Nkwinti on land reform. Zokwana has invited commercial farmers to ongoing engagement while Nkwinti seemingly won't budge. The perceived lack of communication between ministers and departments, and between ministers and Luthuli House, is a concern that Agri SA has previously taken up with government. Minister Nkwinti approved of Agri SA's land reform proposals, but this was apparently not communicated to the ANC secretary-general, resulting in continued pressure on the sector to come forward with a plan.
We try to overcome this by liaison at political and technical level, but it remains a highly frustrating issue.
How would land caps affect developing farmers?
In my view, land caps are of a concern to five groups of farmers:
Mega farmers;
Farmers in the arid parts of the country;
Tribal authorities;
Groups of game farmers trying to protect an ecosystem through co-operative ownership and working with new land claimants. In some instances, the latter claim very large areas;
Developing farmers, either in the communal areas or otherwise, who are now condemned to remain subsistence farmers or seek a livelihood elsewhere.
There is almost no logic in categorising farmers by physical farm size. There should be opportunities for seamless progress by successful small-scale producers to become large-scale producers. Farmers who exceed land caps might be tempted to offer all their land to government, rather than accept a reduction of their land and the operational size of their businesses. This could have dire consequences for their staff and the sector as a whole.
Has the commercial agricultural sector made any mistakes on land reform since 1994? If so, what was the biggest?
In my view, the biggest error was to believe that government had the capacity to transfer land and simultaneously sustain production. Billions of rands were spent by government on land reform with unsatisfactory results in terms of land transferred and of sustaining production. Too much land now belongs to the state.
Many beneficiaries with the ability to farm fight an uphill battle to get title deeds. We should have started developing a commercial approach much earlier, but in a sector consisting mainly of micro and small enterprises this is easier said than done.
And government's biggest mistake?
To try to look after people instead of empowering them to look after themselves. We must trust South Africans to act in their own, and the country's, best interests. Education, private ownership, a culture of working and entrepreneurship are all central to this.
Phone Johannes Möller at Agri SA on 012 643 3400 or email him at [email protected].
This article was originally published in the 10 July 2015 issue of Farmer's Weekly.