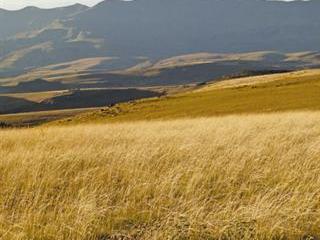 DO YOU THINK THE LAND CLAIMS PROCESS IS TAKING TOO LONG TO BE FINALISED?
The process isn't taking longer than necessary. The land reform process takes long to finalise because of all the legalities that have to be adhered to. If we did it the way (Zimbabwe's President Robert) Mugabe does it then the process will be fast-tracked, but we must uphold the law to the letter. We don't want to cause any chaos.
Government does not have the money to take care of the claims in one go. These things take years and it is largely dependent on the availability of funds.
Minister Gugile Nkwinti has established a branch to deal with restitution cases. Previously people were hired on contract because the process was supposed to be finalised in March 2011. Government has since realised that it is a long process that requires its own branch to sustain the project. The fact that people were employed on contract also meant that there was a lack of accountability. Those dealing with restitution now report to the director-general so they are accountable for their actions.
ORGANISED AGRICULTURE HAS SAID THAT THE DRAWN OUT LAND CLAIMS PROCESS LEADS TO UNCERTAINITY WITHIN AGRICULTURE AND TO DECREASED INVESTMENT IN FARMS. HOW IS THIS BEING DEALT WITH?
I don't understand farmers who have stopped developing their farms due to land claims on their properties, as our doors are always open. They can consult us on a way forward without having to stop investing in their farms.
The department's principles are based on food security so we will not punish farmers with drawn out land claims. We communicate a lot with organised agriculture so it knows where we stand.
This goes for the Green Paper on Land Reform too. We interact with organised agriculture and it is essentially they who are drawing up the Green Paper. This paper will be a product of the South African people and everyone who has a stake in land matters will have a say as to what the paper will look like.
We don't want a repeat of the 1913 Land Act that robbed people of their land. There will be peace and stability when we are done with land reform.
HOW MANY LAND CLAIMS HAVE BEEN PROCESSED SINCE 1995 AND HOW MANY ARE STILL IN THE PIPELINE?
Between 1995 and June 2011, 76 263 land claims had been finalised. We are grappling with the finalisation of the rest of the claims while trying to establish how many claims are still outstanding, because no audit has ever been conducted.
Many land claimants requested that the claims process be reopened because they had previously missed the opportunity. President Zuma answered their call and requested that the process be reopened. We are still waiting for an answer from Cabinet as to whether this will be allowed. We should receive an answer later this year.
We are busy with Project 2013 that marks the centenary of the 1913 Land Act. This will make provision for the finalisation of all land reform projects to ensure that everything is running smoothly by next year so that when we enter 2013 we would have turned around the country in a way that it no longer reflects unequal landownership. The target set by government is to have at least 30% of the country's land in black hands.
HOW MUCH DOES THE DEPARTMENT RELY ON EXTENSION OFFICERS?
Extension officers fall under the Department of Agriculture, Forestry and Fisheries (DAFF) and they help with the recapitalisation and development programme. They are especially instrumental in helping emerging farmers develop their skills. DAFF also has other programmes (such as the Comprehensive Agricultural Support Programme) that complement our work. The two departments work together.
HOW MUCH MONEY IS BEING MADE AVAILABLE FOR LAND CLAIMS IN THE NEW FINANCIAL YEAR STARTING IN MARCH?
Last year the budget was R2 billion and we don't expect it to be any less this year.
MUCH OF THE PREVIOUS YEAR'S BUDGET WAS SPENT ON LEGAL FEES FOR THE CASES THAT WERE REFERRED TO THE LAND CLAIMS COURT. HOW MUCH OF THIS YEARS' MONEY WILL BE SPENT ON COURT CASES?
We faced a lot of litigation in 2010/2011. Although not all of these cases have been sorted out, it is no longer the big headache that it was. Most of the cases have been sorted out and we are now moving into a healthy environment due to the changes that our minister has made and the guidance he has given the department.
There were complaints that land claims commissioners (LCC's) were not doing proper research on the claims, which resulted in court action, but the minister put his foot down and commissioners are now doing their work properly and efficiently.
WHAT CAN BE EXPECTED FROM THE LAND TENURE SECURITY BILL, WHICH WILL BE PROMULGATED THIS YEAR?
The bill provides for agri-villages so that farm workers can settle off the farm. The bill will certainly not give workers free range on the farmer's property as some media reports have indicated. There is no talk of that. The bill will protect farmers from land invasions as farm workers will have tenure and municipal services in agri-villages.
WILL EMERGING FARMERS BE GIVEN THE OPTION TO BUY THE LAND THEY ARE CURRENTLY ONLY LEASING FROM THE GOVERNMENT?
When emerging farmers initially bought farms, many of them failed to make the payments and the land was consequently repossessed and sold to other farmers who had the means to buy it. In order to protect emerging farmers from losing their land, the department bought the farms and then leased it to them.
These farmers do have the option of buying the farm if they have proven themselves over a period of five years.There are already a number of emerging farmers who have bought farms through this programme and are very successful.
EMERGING FARMERS COMPLAIN THAT THEY GET NO HELP FROM GOVERNMENT. HOW IS THIS PROBLEM BEING ADDRESSED?
The reason for previous land reform failures is that farmers were placed on a piece of land without being given any help or training. We have stopped doing that. The recapitalisation and redevelopment programme that was launched in October 2010 with a budget of R900 million is working wonders in helping the farmers.
We have agreements with some of the best commercial farmers that are helping to mentor emerging farmers. We have found that commercial farmers are very forthcoming and willing to help. Many have also stood up against over-pricing of farms, which has cost the department a lot of money.
Not all restitution cases want financial compensation for the land they have lost. How is the department dealing with this?
In these cases, the department finds an alternative piece of land for the claimants. Fortunately there is no shortage of land in South Africa.
HAS THE MORATORIUM ON FARM EQUITY SCHEMES BEEN LIFTED?
Yes, it was lifted last year. We had a very successful workshop with farmers and their workers in Western Cape (where most of the schemes are situated) last year and the schemes are doing very well now.
The programme was initially suspended due to abnormalities and irregularities that were taking place. I believe that these schemes can be very successful and as long as they are, the department will support them because they form part of land reform and upliftment from poverty.
WHERE DO WE STAND ON LAND AUDIT?
The land audit will start around March and be finalised this year.
WHAT IS BEING DONE TO UPLIFT THE RURAL AREAS AND THE COUNTRYSIDE AS A WHOLE?
Reviving small towns is a huge task, but there are many private companies who want to assist. There are also other departments within government that are involved in rural upliftment so we are not short of help.

The first step is to provide basic human needs and infrastructure. Then we look at developing small industries. The Comprehensive Rural Development Programme has gone very far and has resulted in a number of developments, including the building of schools, clinics, libraries and roads.
Municipalities play a big role on the ground in terms of the revival of towns. Government has seen corruption in some of the provinces and consequently put the SIU (Special Investigations Unit) on them to root out corruption. The problem is that the legal wheels turn slowly and it takes a long time to do things lawfully.
This year we look forward to providing far better services to people in rural areas, because for too long the situation has not been good. I am confident that we will turn a corner this time.
Email Mtobeli Mxotwa on [email protected] •FW