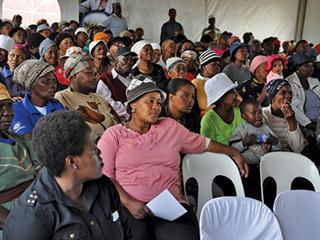 The Free Market Foundation's (FMF's) thinking on land reform is different to that of government. Where do you think the state is getting it wrong?
The FMF believes that land reform should focus primarily on the seven to 10 million council-owned township houses in urban areas, where the vast majority reside, and not exclusively on 40 000 farms. Property already owned by the state can and should be transferred to the legal residents, thus empowering millions of citizens. Our concern is that by focusing on farmland, government diverts attention from the solution.
What does the FMF propose in terms of the slow pace of land reform?
FMF proposes that all council-owned properties be upgraded to unambiguous and freely tradable private ownership – full freehold title – at minimal or no cost to the lawful residents. By transferring property already owned by the state to the lawful residents, government could inject about R3 billion into the economy.
The celebrated Peruvian economist, Hernando de Soto, explained in The Mystery of Capital that the world's poor are not nearly as poor as imagined because they possess the most valuable capital in every country – land. But, as he pointed out, all this land is 'dead capital' as these people occupy but do not own it. The government could virtually overnight turn 'dead capital' – to which black South Africans have been subjected since 1913 – into 'dynamic capital' through full ownership in the hands of private citizens.
Could you outline the FMF's Khaya Lam' (my home) land reform pilot project in Ngwathe?
Secure property rights represent one of the most important requirements for the protection of both economic freedom and civil liberties. In consultation with the FMF, Ngwathe municipality [Parys in the Free State], has resolved to become the first urban area in SA where all land will be privately held under full freehold on the basis of complete equality between white and black citizens.
This project is historic and, if successful, will be the first large-scale substantive initiative to undo the land disempowerment of apartheid still endured by millions of people. It will set a precedent in South Africa. Most importantly, it will unlock the economic potential of thousands of householders, opening the door for large-scale economic growth in Ngwathe and beyond.

What sets the project apart?
Ngwathe is the first municipality to decide that all black-held council land be held under precisely the same title as full freehold land in historically white areas – all remnants of apartheid title will be removed. The vision is not of black citizens being beneficiaries of land allocation, but of owners having their rights confirmed – not title 'upgrade' but 'conversion' to full freehold. Ngwathe will not impose pre-emptive conditions that restrict the rights of what black residents may do with their land.
Its conversion to freehold will be virtually free. Except for a nominal purchase price of R399, owners will not pay formalities such as deeds registration, taxes, stamp duties, conveyancing, land survey, town planning or electricity compliance certificates. These costs will be covered by sponsorships sourced by the FMF.
Ngwathe is providing a one-stop-shop to deal with and minimise formalities and red tape. It is working with private sector partners to document all aspects, challenges and solutions. It is also producing a guide on conversion to freehold for use throughout SA and will make policy recommendations in order to make title conversion fast and affordable.
Have you tried to sell the idea to government?
In partnership with the Ngwathe municipality, FMF has made a start on converting the 33 000 council-owned properties in and around Parys into full freehold. Premier Ace Magashule handed out the first 100 title deeds at the project launch in October 2013. We, at FMF, are optimistic that the success of this project will enable us to replicate it elsewhere with the full buy-in of government.
What is required to make this project a reality?
I will start with the long-term. What we lack, and what is essential for land transformation in the new South Africa, is mechanisms for conversion to full title of land already held by black citizens. Accordingly, a significant part of this pilot project is to generate proposals to government for appropriate legislation.
The idea will be to have what we might call a 'Conversion to Freehold Act'. It will deem existing holders to be rightful owners entitled to tenure conversion while presupposing that only a single variable has to be addressed, namely title registration. The only formalities involved will be those that are essential, such as mechanisms to identify owners. Deeds registry and related formalities will apply only on subsequent transactions, not initial recognition of full ownership.
Determining details of such a law will be complex and therefore needs participation by, and the support of, experts in many contexts. The project has started working towards that objective. In the short term, money is required to make this initiative a reality. Having ironed out the problems and considerably simplifying the process of transferring property from the council to the residents, FMF has managed to reduce the cost per transfer to R1 650. In other words, for this amount, people can purchase an Ngwathe resident freehold title to a home and help set a precedent for replication elsewhere in South Africa.
For more information, phone Gail Day on 011 884 0270 or email [email protected].