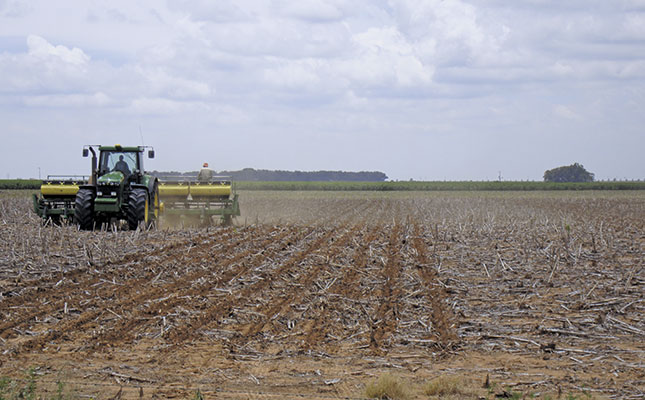 What exactly is agricultural risk management?
'Risk' is the potential to lose something valuable, and is certainly applicable to the agricultural environment, regardless of the size or complexity of the farming activity. It is impossible to avoid risk in agriculture in Southern Africa – the only way to do so would be to exit the sector.
Agricultural risk management is the identification, evaluation and prioritisation of these risks to enable farmers to make effective decisions in dealing with the risk. A balanced risk plan includes mitigation, transfer and coping.
Mitigation is limiting the adverse impact and can be achieved by, for example, diversifying crops or livestock, introducing more sustainable cultivating practices, and using resistant seeds. Transfer is the shifting of the potential financial impact from one party to another. Insurance is the best known form of financial risk transfer.
Coping is improving resilience to withstand and manage the impact of any occurrence that has the potential to create damage. Building up a reserve of either stock (produce) or funds is an example of 'coping' financially.
Are there any misconceptions about risk management and mitigation in the agricultural sector?
The greatest misconception is that it's impossible to manage risk in agriculture because of the sector's volatility. On the contrary, it's exactly because of the sector's volatility that proper management is essential to ensure long-term sustainability. I can't think of another sector where the saying 'failing to plan is planning to fail' is more true.
Fortunately, technological development in the last decade had made it increasingly possible to assess risks more accurately and plan how to manage these risks and their effects more precisely.
What are the main risks and risk-creating challenges for a farming concern in Southern Africa, whether it is a grain or livestock operation?
There are several, in my opinion. Severe and unpredictable weather – floods, droughts, varying temperatures, hailstorms and high winds – are all typical natural risks in Southern Africa.
Next are improper logistical planning and poor infrastructure, including the lack of proper farming equipment, insufficient maintenance of equipment, and a lack of transport or access to transport. Part of this problem is unproductive use of infrastructure and resistance or inability to adapt to technological developments.
Poor management and improperly functioning operations are also problems. These are often due to a lack of experience and knowledge, particularly in the emerging farmer sector, and the unwillingness or inability to adapt to changes in production methods. Insufficient information leads to forecast and planning errors that result in poor management decisions.
Other challenges are limited access to funding, inadequate cash flow planning and management, major fluctuations in prices of inputs and produce, and the affordability of risk mitigating products.
Finally, there's the problem of politics and policies. The uncertainty created by land reform, for example, has an impact on long-term planning. Limited support for the developing agricultural sector, poor infrastructure in communal lands, and government's slow reaction to disasters all add to the problem.

Natural risks are often in the spotlight these days. Can we mitigate their effects?
Escalating extreme weather conditions, because of global warming, have become a bigger challenge to manage. However, with the use of technology and faster data processing capabilities, we should be able to predict these occurrences more accurately and plan accordingly.
In South Africa, particularly, the management of our limited water sources is an ever-increasing challenge due to the growth of our population and the mining and agriculture industries, which are all competing for access to this limited natural resource.

How does agricultural risk management pertain to our global competitiveness?
The governments of many developed countries heavily subsidise their agriculture industries. This means our farmers compete on an uneven playing ground against their international competitors. To remain competitive, South African farmers have to use technology and detailed data to manage their businesses as multi-disciplined enterprises.
They also need to choose business partners with care, and build sustainable long-term relationships.
What is the most important lesson that farmers should learn about risk management?
It's that risk will not disappear by simply ignoring it. The agricultural environment has always been exposed to cyclical movements in weather patterns and fluctuating prices in the free market system, and therefore it's of the utmost importance to plan ahead. Farmers who have a balanced risk plan based on their individual risk profiles can absorb the pressure and even expand in the current circumstances.
Is the business of risk management accessible to the emerging farming sector?
Many agricultural businesses and suppliers provide support to the emerging farming sector in terms of risk management. In many cases, the reason for failure is not due to lack of risk management support, but problems to do with logistics, infrastructure and financial support, as I explained earlier. The agricultural industry would benefit by developing a holistic emerging sector plan. The goal should be to transform the emerging sector to become part of a viable commercial sector.
In order to achieve this, a more coordinated approach, supported by all role players, including government, is essential. Such a plan should start with the focus on proper training and knowledge transfer. In order to be successful as a farmer in a free market system with little or no subsidised support requires a great deal of experience and knowledge. To simply own land does not make one a viable farmer.
How affordable are agricultural risk management products in South Africa?
The pricing of risk management or risk transfer products is based largely on past experience. It is therefore expensive, especially in higher-risk areas. For example, the fact that fewer than 50% of producers make use of crop insurance products puts strain on the spread of the total risk profile for the business accepting the risk, which results in price increases.
It has to be re-emphasised that there are no subsidies or forced participation schemes, and this contributes to unaffordable pricing structures. In lower-risk areas, however, the price of risk management products is competitive, and thus more affordable.
How does the South African risk management industry compare with its counterparts in the rest of Africa?
We have a sound, well-developed financial sector providing products and solutions that compare with international standards. Our agricultural risk management industry also has employees with considerable experience, as well as well-established infrastructure that can provide support services to farmers.
Moreover, the latest technology is available in South Africa, and if this is used in conjunction with these products and solutions, the industry compares not just on a continental scale, but with the best available internationally.
Phone Daan Hugo on 018 464 7482, or email him at [email protected].