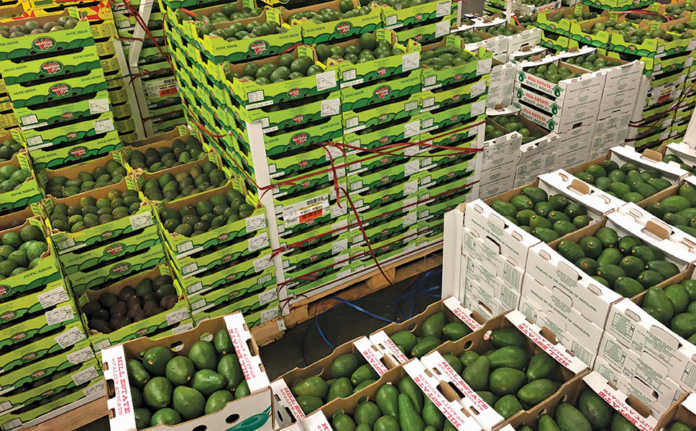 Fresh fruit and vegetable consumption will continue to rise in North America and Europe, but by 2030 their share of global consumption will be in decline.
In contrast, as the populations in Asia, the Middle East and Africa continue to grow, these rapidly developing regions will increase their share of the fresh produce market from 60% in 2015 to almost 70% in 2030.
READ The guardians of South Africa's export fruit quality
These trends will result in two major consequences for the fresh produce supply chain:
Increasing consumer demand for higher-quality produce and a broadening of the range in all markets.
Producers and processors will have to meet the higher demand in regions that are currently far from the supply chain.
As a result, while cost and efficiency will continue to play a significant role in driving the fruit and vegetable supply chain in the coming years, four additional key factors, namely speed, flexibility, precision and transparency, will be required.
Amazon leads the way
The aim of increasing the speed of the supply chain is to enhance the freshness of the produce in order to deliver quality in line with growing consumer expectations.
The trailblazer here can be found elsewhere in retail. Amazon, arguably the most advanced online retailer, is increasingly moving towards 'speed retailing' through Amazon Prime and its fresh produce operation AmazonFresh.
To meet the challenge this presents, other players will need to become more adept at managing the supply chain. This means eliminating inefficiencies and developing an end-to-end view along its entire length.
They will have to ensure well-orchestrated schedules from order to delivery and reduce any lack of clarity in responsibilities, particularly where there are shared workflows.
To speed up the chain, players will have to consider moving towards greater collaboration.
This will make it possible for them to jointly enhance all the links in the chain.
Ever-more demanding consumers
The struggle to attract consumers is becoming tougher, particularly in well-developed markets. In future, weather-related stock shortages will no longer be acceptable.
Consumers will choose suppliers able to offer produce whenever and wherever it is required, while at the same time insisting on sustainability and authenticity.
Companies all along the chain are already well aware of the stresses such demands can place on supply.
READ Good marketing knowledge key to fresh produce profits
Tomorrow's demands, however, will be of a different order, and meeting them will require increasing supply chain flexibility.
Many of the innovations will be driven in part by the need to respond to demand for increasingly frequent deliveries and, consequently, the need for transportation of smaller unit sizes.
As a result, there is likely to be a pooling of volumes through the introduction of cross-chain platforms and multi-purpose networks, including sharing cold-chain capabilities across sectors, auch as between retail and pharmaceuticals.
More precise
Increased accuracy and reliability in supply chain processes will be crucial. Operations will require advanced systems analytics to predict demand and variations in supply well in advance. This will inevitably make the supply chain less 'linear' than at present.
In order to make full and effective use of such technology, every link in the fresh fruit and vegetable supply chain, including growers, platform owners and retailers, will first need to get the basics right.
This means ensuring they have reliable product master data and can feed systems with the information necessary to understand all factors driving demand, as well as developing ways to synchronise forecasts from players all along the chain.
Although the future accuracy of forecasting will be far superior to that seen today, it will never be perfect.
READ Consumer trends are crucial for production decisions
This will give rise to new and better ways of matching supply and demand, such as the creation of online marketplaces for fruit and vegetables (similar to today's stock exchange).
These platforms could reduce oversupply and help to better anticipate such situations.
Image recognition will continue changing the game for producers, with more and more fruit and vegetable types checked for quality using vision technology (as is already the case with apples and pears).
The impact of this technology will extend well beyond sorting, however. Vision robotics will enable increasingly sophisticated interactions in retail warehouses, for example in picking and packing.
In turn, warehouse automation will boost service level consistency and conformity, including strict adherence to industry standards in areas such as pallet and carton quality.
More transparency
The most critical challenge for the fresh fruit and vegetable supply chain is its inherent lack of transparency. Blockchain is likely to play a major role in countering the present inefficiencies and creating new value.
This is a secure and highly decentralised data system. The data in each block carries a time stamp and is encrypted individually. As data blocks pass from one user to the next, they are automatically linked into a chain in such a way that once the data is set in an individual block, it cannot be changed without altering the other blocks in the chain.
All data accumulated can be read by any user, making blockchain ideal for ensuring data integrity and auditability.
A number of global players, including Walmart and Carrefour, intend using blockchain technology to increase the transparency of their supply chains. This, they hope, will enable the data to be shared with any number of participants in the fresh produce chain and enable them to add extra value at every step of the chain.
The relentless rise of online retail
The online share of grocery retail is still relatively small in most parts of the world. Within that category, ultra-fresh products (including fresh fruit and vegetables) account for an even smaller portion.
But this share is expected to grow significantly over the next 10 to 15 years, reaching around 7% globally by 2030.
Growth is expected to be driven by increased consumer acceptance of online purchasing, convenient delivery options (particularly frequent deliveries of small quantities), and an increasingly wider range of online produce that cannot be equalled by bricks-and-mortar retail.
Farmers will also have to come to terms with the new channel, given the accompanying requirement for 'new minimum standards'. Trends to expect in this regard include the following:
Direct sourcing
As AmazonFresh gains market share, it is likely to move to a direct-sourcing model, without intermediaries. Alternatively, or in addition, we might see the bundling of volumes in the form of centralised physical distribution hubs.
Less obvious, and less certain, is whether Amazon (or any other online company) will capitalise on its analytical capabilities in order to complement traditional sourcing with a secondary market approach.
In other words, will it use analytics to match surplus production and consumer demand better?
More stringent product specifications
Until now, the most successful categories in online channels have been those with a high level of standardisation, such as books and DVDs. Consumers know exactly what they will get without having to physically see or touch the product.
The fruit and vegetable business will have to move in this direction if it is to secure the trust of online customers. Farmers are becoming increasingly aware of this; for example, one producer interviewed for the Fruit Logistica Trend Report 2018 said that only a quarter of his oranges had qualified to be sold via online channels.
Although most pure online retailers currently lack the experience or scale to enforce strictly regulated specifications for fresh produce, many will acquire these capabilities within the next 10 years. To meet their expectations, growers will need to establish the same level of strictly enforced, zero-tolerance dispatch control. This need not necessarily mean higher levels of food waste; there is likely to be a market for each quality level of fruit and vegetables, with each category strictly defined by tight specifications.
Increasingly fragmented volumes
Driven by home delivery, the average size of deliveries will decrease significantly over the coming decade. This will require producers to start thinking in terms of packaging individual units.
Sustainable packaging
Packaging will need to be leak-proof (for reasons of convenience and hygiene), include machine-DECREASEreadable labels, and protect against contamination. It will also be expected to contribute to sustainability;
for example, extending shelf life and making increased use of ecologically friendly materials.
Traceability from field to fork
Online sales will lead to ever-increasing demand for data on all activities along the supply chain, driven by customers' need for information transparency. Moreover, the need to link produce from various sources (ironing out seasonal availability) into a single, uniform output will become ever more inevitable as the online channel becomes geared towards year-round continuity.
Branding and brand recognition
In the almost faceless world of online groceries, consumers will look for new sources of trust, while growers will seek new ways to differentiate themselves from each other. In addition, as the large online platforms further develop their direct-sourcing models, farmers will need to find ways to position their produce in the marketplace.
A great opportunity for minor players
Small-scale growers are likely to be most optimistic about the prospects that online platforms such as AmazonFresh provide.
This is because these retail platforms could be an attractive outlet for small producers who might otherwise find it difficult to sell their niche fruit and vegetables through bricks-and-mortar retailers with their limited and expensive shelf space.
For these suppliers, unlike many of the larger ones, the new platform could also provide their products with far better placement than seen in the conventional retail environment.
Source: Disruption in fruit and vegetable distribution: Fruit Logistica. Trend Report 2018, prepared by management consultants Oliver Wyman, in cooperation with Fruitnet Media International.