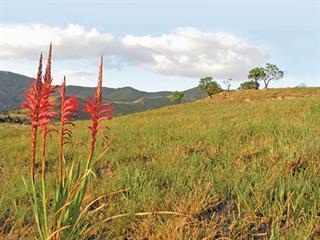 South Africa's grasslands cover approximately a third of the country from the eastern seaboard into the interior. They provide ecological infrastructure and economic benefits to a range of users, from families to municipalities and metropolitan centres. There are five Ramsar wetlands and three world heritage sites in South Africa's grasslands.
Although grasses make up the dominant layer of the grassland, only one in six plants are actually grass species. Other plant types include bulbs and soft-leaved herbaceous plants (collectively called forbs), ferns, subterranean trees, shrubs and scattered trees or bush clumps. The non-grass component of this plant community has high conservation value, but is vulnerable to land use pressure.
Grasslands support diversity in all the major animal groups: mammals, birds, reptiles, amphibians and invertebrates. Stock farmers depend on the grassland biome for grazing and most of the country's sheep and cattle are found here. Beef production has increased by almost 10% during the past decade, yet the area under grazing has declined because of expanding human settlement, alien plant invasion, veld degradation, mining, crop farming and forestry.
Converting land use to cropping, mining or forestry significantly modifies an ecosystem. Livestock grazing also affects grasslands over time, but the changes are more subtle. As grazing and burning regimes change, grasslands can lose productivity and ecosystem function.
The resilience of grasslands
The deterioration of the grasslands deprives future generations of the benefits associated with this biome. However, it is not feasible for the state to purchase the land needed to meet grassland conservation targets. Alternative low-cost mechanisms to protect valuable grassland biodiversity include biodiversity-friendly grazing and burning programmes. These can improve livestock productivity and preserve grassland integrity.
Most unmodified grasslands are used for extensive livestock production, with fire and grazing the primary management tools. Any change in fire and grazing that supports more resilient grassland will better sustain livestock production and biodiversity, even in the face of climate change. Integrating biodiversity objectives with extensive livestock grazing management principles has a positive impact on the biome.
Burning and grazing guidelines
The South African Biodiversity Institute (Sanbi) has compiled best-practice guidelines for burning and grazing. These can be used by farmers with some technical understanding of grazing and burning. The information available covers agriculture and conservation issues and can help land managers and extension officers understand the principles of grassland ecology as they relate to grazing and burning management.
The guidelines give practical advice that can be applied at farm level to improve plant and animal conservation and maintain livestock production. The guidelines were developed from discussions with grassland ecologists, farmers, and biodiversity and grazing specialists. They represent the current best understanding of how to achieve the mutually beneficial objectives of sustainable livestock production, improved or stable veld and soil condition, and conservation of the grassland and its plant and animal species.
Grassland ecosystems
South Africa's grasslands are resilient and stable ecosystems dominated by perennial plants that can withstand repeated defoliation or disturbance by fire, drought, frost and grazing. However, they are not invincible. Changes in plant vigour, species composition, vegetation structure and productivity occur in response to various management pressures, particularly inappropriate grazing and burning. These changes are highly undesirable in terms of biodiversity, livestock productivity and ecosystem functioning. But they are avoidable if the grassland is well managed.
Grasslands are found at a range of altitudes, from sea level to an altitude of above 3 000 m. They occur across various environments — from the sandy coastal plains and rolling hills of the eastern seaboard, to the steep slopes, valleys and ridges of the sub-escarpment, up onto the plateaux of the high escarpment and the plains of the central Highveld. Across this landscape, 72 grassland vegetation types are recognised. They are differentiated from one another by shifts in species composition resulting from a complex interplay of environmental variables such as climate, topography, geology and soil.
Environmental patterns influence other ecological forces such as grazing and fire, which give rise to finer differentiation of the grassland types. The 72 grassland vegetation types have been arranged into three broad groups based on their species composition, community structure, ecological characteristics and response to management.
Dry Highveld Grassland

Mesic Grassland

Mesic Highveld Grassland

High-Altitude Grassland

Sub-Escarpment Grassland

Coastal Grasslands

Maputaland Coastal and Wooded Grassland

Pondoland-Ugu Sandstone Coastal Grassland

KwaZulu-Natal Coastal Belt

Transkei Coastal Belt
Although the grassland ecosystems have similarities, each is unique in its sensitivity and response to grazing and burning, and requires a slightly different management approach. Within the ecosystems, the vegetation types share similar structure and species composition, are maintained by similar ecological processes and have similar management requirements.
Grassland management involves integrating the two primary tools of grazing and burning, particularly in the more mesic grasslands.As the principles of biodiversity-friendly grazing and burning are applied across increasing areas of grasslands, there is a better chance for the persistence of biodiversity across the large portions of the grassland biome used for extensive animal production.

Rangeland management
These biodiversity-friendly management guidelines build on an extensive body of agricultural principles, such as moderate stocking rate and rest, that complement biodiversity conservation. Indeed, a minimum starting point for biodiversity-friendly rangeland management is to correctly apply the agricultural best practices that emphasise healthy veld and soil. There is a correlation between veld condition and biodiversity values.
Several methods of grazing, differing significantly from one another in theory and practice, have been published. Indeed, grazing and burning management in South Africa is a hotly debated topic. This series does not attempt to review the strengths and weakness of these regimes, but rather focuses on the principles of biodiversity-friendly grazing that managers can apply.
At the end of the series, a model for grazing and burning is presented as an example on which a land manager can develop his or her own model. This should by no means be seen as the only model. Relatively little research has been done on biodiversity-friendly grazing and burning. This allows the debate to be dominated by anecdotal evidence and speculation rather than by sound science. Considering that grasslands are complex systems about which there is insufficient knowledge, the focus of the guidelines will be on management principles. Conservative practices are applied to guard against damage through ignorance.
Action based on observation
There will never be a single recipe for successful management in all grassland ecosystems and socio-economic contexts. It is thus better to avoid a strict rules-based approach in favour of a principled, adaptive management approach that recognises the saying, slightly modified for this context:
"The eye of the owner makes for healthy veld and fat cattle".
In short, the manager should observe the grassland and so acquire knowledge of how it responds to various management and climatic regimes. Management decisions can then be based on these observations and the principles presented in the guidelines.

In part II of the series, we will deal with the principles of biodiversity-friendly grassland grazing and burning and how to integrate these as part of the management plan. Phone Tsumbedzo Mudalahothe on 012 843 5000 or email [email protected]. za, or email Dr Richard Lechmere-Oertel at richard.bpm[email protected]. Visit www.grasslands.org.za.