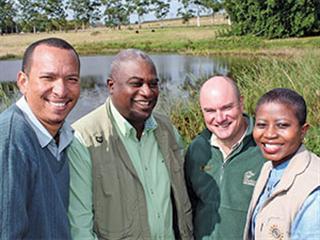 In 2007, Nomalanga Mosala and Irvin Pascal bought the 9 500ha Esibayeni farm from Paul Hay. Situated near Greytown in KwaZulu-Natal, the farm, part of which is now Nomalanga Nature Reserve, has been praised as one of the province's most progressive private conservation developments. "We conducted a due diligence and identified a number of land claims," explains Nomalanga, a human resources practitioner who has served as an advisor to a number of BEE developments and who is passionate about rural development in general, and the empowerment of rural woman in particular.
Nomalanga and Irvin negotiated a settlement of the land claims, in which the state and relevant communities acquired 4 700ha. "We kept the balance," she says. "Our original aim was to create a mixed farming business. We wanted to focus on horticulture and livestock and to market beef, blueberries, vegetables, maize and wheat."
The couple soon realised that it would be more feasible to turn the greater part of the land (2 800ha) into a conservation area. Irvin, a chartered accountant, who also has strong community links, says that he and Nomalanga had "been through the wringer" investigating with various investment houses the best means to realise the potential of Esibayeni Farm.
The Nomalanga Nature Reserve models conservation as a legitimate private land-use option that can create economic benefits for local communities, explains Greg Martindale, head of Ezemvelo KZN Wildlife's Biodiversity Stewardship Programme (BSP). The BSP facilitated the formalisation of the nature reserve's protected area status.
Crucial
Nomalanga and Irvin are playing an important role in helping to conserve some of the fast-disappearing KZN Midlands grasslands, the habitat of numerous species of flora and fauna. "This includes the highly threatened oribi antelope (41 animals counted in the 2011 census) and the wattled crane," says Greg. "The sustainable business model that was developed represents financial advantages for Nomalanga and Irvin, as well as the local people and is really exciting."
The nature reserve will soon become part of the Wattled Crane Custodianship Programme, an initiative embraced by KZN Wildlife to protect and expand the current population of 235 bird species in South Africa. KZN Wildlife and the Endangered Wildlife Trust awarded Nomalanga Nature Reserve oribi custodian status two years ago.
"I certainly hope this will be an incentive for other landowners to incorporate specific areas of their land into stewardship agreements with Ezemvelo," says Greg. Nomalanga, originally from Soweto, says that exposure to Ezemvelo KZN Wildlife and other conservation NGOs was a revelation. "They addressed our wish to be ecologically responsible and to share our natural riches with a broader community. They helped us understand what we had actually bought here," she says.
Custodians
Nomalanga says a new world opened up to them as they discovered the Mistbelt grasslands and their importance to many endangered species. Their reserve has two other types of endemic and threatened ecosystems – Thukela Valley bushveld and KwaZulu-Natal Highland thornveld. "We're the custodians of one of the few remaining large expanses of these vegetation types in the area, the rest having been almost entirely transformed by afforestation and agriculture," says Nomalanga.
She is also a member of the National Forestry Advisory Council and the Forestry Governance Working Group (FGLG), an alliance of local and international groups active in eight African and three Asian countries. "We feel proud that our property is so important for conservation. Ezemvelo KZN Wildlife has been of immense assistance and worked closely with us to carry out detailed assessments of the floral and faunal populations and to develop strategies for optimal management of the nature reserve.
"Together, we've worked on a management plan that's a combination of community development, ecological management and commercial viability objectives and strategies. "We also anticipate assistance with clearing alien species, such as wattle, from our water courses," adds Nomalanga.
Tourism
To help achieve sustainability, Nomalanga and Irvin are set on building a niche eco-tourism lodge that will offer trails and "inspirational places" throughout their protected conservation area. Being in the heart of the KZN Midlands, in the Mbalane River valley between Greytown and Mooi River, the nature reserve will become part of the Midlands Meander tourism route.
They plan to make game viewing and birding popular activities on Nomalanga Nature Reserve. Game species include kudu, zebra, giraffe, impala, common reedbuck, mountain reedbuck, eland, bushbuck, nyala, warthog, blesbok and oribi. Birds include Ground hornbill, Wattled crane and numerous raptors.
Farming
Irvin and Nomalanga pursue commercial farming interests on the remaining 1 000ha. "We've planned an overall development framework that sets out our vision and operational objectives and incorporates conservation and tourism alongside development of community social facilities, vegetable farming, forestry and stud breeding of Nguni and Boran," explains Irvin, adding that the beef herd will also serve as a grazing management tool for the grasslands on the farm.
"Conservation management is about looking after the land and everything that exists on it, namely the plants, animals, water and our communities. So our farming activities take place within that context, and we endeavour to minimise and eradicate negative impacts that farming activities could have on the environment. "We're also in the process of getting GlobalGAP, HACCP and ISO9001 accreditation with FSC (Forest Stewardship Council) certification of our forests," he adds.
In addition, plans are in place to re-route the main district road, train and employ local residents in tourism services and build a school and other community facilities.
Contact Irvin Pascal on 083 3257839 or [email protected].