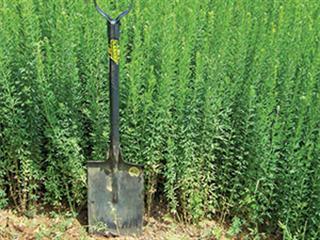 A recent conversation I had with Onderstepoort-based state vet, Prof Gareth Bath, prompted this week's column. I phoned him to ask for his help in unravelling a health problem one of my clients was experiencing with his beef herd on pasture. It wasn't long before the conversation turned to Sericea lespedeza. Prof Bath specialises in small livestock and has a strong interest in the production of quality pasture.
He has made a valuable contribution to our knowledge of the benefits of Sericea especially when it comes to suppressing internal parasites in livestock. Prof Bath was recently invited to Alabama University in the US to talk about the research he has done in conjunction with Hendrik Botha, chairperson of the KZN Red Meat Producers' Organisation, and a producer of quality Sericea seed.

Economics
Prof Bath says there are times he could be mistaken for a seed-house representative because of his eagerness to promote Sericea. He reckons it deserves to be renamed 'smart man's lucerne'. Before moving on to planting tips, I want to share a vital point Prof Bath makes about the economics of Sericea. His conclusion, based on his observations, is that this legume enables livestock farmers to improve livestock carrying capacity and production on their existing properties. In other words, Sericea eliminates the need to expand 'horizontally'. This is an important point given the current economic circumstances farmers have to cope with.

Overrun
A few months ago, I had an interesting exchange with a young graduate farmer at a music evening held to raise funds for the Harrismith old age home. The last time I spoke to Theuns (not his real name) was a few years ago when I made a follow up call to examine his first Sericea planting. He was not happy – he had planted in autumn, which meant that the seedlings didn't have enough time to build a strong root system before the first frost curtailed growth. As a result, when spring arrived, the Sericea plants had no energy reserves to compete with early season weeds.
The new pasture was overrun with nutgrass, annual grasses and broadleaf weeds. By the time I got to the farm, the situation was beyond a herbicide-fix. However, Sericea can make an amazing come-back – but it takes about three years to do so. My young client and I decided the only thing for it was to slash the weeds once or twice a year.
Worth it
At the music evening, Theuns was all smiles. As was his father, who is also his farming partner, and who was sceptical of our project to begin with. Now he was more than delighted with the wonderful hay crop they'd just harvested. I then suggested to Theuns that he should rather plant in early summer and control weeds from the start with herbicides. This brought him up short, as he saw it clashing with the planting of maize and other summer crops.
A not uncommon attitude among farmers, many of whom resist the early planting of Sericea, which requires a rigorous weed-control programme. Instead they chose the 'I don't mind waiting for two or three years' option. As I've often said, the problem is that all too often farmers aren't fond of doing their sums. Put another way, calculating the loss of potential income by not getting Sericea productive for two to three years doesn't feature high on their priority list.
This season I advised a number of clients to plant Sericea in spring and I've seen a few disasters, which seems to make Theuns' production route the safer one. While it may be 'safer', it's far more costly in terms of loss in production. Just remember, when spring planting Sericea there are no short cuts, and weeds will be a problem. A comprehensive prophylactic approach is needed. You must take all the necessary steps to prevent weeds from gaining a foothold; you must strive rigorously for 100% weed control. It's worth it!
John Fair is a leading expert on pastures. He heads up Fair's Biofarm Assist, and can be contacted on 058 622 3585 or [email protected].