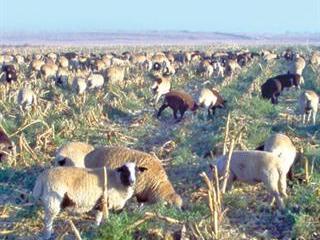 A few weeks ago I attended a wool farmers' meeting in the Harrismith district of the Free State. A panel discussion was preceded by a talk given by a Master's degree student who had done a survey among sheep farmers on intensifying lamb production. I was shocked to learn that 75% of the farmers questioned sold their lambs at weaning!
The fact is that weaned lambs are potentially the most profitable component of a flock. It requires a great deal more forage per kilogram of livemass gain to get them to weaning than it does to feed them from weaning to market. The following example of a mixed farming venture on the Highveld should illustrate the financial gain of finishing lambs to market.
Some 500 Mutton Merinos are mated to lamb early in autumn; 600 lambs are weaned and sold when they reach a mass of 25kg. Most lambs are sold by the end of July. But by keeping the lambs and marketing them at 50kg, the farmer could add at least R300 000 to the gross income – three times the net farm income derived from a sheep enterprise, and a great way to add value! Of course, losses to predators must be taken into account.
Pastures
Most farmers have very good reasons for doing what they do, so why are they selling their lambs at weaning? I got part of the answer during the panel discussion at the meeting. The panel consisted of six successful sheep farmers. When asked what pastures they use, they said Smuts finger grass and eragrostis, which have no value for rearing lambs weaned in midwinter on the Highveld.
If you don't have quality forage, you won't be able to add value to your lambs unless, of course, you put them onto a full feed ration. The primary reason for selling weaners thus appears to be a lack of quality pasture and a reluctance to set up a lamb feedlot.

Forums
In the past two years, well-attended biological farming forums were held in Harrismith. They were widely publicised in the English and Afrikaans agricultural press. A notice was also published in the Harrismith Chronicle. The provision of high quality winter feed was dealt with in-depth, yet not one of the panel members at the recent sheep day had attended!
How much does it cost – or should I rather ask how little can it cost to provide good quality forage to finish lambs? One farmer told forum attendees how he'd set aside 15ha of his maize lands to plant forage vetch for over-wintering his beef weaners. He planted the vetch in February, started grazing in June and continued through to October, by which time the eragrostis and sericea were ready.
The vetch land was then ripped, disced and planted to maize. A comprehensive herbicide programme – pre- and post-emergence – was adhered to. To the farmer's utter surprise and delight, the vetch self-regenerated among the maize plants and gave excellent spring grazing after harvesting. The vetch continued to provide spring grazing in the land for three years without needing to be replanted.
Another speaker informed fellow farmers how he provided top quality forage for the sheep by planting vetch and serradella between wide maize rows at a cost of less than R800/ha. Between 15 to 20 lambs/ ha can be finished within four months on this system. The gross return should be between R7 500/ha and R10 000/ ha (R500/lamb) and the forage cost should not exceed R60/lamb. It's time sheep farmers got wise!
John Fair is a leading expert on pastures and founder and head of the SA Biofarm Institute in Harrismith. Contact John on 058 622 3585 or at [email protected] Please state 'Biological farming' in the subject line.