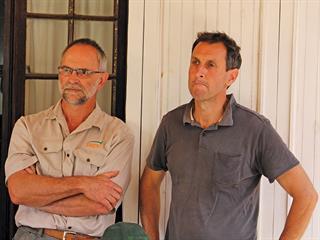 Roy McGladdery, Eston sugarcane farmer and Nedbank Sustainable Farm Award winner, uses the Sustainable Sugarcane Farm Management System (Susfarms®) model to run his business and implement sound economic, social and environmental programmes. Susfarms, a joint initiative created by WWF-SA, the Mondi Wetlands Project and the Noodsberg Canegrowers' Association, aims to reduce the sugar industry's impact on biodiversity and ecosystems.
"Connective thinking is a core element of this structure. We've had good direction from Susfarms on how to manage and oversee our farms," Roy says.
According to him, 116 sugarcane growers in the south Midlands area are Susfarms-compliant, an outcome driven largely by the South African Sugarcane Research Institute's (Sasri) extension office and Paul Botha, Sasri extension specialist for the region.
BEST PRACTICE More than anything else, Susfarms is about management, says Paul, describing it as a tool that helps farmers examine every aspect of their operation, from being compliant with all legislation, keeping books, housing staff and managing fuel consumption, to retaining or reintroducing biodiverse components into the agricultural landscape.
"When top farmers use Susfarms, it's easier to persuade other farmers to follow. It promotes sustainable production that respects the environment," he explains. WWF's involvement came about through an attempt to see if sugarcane, a crop long-regarded as environmentally hostile, could fit into a framework that encouraged biodiversity.
Good conservation and remediation practices have positive effects that ripple out into the mosaic, says Roy.
"Working for Water helped clear an area choked with wattle and bramble in a past season. This year when we had a hard, late frost, the airflow through that cleared patch helped avoid production losses by keeping the frost off the cane," Paul explains.
Roy has planted reeds in wetlands and Ficus trees to provide shade for workers, encourage bird life and catch mist pockets in treed areas that back up onto cane lands.
"We don't use pipes on our valley bottom crossings as they block up. Instead we create rocky drifts and extend reedbeds upstream and downstream to stabilise the crossing. It's working well," says Roy.
The integrated pest management programme (IPM) on Roy's farm Treetops combines natural biological and chemical controls.
The greatest limiting factor to the South African sugarcane crop is the Eldana moth (E. saccharina). Using the 'push-pull' method, insect-attract plants are grown in corridors, wetlands and water courses. Insect-repellent species are planted to keep Eldana away from the cane.
"Eldana prefers wetland habitat but, with no alternative, it will eat cane," says Paul.
Treetops farm sprays according to Sasri chemical guidelines, and uses no red band chemicals, explains Roy. "We use labourers with knapsack sprayers for better target selection, rather than helicopters where drift is a problem for beneficial, non-target species," he explains.
At a regional committee meeting on pests and diseases, growers decided to cut down from eight insecticide sprays in four months to four sprays in four months. Sandy soils with clay percentages of below 20% are a challenge to manage. We peg contours at 1m in 200m to slow water and prevent erosion during heavy rainfall events," Roy says. "Rivets in grass waterways protect the waterways before the grass has taken strongly, and work well."
Responsible farming
Treetops' recycling project delivers glass to the local school, but all tin and metal scrap is collected and sold. "Staff pick up scrap on the farm and we have a proactive worker who keeps the staff village clean and separates the tin from the steel," says Roy. Money earned from the sale of scrap metal pays for extras, such as a fund for employee DSTV and Christmas parties. The labour team at Treetops has a committee and is socially self-regulating. Those who don't respect the rules of considerate interaction and behaviour are fined, and that money goes into the fund.
"Although we offer a funeral benefit to our employees, one of our cane cutters died recently, with no subscription to the benefit. Our guys gave up their Christmas party this year and used the money to help his family by paying for the funeral."
Roy says he has 60 workers in the planting season, many of whom come from the Transkei. Business growth and the acquisition of land has allowed him to phase seasonal workers into the permanent team. "In the off-season there's no shortage of work. We clear invasive aliens, plant reeds, trees and grass waterways, working on rehabilitation and improvement."
Roy says the Nedbank Sustainable Farm Award win was the result of unity and effort from every member of the Treetops team. "We stick to the basics and try to keep things simple," he says. "We've used our extension officer to access a pool of knowledge and learn to restructure and improve management, and it's paid off."
Phone Roy McGladdery on 031 781 1760 or email him at [email protected]. Visit www.sasa.org.za/sasri.