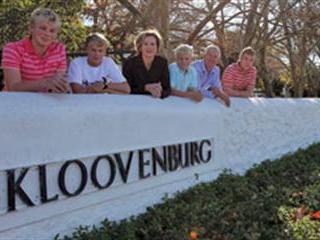 When Pieter du Toit was just 11 years old, he was already negotiating to buy his first farm. "I wrote a letter to the neighbouring farmer and asked to buy his farm," says Pieter, "because it had a lot of guineafowl and I wanted to hunt them. The farmer said that he would give me first option if ever he should sell, and about seven years later (1985) he did and my father bought the farm (one of the best farms in the area) and extended Kloovenburg."
So it's not surprising that Pieter and Annalene's four sons – Pieter-Stef (20), Johan (17), Anton (14) and Daniel (13) are already discussing buying and running a hunting farm. Pieter adds jokingly that the boys have already decided exactly who will do what on their farm.
Fine wines
Kloovenburg, in the Riebeek Valley, was established in 1704, but only produced its first wine in 1858. Then, nearly a century later, the cellar was closed when the then-owner joined the Riebeek Cellars co-op. Pieter opened the cellar again in 2000, although he had farmed Kloovenburg since 1986. "For the first two years I farmed with my father. Then when he retired he wanted to see my bank statement every month – that was all he required," says Pieter.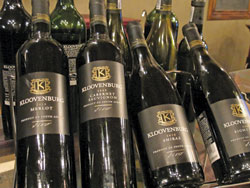 The estate produces both red and white wines, which are highly sought after.
Although Pieter had studied viticulture for two years at Stellenbosch University, he says he still felt like he was thrown in the deep end. "All the vines were very old and we had to replant the whole farm, which was a big job. We made our first wine for Kloovenburg in 1998 and 1999 at Riebeek Cellars, and thereafter opened our doors to the public."
Pieter says Annalene put up a board at the gate that read 'Wine and olives for sale. Hoot for attention'. "Back then we were happy if one car a day stopped by, now 12 years later we easily have 40 cars a day in season." There is now 120ha of wine grapes on Kloovenburg and the cellar is doing well. We do between 8 000 cases and 10 000 cases per season, and also produce about 1 000t of grapes that we sell to Riebeek Cellars and KWV.
"Wine grapes are quite low priced, but table grapes are a bit more profitable than wine grapes – but are also very labour intensive. We started with just 3ha table grapes. Now we have 40ha and I'd like to increase it to 50ha." The whole family knows all the wines and the boys love being involved in harvesting and packing grapes in the storehouse. ''Johan is the one who loves the soet mos (fresh grape juice) that hasn't yet started fermenting. Annalene has also recently started producing mos konfyt, which is reduced mos and takes ages to make."
Olive innovation
Known locally as 'Mrs Olive', Annalene says modestly, "Olives happened to me, and I simply grabbed the opportunity. I also think we started with the olive oil and olive products at the right time. We worked hard and have been blessed. I am not sure how many olive products we have now, but it is well over 40 different lines and people really enjoy them. I also paid careful attention to packaging, especially for the olive body range. When we started with olives in about 1995 there wasn't much competition, but now it's very different and we need to innovate."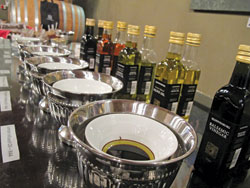 Kloovenburg's olive oils are world-renowned.
The first olive trees on Kloovenburg were planted by Pieter's father, after he saw olive trees growing wild in the mountains. From the initial 5ha, there are now 28ha of olive groves on Kloovenburg, which Pieter says is enough for now. In addition to the vast selection of olive oils, condiments and beauty products sold, fresh olives are also sold to suppliers.
Kloovenburg's olive oils are internationally renowned for superior quality, and Annalene is also a specialised olive oil taster. "Olive oil is just amazing," she adds, "it's alive and ancient and has historically been used for everything from lamp oil to medicine, and it's so healthy too."
While Annalene is also Pieter's wine taster, youngest son Daniel is her olive taster. "My focus is just on the olives for now, because with four sons who do extreme sports and are accident prone, I need to be ready to drive them to hospital at any time," she jokes.
The fig challenge
Pieter and Annalene first considered farming figs when they saw fig trees while on holiday in Greece. ''All the biblical foods are back in fashion (olives, grapes, pomegranates and wine) and figs are one of them," says Pieter. Now Kloovenburg figs can be bought fresh in Marks & Spencer and other chain stores in the UK, as well as in Canada – and some local outlets too.
"Personally, figs are an enormous challenge for me, because we only have four or five days to fly the fruit from South Africa to the UK. But it's a huge opportunity, I believe. The venture is just four years old – so we are still learning as we go, but I love it."
Currently Pieter has 7ha of Parisian fig trees, producing dark black figs currently sought after, fresh or sun-dried. Annalese also makes fig rolls and uses the farm's figs in her fig and olive jams. "We even have a licence to produce fig mampoer, but not for selling purposes," adds Pieter.
Innovation
"On our market days we open our doors to the public to enjoy our products," says Annalene. "People can buy directly from the farm and we get brand exposure and the chance to interact with our customers." Pieter adds that the Kloovenburg Wine and Olive Club is the next innovative offer for customers and will include discounts on Kloovenburg products as well as for lodging at their guesthouse, set among the vineyards.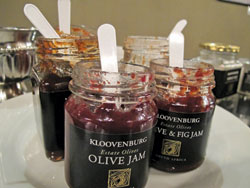 Unusual products are available for tasting, such as olive jam.
While Kloovenburg is a total of 365ha, about half of it is mountains with wildlife in abundance. Conservation projects – in conjunction with CapeNature – are underway here to conserve small antelope and contain the burgeoning baboon and wild pig populations. Indigenous trees are also being planted in these areas in a bid to 'give back to nature'.
Farming in the family
"At the moment all the boys want to farm," says Pieter, "but for now rugby still comes first. They are interested in all aspects of the farm and want to be involved, because they have seen that hard work pays off. I believe it's very important that they learn responsibility." Since they were small, the boys have been included in all the farming processes. Pieter-Stef has always helped with the winemaking, but likes the table grapes aspect better at the moment.
Johan used to help at olive tastings and found it amusing when customers tasted uncured olives that were simply for display purposes, now he considers himself the winemaker among the brothers. Anton may be the astute accountant in the team, while Daniel has all the makings of an excellent marketer and is honing his skills selling boerewors rolls at the market days.
Annalene says the boys help Pieter in the cellar on Sundays when staff are off, which is how the Eight Feet wine label came about. "They asked Pieter if they could make their own wine, stamped by their own feet – which is what they did. And they also all help with the olives; labelling, packing, or doing whatever is needed. The boys never moan about work, because we always work hard. They also love working at the annual olive festival, because they know a holiday will follow."
Practical philosophy
"We believe you must crawl before you walk, so with whatever we do, we start small. We also believe you have to know how to do the job yourself before you can teach anyone else how to do it. And we are blessed with really excellent staff," says Annalene. Pieter adds that it's essential to keep seeing opportunities in farming.
"My dad told me that if I ever wake up and don't have plans or see opportunities, then I must stop farming and do something else. While we will certainly grow our business for our sons to continue farming, I think adding extra value to our products is essential. If you can cut out the middle man and let customers buy directly from you, even better. If you can add tourism into the mix, then that is a recipe to survive and thrive in the future."
Contact Kloovenburg on 022 448 1635 or at www.kloovenburg.com