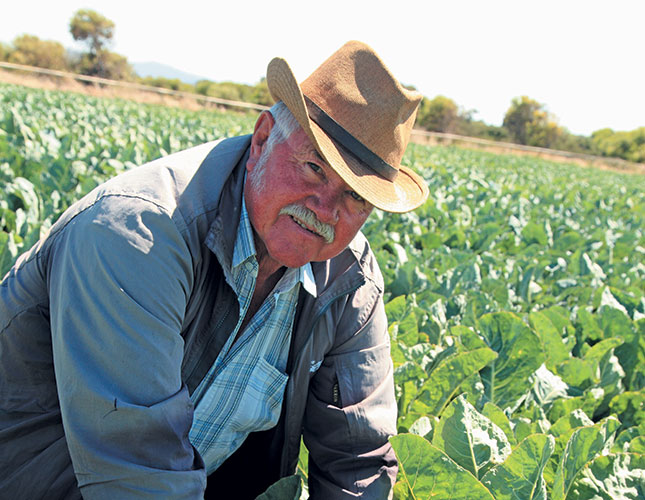 Five years ago, many people thought that it was only a matter of time before urban encroachment would lead to the decline of agricultural production in Philippi near Cape Town.
Today, however, farming in the area is livelier than ever.
"Agricultural production has greatly expanded over the past five years, despite developers buying vast tracks of land in and around Philippi. Dunes that have been mined out for sand have been levelled, which made way for farming activities.
As a result, the area under production now stretches almost all the way from Landsdowne Road to Strandfontein on the coast," says local farmer, Leon Rix.
The expansion has been driven largely by farmers wanting to achieve greater economy of scale to remain competitive and meet increased land requirements for mechanisation.
The plentiful supply of water has also been key.
"The water we use is run-off from the mountains. It would simply be lost to the sea if we didn't use it. In fact, Philippi is seldom affected by drought. The water is also of exceptionally [high] quality," says Leon.
Philippi farmers have over time learnt to take advantage of the overcrowded conditions in the neighbouring township, Nyanga.
In response to this urban expansion, Leon started the African Leaf Farm Stall and Bambizandla Livestock Traders enterprises on his farm four years ago. Most of his clientele consists of foreign nationals from elsewhere in Africa.
Adapting to a new market
Leon offers a wide range of animals for sale: goats, sheep, cattle, pigs and poultry. There are also slaughtering facilities on the premises, where customers can slaughter the animals purchased.
Leon stresses that he is not allowed to slaughter animals on behalf of customers.
Expansion into this market was initiated by his son, Adriaan, who joined the enterprise 10 years ago. Previously, most of Leon's produce was sold at the Epping Fresh Produce Market.
"Adriaan told me I was being old-fashioned in my business approach," he says.
Adriaan started selling sheep as a sideline, and adapted the farm's vegetable production to accommodate this new market.
Leon recalls how a group of Mozambiquans brought examples of rapeseed to the farm and asked him to plant the vegetable as they could not find an outlet selling it. Unfamiliar with the crop at the time, he started experimenting.
"It's similar to Swedish turnips, but doesn't bear any fruit," he says. Today, the farm stall sells rape, cabbage, squash, broccoli and spinach leaves.
"We also sell other more traditional vegetables, such as potatoes, from our stall, but this market prefers produce that can be mixed into [maize meal porridge]," Leon says.
The informal market constitutes about 25% of the Rixes' business, with potatoes making up a further 25%. All the other fresh produce is sold through a distribution agent and at the Epping Fresh Produce Market.
In addition, several local residents source vegetables from the farm to package and sell under their own labels.
The volume of produce supplied to the Epping Fresh Produce Market has been scaled down significantly over the years, as Leon felt his vegetables "were getting lost among all the other produce".
"Market agents know you when there's a shortage of some [kind of produce], but once there's an oversupply, you suffer alone," he says.
Supply chain management is, however, better in the more formal markets, which are accessed through distribution agents, according to Leon. Producing vegetables for the formal market thus remains the business's primary focus.
In this regard, the livestock component of Leon's enterprise helps him to utilise vegetable waste and excess production effectively.
"Vegetable waste is fed to the animals. It's not the most ideal animal feed because of its high water content, but we have access to a lot of it," he explains.
Vegetables have to be introduced into animals' diets slowly to prevent digestive problems. Livestock also need access to enough roughage to maintain a healthy digestive system.
"We buy animals [according to] weight, so we don't want them to get diarrhoea. An
animal with diarrhoea can lose 5kg in three days and it'll most probably be dead in 10 days," Leon says.
Leon and Adriaan monitor the media, the Internet and auctions for animals, and also buy directly from other farmers.
"It took us a while to gauge pricing, but we soon got the hang of it by monitoring supply and demand. Most of the chickens [we sell] are spent hens, because this market prefers larger birds. In addition, a black chicken sells for R200, while a white one sells for only R30, because black chickens have religious significance," Leon says.
Vegetables: crop rotation
Three different vegetable crops are planted on the same land each season. Crops are rotated between vegetables that grow above the soil and those that grow beneath the surface in order to prevent a build-up of soil pathogens associated with specific crops.
A particular land is replanted within two weeks of the planting season of the previous crop coming to an end.
Leon generally plants potatoes, cauliflower and baby marrows in summer, and carrots, parsley, parsnips and leeks in winter.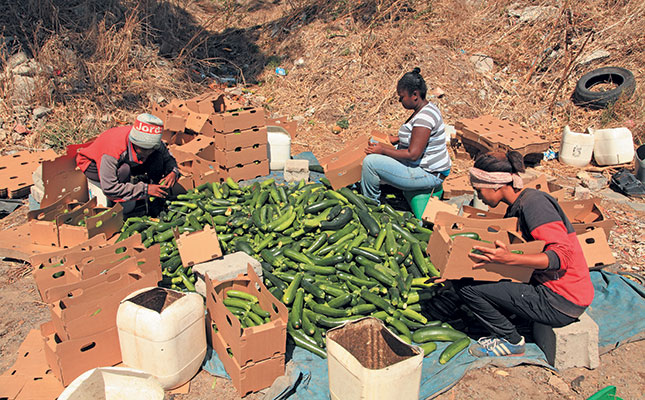 "You need to look at what the market wants. People make more soup in winter, so you have to produce vegetables in winter that can be used in their soups," he says.
Leon prefers planting hardy, faster-growing cultivars in summer and slower-growing varieties in winter. The slower growers are in general more resistant to viruses.
"You pay a [high] price for these cultivars. The more traits bred into them, the [more expensive] they are. In the past, we bought carrot seed per kilogram. These days, you pay per seed. The cultivars we're planting cost in the region of R5 700 for 500 000 seeds," he says.
Leon no longer plants onions due to losses suffered as a result of a glut on the market a few years ago. He has also significantly downscaled potato production due to theft of these vegetables.
Minimum tillage
Leon has been using minimum tillage for the past two years. Once harvesting is over, he works the vegetables into the soil with a rotavator, and then plants seedlings or seed into the plant residues.
Minimum tillage is used for the first two plantings, but the soil is ripped before the third planting to eliminate weeds.
For the minimum tillage portion of production, Leon uses herbicide for weed control before planting in order to prevent competition with germinating weeds. No herbicide is applied before planting when the soil is ripped.
Herbicide is applied a week after planting in both minimum tillage and tilled lands to reduce competition between weeds and seedlings. However, the effect of the herbicide lasts for only four weeks, after which weeding is done by hand.
The soil is extremely sandy and becomes sticky when wet, inhibiting water penetration. Leon therefore irrigates the lands well and works the top layer of wet soil into the rest to ensure that there is enough moisture available for seedlings.
Plants are irrigated two to three times a day for about 30 minutes to an hour at a time, depending on the weather and the age of the crop.
Younger plants receive more water than older plants. Leon uses micro-sprinklers that deliver 3mm to 4mm of water per hour.
A horse and chicken litter mixture is added to plant rows just before planting. This mixture helps to improve the soil structure as well as its water-holding capacity.
"Chicken manure is a very rich fertiliser, but it may burn young roots when used on its own. That's why we mix it with horse manure," Leon says.
Lime ammonium nitrate (LAN) is applied with a fertiliser spreader a week after planting, after which the manure mixture is applied the following week. Plants then receive a potassium nitrate mixture in combination with LAN until a month before harvest.
The fertiliser programme has been developed specifically for the farm's sandy soils.
Leon applies fungicides preventatively to eliminate pests such as black spot, and consults a pesticide consultant for advice.
Labour-intensive
Vegetable production is extremely labour-intensive, and everything on Leon's farm is planted, weeded and harvested by hand.
Farming on the Cape Flats is not always easy, as farmers often struggle with crime, according to Leon.
"Farmers are very innovative and adaptable, however. We tend to find ways around these problems," he says.
Email Leon Rix at [email protected].