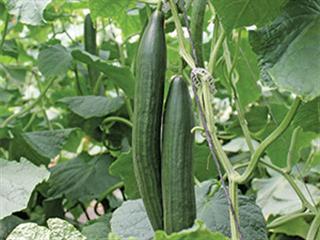 When Jacques Cilliers lost his job in 2005, he and his wife Janie needed a plan to stay afloat. With 5ha of land to spare and advice from a friend who was farming cucumbers, the Cilliers took their last cents and put up four greenhouses for vegetable farming. "But my husband soon got bored with the repetitive nature of farming and lost interest," says Janie. "I couldn't let all that infrastructure go to waste, so I took over."
Janie is not your quintessential farmer, dressing for business every day in high heels and only swopping them for flat shoes when she moves between the tunnels. She admits that although she doesn't have a green thumb, the cucumber bug has bitten her. "I'm very passionate about cucumbers and can't see myself doing anything else."
Churning out Produce
Eight years later, Janie uses 29 tunnels of 300m² each to produce nearly 25 000 cucumbers a week.Each tunnel has 600 plants, half of which are Dreamliner and the other half Verdon. These two cultivars were introduced this year after Janie's own trials found them to be superior to the Trimax and NIZ 51-48 that she planted previously. She also plants 200 Mediterranean cucumbers every third planting cycle for a few select customers who have a demand for it.

Cucumbers are picked when they reach 45mm in diameter.
Quality seedlings are the first step to ensure a good crop. Even after extensive treatment, the water, which is supplied from Hartbeespoort Dam, is not ideal for seedling production. Janie therefore sources her plants from an outside nursery which grafts her chosen cultivars onto Nimbus rootstock. The cucumber plants are cultivated in coir, which Janie says works best due to its water retention properties. Every three weeks, four tunnels are replanted with new plants. Four to five weeks later the cucumbers are ready for harvest and a new cycle of planting starts.
Cucumbers are picked when they reach a diameter of about 46mm. Harvesting takes place in six shifts during the week and Janie gets at least two fruits per plant per week over a 12-week period. They are then classed on length and wrapped at the farm's 300m² packhouse, stored in the cold room, and despatched the next day. Cucumbers have a shelf life of up to six weeks, but Janie says that this is reduced if the cucumbers are stored below 12°C.
"Cucumbers last longer if they are stored in a cool area. But if they are stored in a fridge, their shelf life deteriorates. I think supermarkets make a big mistake in placing cucumbers in fridges that can often dip to 5°C." Sunlight plays a big role in the length of the cucumber so the fruit is naturally smaller in winter.
Because the fruit is sensitive to temperature, the greenhouses are heated in winter. Hot water from a boiler is used in radiators to produce hot air which is blown into the tunnels. "Ideally, day and night temperatures must not differ by more than 15°C, with the minimum temperature not being lower than 17°C and maximum temperature not more than 46°C."
Quality lies in the water
A Netajet computerised irrigation system automates the irrigation process and fertiliser applications on the farm. This system ensures that everything is properly regulated and that the plants get what they need, when they need it. "Everything is centralised, which makes it much easier." In summer, each plant receives between 3l and 4l of water per day, dropping to around 2l per day in winter. Since cucumbers consist of 90% water, clean irrigation water is Janie's biggest challenge.
"Water must be extensively filtered as it is sourced from the Hartbeespoort Dam, which we refer to as a toilet because it is so severely polluted. We have to treat the water with chlorine, nitric acid and Sporekill before it goes through the Turbidex filter. The water is then placed in a holding tank and goes through a filter again before the plants are irrigated."
The fertilisation programme consists of a hydroponic premix, supplied by Hygrotech, which includes all the necessary ingredients to make the cucumbers flourish. The fertiliser is injected into the irrigation system through the Netajet system. The amount varies according to analysis of the coir. This is done by making coir tea with coir and water. The tea is made by mixing one part coir sampled from the grow bags with 1,5 parts distilled water. This is left for a minimum of four hours before readings are taken.

Verdon cucumbers are grafted onto Nimbus rootstock to ensure a strong plant with a flavoursome fruit.
The water is then tested to determine if there are any nutrient deficiencies and if electric conductivity and pH levels are at their optimum. Calcium nitrate and premixed hydroponic solutions are added in equal amounts, ranging between 800g and 1kg of each to 1 000l of irrigation water. The amount varies according to the growth stage of the plants. The tunnels are checked daily for insect infestations and plants are sprayed if necessary.
"Our main issues are thrips and red spider mite, but even these are rare." If there is an infestation, the plants are treated up to twice a week with Tracer and Biomectin. Janie says they adhere to strict chemical withdrawal periods even if it means they have to delay the harvest. JC Trading has its own truck and trailer and delivers its cucumbers to the Tshwane and Johannesburg fresh produce markets, greengrocers and supermarkets.
Starting a business
JC Trading started out producing tomatoes, peppers and cucumbers. But after theft of the tomatoes and peppers became too much of a problem, they decided to focus on cucumbers alone. But the demand for peppers and tomatoes is there and Janie plans to expand the business with an additional 15 tunnels this year, to accommodate these two vegetables. Security will be upgraded to reduce theft.
Janie's labour force consists of 31 workers, including a production supervisor and a driver. Janie stresses that there is no secret to producing quality cucumbers, only a checklist of things that need to be in place. "We have daily, weekly and monthly reports on the production process to ensure quality checks are in place. It is not as simple as doing one thing right and having everything fall in place."
Contact JC Trading at [email protected]