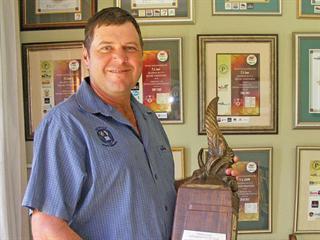 "Farming is my passion," says Boeboe Louw of the farm Bloudrif near Wesselsbron in the Free State. And it is this passion that has seen him carry away the trophy for Free State Young Farmer of the Year for 2014. Boeboe and his wife Annelize have been running a mixed farming operation on Bloudrif for three years. Before this, he farmed in partnership with his late father, Peet, for 12 years.
Boeboe is determined to farm as efficiently as possible and has structured his operation accordingly. "Although I primarily produce dryland maize, I add value and diversify where possible," he explains. "Diversification spreads my risk – my enterprise includes beef cattle and sheep, as well as irrigated wheat, maize, sunflower and lucerne."
Dryland white maize currently accounts for 60,4% of the farm's turnover, irrigated wheat 8,1%, irrigated maize 4,9%, lucerne 6,3%, sheep 2,2% cattle 7,3%, sunflower 7,3% and contract work (spray and harvesting) 3,5%.
Boeboe is in the process of implementing precision farming practices on his land.
"The grain lands have been grid-mapped and we're busy with variable liming and soil moisture analysis," he explains. "The next steps are variable fertilising and variable planting. The reality of grain production is such that I simply have to farm as cost-effectively as possible. To measure is to know, as they say. Determining and addressing the soil requirements are crucial for profitable grain production."
Rip-on-row cultivation
Maize is mainly produced in Avalon soil, which has a depth of about 1,2m, and the 'rip-on-row' cultivation method prevents soil compaction and wind damage. He has used the same tractor tracks in the dryland maize lands for the past three years.
The 20-year annual average rainfall on Bloudrif is 447mm, but for the past three years it has been significantly lower: 282mm for the 2011/12 production season, 420mm in 2012/13, and 352mm in 2013/14. "We counteracted the effect by analysing the soil moisture and planning planting density and fertilisation accordingly," says Boeboe. "Due to the limited soil moisture, I fertilised for a possible yield of 5,5t/ ha in the 2013/14 season. The current break-even point for me is 3,2t/ ha. We also reduced the plant density from 24 000 plants/ ha to 20 000 plants/ ha."
He plants Monsanto 78-45BR and 77-77BR cultivars for dryland maize at between 6cm and 8cm deep, and a row spacing of 1,2m. The lands are sprayed with Roundup Turbo and Techniboost after harvesting, followed by Roundup Powermax and Techniboost 30 days after planting. Powermax and Techniboost applications are repeated just before the maize starts to seed. A fertiliser mix designed for Bloudrif's conditions is applied at a rate of 44kg/ ha about a month before planting and at 31kg/ha during planting.
Bloudrif borders the Vaal River for 5km, and Boeboe draws from the river to irrigate the maize and wheat. He plants the Pannar cultivar PAN 3D-736BR for irrigated maize at a density of between 45 000 and 65 000 plants/ ha, depending on the soil condition. The long-term average yield is 9t/ ha and the break-even point is about 6t/ha.
Irrigated maize is rotated with irrigated wheat. The long-term average wheat yield (cultivar PAN 3471) is 6t/ha with a break-even point of 2,5t/ ha. Irrigated wheat is planted before 15 July and receives a total of 510mm in irrigation water.
Boeboe is, however, concerned about the increasingly poor quality of the Vaal River's water. "I analyse the irrigated soil regularly to monitor the salinity, which is continually increasing. We're forced to apply gypsum to neutralise the effects of pollution and to restore the soil's pH balance," he says. Boeboe plants Pannar's PAN7057 sunflower cultivar for a plant population of 45 000 plants/ ha. For irrigated lucerne, he uses the SARDI 10 cultivar, currently yielding 3, 2t/ ha every 28 days.
Marketing challenges
Most of the grain produced on Bloudrif is marketed through Senwes and Suidwes. One-third of the maize is contracted out before planting, one-third in mid-season, and the final third after harvesting. "Marketing is the most taxing part of grain production," he admits. "My biggest mistakes so far have been made with grain marketing. I now base my marketing strategy on the break-even point of each crop, and have learned to deal only with proven, reputable buyers."
Beef cattle
Bloudrif's commercial beef component consists of 95 Nguni cows, 90 Bonsmara cows, 50 crossbred cows, 30 two-year-old Bonsmara heifers, and 40 one-year-old Brahman-cross heifers. Boeboe uses Charolais bulls on Nguni cows and Simmentaler bulls on Brahman and Bonsmara cows for weaner production. Brahman bulls are used on Bonsmara cows for replacement heifers.
"I specifically use Charolais bulls on the Ngunis because of the calves' uniform colour," he explains. "Uniformly coloured cattle are, in my experience, preferred by the feedlot industry. "My Nguni cows are currently my top performers as far as weight of beef produced/ ha is concerned. I market weaners directly from the farm and wean at seven to eights months, when they weigh between 230kg and 250kg."
Boeboe runs the bulls with females in multi-sire breeding herds from 1 December to 15 March. The weaners are weaned at the end of May and calves are dehorned in March. This is followed by pregnancy testing in June before the calving season starts in October. All cattle are inoculated against bovine viral diarrhoea (BVD) and Rift Valley fever in October and November, when the bulls are also fertility- tested. Breeding cows and heifers are dosed with Multimin and Vitamins A, D and E before the onset of the breeding season.
The 1 095ha cattle grazing section of the farm, which includes 22 ha Smuts finger pasture, is divided into 28 camps, each with a watering point. The cattle are also run on maize stover after harvesting. A rotational grazing system allows every camp to rest for an entire growth season. Each adult has access to 250g lick per day throughout the year.
Mixed on the farm, it includes salt, P12, Dundee lick, maize meal or hominy chop, and Nutrimilk.
Dormer sheep
Boeboe has 319 commercial Dormer ewes and six Dormer rams that are run on 19ha Smuts finger grass and oats pasture in summer, and on maize stover in winter. He uses Voermol's sheep management programme and a three-flock, multi-ram breeding system. The first flock is put to the rams in June or July, the second in November or December, and the third in March or April.
"Breeding ewes each receive 250g Maxiwool lick 30 days before they're put with the rams, 125g to 200g per day while with the rams, and between 250g and 300g per day 30 days before lambing. Lactating ewes receive between 350g and 500g per day. Weaned lambs are marketed at 100 days at an average weight of 40 kg," he explains.
"I love the land," says Boeboe. "I'm richly blessed to be a farmer, and most of all, to follow in the footsteps of my father Peet. And without Annelize, it would be impossible to farm. She's the recordkeeper, bookkeeper and general manager. The Free State Young Farmer of the Year award is as much hers as mine. "I'm also thankful for the role my 28 permanent workers have played in my business. I owe them a lot."
Phone Boeboe Louw on 083 409 5438 or email [email protected].