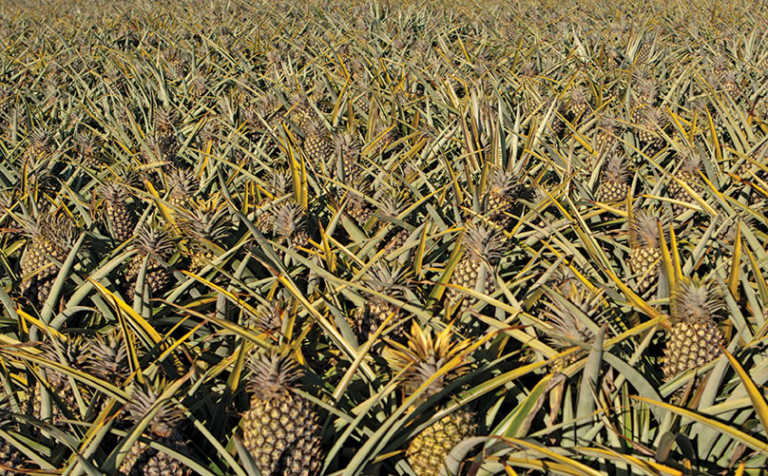 Driving through Bathurst, you are in no doubt that you have crossed the frontier into pineapple territory. On the edge of the town is a giant, man-made pineapple: a remarkably realistic fibreglass and steel structure 16,5m high.
According to Mark Harris, the largest pineapple producer in South Africa, this is the most southerly pineapple production region in the world.
READ Planting vegetables: 3 things to consider
It accounts for 70% of South Africa's pineapple crop by weight, with the focus on production of Smooth Cayenne, a cultivar used primarily for juicing. Queen, the most popular variety for eating, is produced mainly in the Hluhluwe area of KwaZulu-Natal.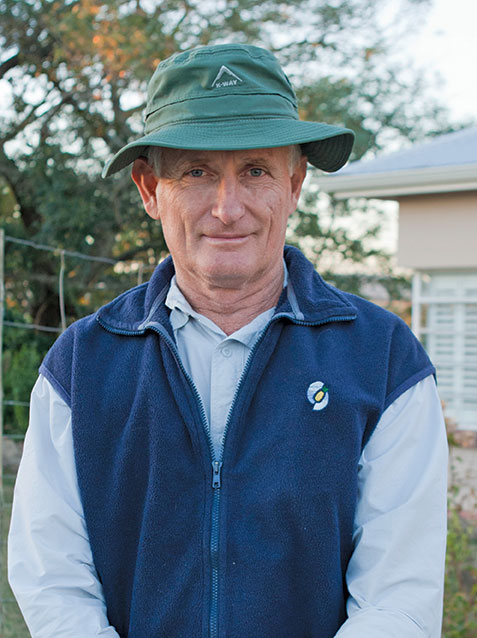 The southerly Bathurst pineapples take longer to grow than those produced by the world's major growers, such as Thailand, Indonesia and Vietnam. The additional growing time leads to higher acidity levels and an intense flavour, which ensures a strong demand by juice manufacturers overseas.
Life-changing partnerships
Harris hails from Welkom in the Free State, and moved to the Bathurst area in the 1980s after finishing his studies in agriculture at Cedara College of Agriculture and working as an extension officer at Langeberg Co-op.
After two years, he decided to start his own farming venture and bought a small lifestyle farm near Bathurst from his father.
From there, he forged the partnerships that have made him South Africa's largest pineapple producer.
One such partnership was established when he married Anne née Purdon, a direct descendant of Bathurst's pineapple pioneer, Charles Purdon. The other was a lifelong partnership with fellow pineapple producer Colin Smithers.
READ Agri partnerships lead to success for young female farmer
Harris speaks fondly of Smithers, who was both business partner and mentor. The two formally consolidated their farming interests in 1988 and 1989, establishing Langholm Farms (Pty) Ltd, which they operated together for about 30 years.
"I came from a non-farming background but I had an experienced farmer who was
a lot older than myself as a partner. What he taught me was immense. You can't buy the lessons I learnt from him," he says.
Initially, they produced about 800t/year but over time grew the business to the point where today it comprises five farms producing about 16 000t/ year, or roughly 20% of the crop processed in a pineapple juicing factory in East London.
Harris describes the growth as "organic expansion" that happened naturally without large-scale external investors.
"We bought a piece of ground, farmed it, paid for it, then bought the next piece, farmed it, and paid for it, and so on."
The corporate structure of the company enabled them to manage succession planning and stay aligned with the interests of the industry as a whole.
Smithers died three years ago but two of his sons serve on the board.
Virtually all the pineapples produced in Bathurst are destined for juicing and export. Processing, as mentioned, takes place at an East London-based factory, which Harris says is largely owned by farmers and farmworkers. The latter are represented at board level through a farmworker trust.
The Eastern Cape Development Corporation is also involved as the development funding institution, and there are a number of commercial shareholders.
The factory has an installed capacity to convert 100 000t pineapples a year into juice or juice-related products. Current production is about 80 000t.
Industry trends
"In the context of the world market, we are minute. So for us, growth is important," says Harris.
Pricing is a major challenge. According to Harris, big players such as Thailand have vast numbers of smallholders who plant on a whim when the price is favourable. This can wreak havoc on the commercial pineapple industry of a small player half a world away.
As with any other commodity, low price cycles are generally followed by higher price cycles, and he believes that South Africa is now entering a positive phase.
Harris says South Africa's pineapple industry went through a period of "consolidation" in recent years, with some pineapple producers giving up.
Many, however, are now coming back. "If current plantings are maintained, we'll reach 100 000t in the next two years," he says.
Intensive production
Harris describes pineapples as "an intensive dryland crop" with relatively tight margins that would make most types of irrigation unprofitable.
The main reason pineapple growers around Bathurst can produce profitably so far south is that the area falls on the cusp of the winter and summer rainfall regions; it thus receives some rain throughout most of the year.
Producers in places such as Swaziland or Kenya, for example, have to irrigate as the pineapples cannot survive the winter. Even in Hluhluwe, farmers often face challenges due to prolonged dry spells. "It's about the microclimate," says Harris.
Pineapple farming requires precisely planned rolling production, with two harvests taken off over a five-year period. The first is at 26 to 30 months and the second 18 to 20 months later.
Planting is staggered to ensure the pineapples can be harvested daily for at least 10 months of the year, from March to mid-December.
Harris explains that in nature, the plant would try to peak in May or September.
"If you just left the pineapples, they'd fall into those two natural peaks, so we have to spread them out."
He does this with various precision practices, including staggered planting times and fertilisation, and factoring in the lie of the land.
"Crops grow at different speeds on different slopes [north or south facing] and that helps give you your spread," he explains.
Harris and his team also carry out flower induction to provide constant flowering and relatively consistent deliveries throughout the year.
The bigger picture
Langholm Farms comprises about 1 870ha and has leased an additional 150ha to bring the total area to just over 2 000ha. Roughly half of this is used for pineapples. Harris says that about 680ha are planted to pineapples at any given time, with another 280ha of land being cycled into or out of pines.
He replaces about 20% of the planted area every year.
After the final harvest at the end of the five-year cycle, the plants are knocked down and mulched to facilitate aerobic breakdown in the soil.
"Then, the following year you prepare the ground for planting," he says. This includes pre-plant fertilisation and fumigation.
READ Meet the world's most powerful forage harvester
Harris prefers doing this over two years, as he believes this results in a 'softer' process that puts less strain on the system.
"You aren't hammering heavy equipment over the soil all the time. You're letting it break down," he says.
In addition to year-round rainfall, pineapples demand a frost-free climate. They also grow best in clay loam soil types such as Glenrosa or Hutton.
Harris constantly balances the nutrient requirements of his crop through the application of nitrogen and trace element sprays. He owns three sprayer rigs that work "flat-out all year round".
He makes use of selective herbicides to keep the lands clean throughout the cycle.
The main pre-plant pest is nematodes, while mealybug and black maize beetle are the principal post-plant culprits.
He is collaborating with retired entomologist Graham Petty, who manages an integrated pest management programme that combines proactive trapping and sampling with regular reports on thresholds and limits.
"We've cut our insecticide applications by probably 70% over the past 10 years by constantly monitoring," he says.
Of the other 1 000ha of land, about 300ha are ravines and gullies not suited to farming, and roughly 700ha are good grazing lands where he runs a commercial Bonsmara herd of about 200 animals.
Sustainability all round 
Harris places a great deal of emphasis on sustainability, as evidenced by the manner in which he cares for his lands.
He uses a corporate farming structure to facilitate industry growth and diversification. He has a clear understanding of the role his industry plays in job creation, with his operation alone providing full-time employment to 48 people.
He also identifies potential future industry players, such as a young intern he appointed as a full-time manager. Thandolwenkosilumilumi 'Lumi' Phaku has now been working for Harris for two years and needs at least three more years before he has actually worked through an entire pineapple rotation.
Replanting
As the pineapples produced in Bathurst are destined for the juice factory rather than the supermarket shelf, there is no need to send them with their crowns still attached.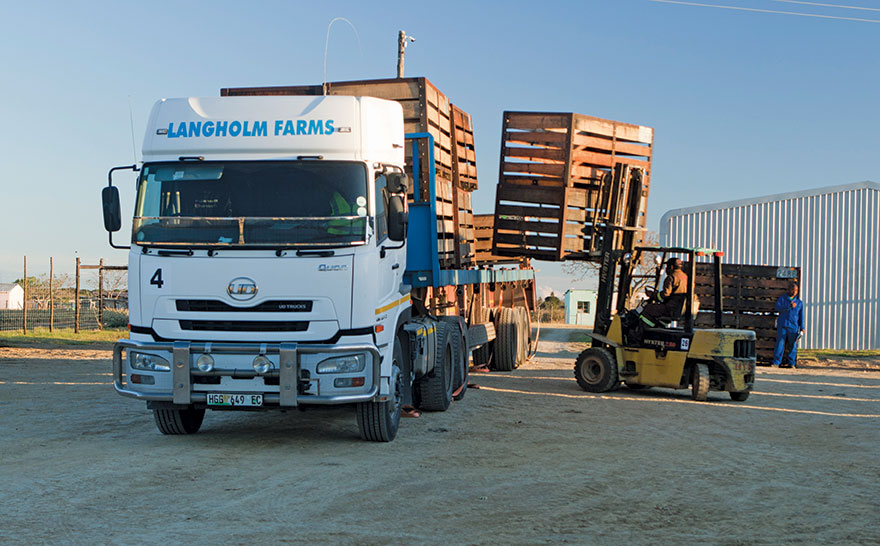 Instead, these are removed during harvest and sorted to remove genetically inferior material; the remaining good stock is then set aside to be replanted.
Harris says that Langholm Farms produces more than sufficient stock for its own planting requirements, and excess genetic material is available to other commercial farmers.
It also supplies development projects, such as a nearby state-supported pineapple cooperative.
Phone Mark Harris on 082 979 2388 or email him at [email protected].