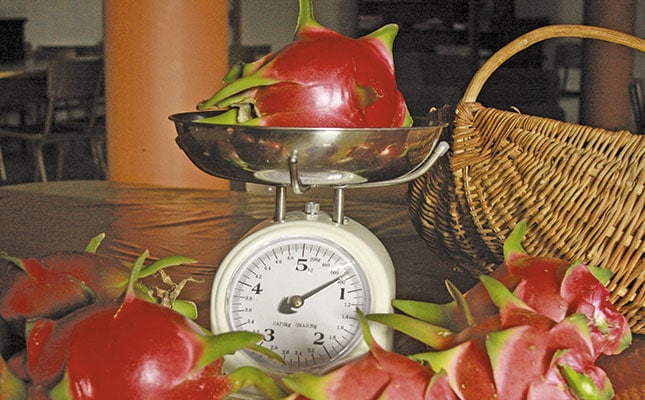 Kwasizabantu Mission in Kranzkop in KwaZulu-Natal has earned a reputation for being a self-sufficient centre of German excellence. Here, missionaries under the leadership of Rev Erlo Stegen produce all manner of sustenance for their community and for commercial sale, from baked goods, pasta, honey and jams, to berries, avocadoes and peppers, beef, milk and dairy products, fruit juice and dragon fruit.
READ: 'Goliath' of the fynbos industry
Two years ago, the Christian mission turned its attention to its 23ha farm in Claridge outside Pietermaritzburg. Under the management of Dr Peet Botha, a missionary with an agricultural background, the bluegum plantation was removed. In its place, an array of exotic fruit has been planted, including 500 star fruit trees, 500 persimmon trees, 750 pomegranate trees and 1 000 blueberry vines.
"Farming sustains the whole missionary effort here. About 36 people on the farm focus on missionary work. The congregation has about 250 to 300 members and the borders of the work stretch up to Mafakhatini towards Underberg, Estcourt and Richmond. Money is needed to facilitate the missionary activities and farming is our way of doing it," says Peet.
Why the dragon fruit
But of all the exotic fruits, the focus of Claridge is on dragon fruit, also known as a strawberry pear or pitaya. It is the fruit of Hylocereus species, a tropical cactus indigenous to the rainforests of Central and South America, with segmented, vine-like branches.
"About two-and-a-half years ago we were given a piece of a dragon fruit plant by the Agricultural Research Council at Nelspruit. That is when I started studying this plant. I learned that Alternafruit in the Cape had imported the plants from Taiwan and I started liaising with them. We formed a joint venture whereby we cultivate the dragon fruit cuttings at Claridge and pay Alternafruit royalties for every plant produced and sold."
The first 3 000 plants were planted in September 2010, followed by 4 000 more in 2011. Currently 3,5ha is under dragon fruit with another 7 000 plants due to be planted on 6ha in September 2012.
"We have also planted dragon fruit at our mission in Tugela Valley and will be expanding there too. We are building up to a total of about 15ha at both farms and about 21 000 plants in total. As far as I know, we will be one of the largest commercial producers in South Africa although other farmers, especially in the Nelspruit area, are also planting commercial quantities."
Globally, dragon fruit is chiefly cultivated in Asia and in parts of Central and South America. Vietnam and Malaysia are dominant commercial growers and exporters, along with Israel and China. The crop is relatively new to the US, with only about 30ha planted in California, and some commercial plantings in Hawaii.
"We decided to go into commercial production of dragon fruit because of the increasing demand for new, exotic fruits. The red fleshed varieties contain lycopene – a natural anti-oxidant known to lower blood pressure, and fight cancer and heart disease. It is rich in fibre and vitamin C and A, has zero fat and is low in calories.
The fruit is eaten fresh and is also used in the processing industry, such as juice companies, which use it as a healthy base for fruit juice. Aside from its health properties, it contains 98% water.
There are three species of Hylocereus and one additional species in the genus Selenicereus, together with their hybrids. The colour of dragon fruit flesh varies, depending on variety, from white to red or deep magenta
. In South Africa, the two common species are Hylocereus undatus which has a vibrant fuchsia skin with white flesh, and Hylocereus polyrhizus with bright pink skin and red flesh.
Not so tough
Although these plants are cacti, they come from areas of high precipitation and humidity, and require more water than cacti normally do – and are less equipped to withstand high temperatures for extended periods. They thrive in temperatures in the region of 21ºC to 29ºC, with high temperatures of 38ºC to 40ºC testing their upper limit. The heat also affects the flowering season.
In the hot climate of the Tugela Valley, the first flowers bloom in February with the first fruit ripening in March, while in Claridge, where it's cooler, the plant first flowers in March and April with fruit ripening in mid-May.
Expected rainfed production for 2013 is about 16t/ ha because the plantation will be in its fifth year and in full production. At the Tugela Valley mission, where the plants are irrigated, they are expecting about 25t/ ha. "We are not irrigating in Claridge because the rainfall is sufficient.
The plant needs about 650mm to 1 200mm water per annum and that is safely within our rainfall projections for this area."
The fruit should be stored at 7ºC to 10ºC and 90% to 98% relative humidity, and has a shelf life of two weeks. The first batch of fruit was sent out to the market this year to generate orders for next year's crop. "For the moment we are going into the fresh market. We deliver to Alternafruit which does the marketing and distribution in the Cape and smaller export markets initially," Peet says.
The cactus is easily grown from healthy green cuttings but the branches of the plant require some form of support. "You have to bind the vines to uprights or wires because in natural circumstances they cling to trees," he says. Peet has opted for two types of support: a single wooden post capped with a metal frame, and vineyard trellis. For the former method, the posts are erected in 2m x 4m rows and a single stem is grown up the post and allowed to branch and hang down over the frame.
"When the branches hang they flower about 12 to 15 months after planting, when grown from a cutting. When grown from seed, it may take up to six years to fruit," he explains. It costs about R70 000/ ha to establish a dragon fruit plantation, of which the support poles account for about R32 000/ha.
"We project that at a yield of 16t/ha, and a selling price of R35/kg, we can gross over R500 000/ha when in full production. As an indication of retail price, the fruit was retailing in March 2012 at Checkers in Pietermaritzburg for R65/kg and at Super Spar in Nelspruit at R85/ kg," he says.
Peet is positive about the dragon fruit project. "With Alternafruit doing the marketing, we are looking at a good future for this fruit in South Africa. Our fruit looks good and tastes good and we believe the market will accept it well. It is different, healthy and somewhat unusual. Furthermore, we believe that we will be able to support and sustain our missionary work through this crop."
Source: www.rovinginsight.org
Contact Dr Peet Botha (farming and nursery) on 076 811 4964 or email [email protected]
Elrita Venter (marketing) on 082 3462577 or email [email protected]
This article was originally published in the 25 May 2012 issue of Farmers Weekly.