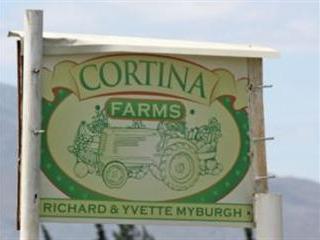 The packhouse on the 52ha apple and pear farm, Cortina, is a hive of activity as apples travel quickly down the line, first to be washed, then sorted and packed according to their quality and size. Richard Myburgh, owner of Cortina Farms in the Vyeboom district, between Villiersdorp and Grabouw, is not to be found behind his desk. But soon his wife Yvette appears and points out Richard, who is behind the steering wheel of one of the forklifts.
"Richard and I like to be involved on the farm. We do everything in the office ourselves and we immerse ourselves in every
aspect of the business, which means that we know what is happening at all times," explains Yvette.
Road to success
To describe Richard and Yvette as examples of successful BEE or transformation in the agricultural sector would be far from correct. The success that they have achieved has absolutely nothing to do with the colour of their skin and all to do with their hard work, passion and determination. Richard and Yvette both grew up in Pniel and Richard got involved in the fruit business by buying fruit from local farmers and then packing and selling it from a rented packhouse in Vyeboom.

Richard, Yvette and their eldest son Ricard, who is studying agricultural economics at Elsenburg Agricultural College.
Over time, the rent became too high and he started looking around for a place of his own. Richard made an offer on Cortina fruit farm and he and his brother William bought it in 2000. "The first five years we worked hard to develop the farm and most of the orchards had to be replanted. Sadly in 2006 William, who had never married, passed away, leaving his shares to our children.
We bought the farm with a bank loan which we were able to pay off in the first six years," says Yvette. "Farming is in my blood," says Richard. "I grew up with my grandparents and I used to help my grandpa on his smallholdings. I always say that I practically grew up on my grandpa's tractor. Since those days I have always wanted my own farm and Yvette and I have made a new start here. Things have turned out well for us due to our hard work."
A well integrated business
Of the fruit produced on the farm, about 40% gets exported, 50% is sold locally and 10% is sent to juicing factories. "We export some of our fruit through Fruitways. On the local market we send fruit to the country's big municipal markets and in some cases also directly to supermarkets," says Richard.
But the fruit produced on the farm represents only a drop in the bucket – about 10% of the fruit that they handle at their packing and cold storage facility. "I am still a fruit seller and we buy in a lot of the fruit that we handle and distribute from here," says Richard. Apart from the farm and the fruit packing business, the Myburghs also run a transport business.
"We have six freightliners and this is a separate business also based on the farm.
Initially we hired trucks to transport the fruit but this did not work out as they arrived at all hours and we decided it would be much better to have our own trucks. "In the time we have been here we have replanted most of the farm with new trees. The trees are still young so production is on the increase."

All the orchards are irrigated via a micro-irrigation system as this enables the Myburghs to control the microclimate in the orchards, especially on very warm days.
Richard says they had to replant old orchards because the trees were no longer very productive. Some orchards were also a mix and match of different varieties, making harvesting difficult. They also wanted to plant newer, better varieties that were in demand. "We planted 34ha of apples, of which about 10,5ha is not yet in full production and 6ha pears, of which 1,5ha is not yet in full production. We are almost done with the replanting and only have to replant one more orchard,
which we will do within the next three years, and then we would have replanted the whole farm."
Richard and Yvette have never received any support from government, but in 2010 they received approximately 1,8ha of fruit trees from the Hortgro tree project, for which they are very grateful.
New technology
Richard says one of the advantages of replanting an entire apple and pear farm in such a relatively short time is that they could use the latest production technologies available. "We were able to plant the new varieties that are sought after in the export market, but we were also able to establish a modern irrigation system using micro-irrigation in all the orchards. The system is controlled electronically using DFM continuous logging probes, a multi-level soil water content and temperature logging device."

A young pear in early summer. The Myburghs begin spraying chemicals as soon as spring starts, which continues into summer.
The moisture probes monitor soil water needs and irrigation scheduling is applied accordingly. He believes it is important to stay abreast of new technology and development in farming. "Once you get behind you stay behind," he cautions. Much of the farming activities are managed by farm manager Otto Lück, but Richard keeps a watchful eye and ensures that he is always up to date with what is happening on the farm.
Maintenance programmes
The Myburghs follow a fertilisation programme that has been worked out by a consultant, based on regular soil and leaf analysis. Their spraying programme for pests and diseases has also been designed by a consultant. A preventative programme is used for diseases and they regularly monitor the orchards to determine when they need to spray for pests.
Richard says one of the biggest threats they face is fruit fly infestations because fruit contaminated with fruit fly cannot be exported.
Their farm participates in the fruit industry programme that implements the internationally accepted Sterile Insect Technique (SIT) in conjunction with a range of co-ordinated practices using an area-wide approach to control fruit fly numbers. (See Box on 'Fruit fly control').
Staff
"We have 12 permanent workers on the farm, 40 permanent workers in the packhouse and we employ about 50 seasonal workers during harvest time. "When we arrived here there was not much hope for these workers or community spirit among them. Since then, our people have come a long way socially," says Yvette.
"We have worked hard at uplifting our workforce and getting people to stop abusing alcohol. This is bearing fruit as many of them have stopped drinking. We have built a community centre and hall and a crèche. "Our employees regularly attend courses, both technical industry skills and life skills development courses. What you put into anything is what you get out and this is also true for our workforce," she adds.
The future
His advice for new farmers is: "Proper planning and hard work helped us make a success of our business. We also believe strongly in being very hands-on. You have to be on the farm, working, watching what your workers are doing. You have to be involved."

He says new farmers, black farmers especially, should support each other and be ready to give advice where they can.
"Farmers can sometimes be so secretive about the methods they use to increase production or get better quality, but I think if new farmers can share experiences and lessons they have learnt, we can all learn from each other's mistakes."
Fruit fly control
Fruit Fly Africa (Pty) Ltd, an industry-owned service body, has been created to plan, co-ordinate and execute area-wide fruit fly control programmes. The programme makes use of the Sterile Insect Technique (SIT) for Mediterranean fruit fly (Medfly) which involves the mass rearing of the fruit flies, the sterilisation of male insects using gamma radiation and the release of sterile male fruit flies into orchards and infested areas.
The sterile males mate with females occurring in the wild and the eggs laid are then infertile. The continuous release of sterile insects at a required release rate ultimately results in the implosion of the insect population to very low levels, or even to extinction. But, SIT is not a stand-alone technique. It is integrated with other appropriate methods, including targeted ground and aerial baiting and the use of M3 'attract and kill' traps in orchards.
An environmentally friendly product, GF-120, is used for the baiting programme and farmers usually apply ground baiting at two- to three-weekly intervals in winter, autumn and early spring. Before and during harvesting, weekly ground baiting applications should be applied until all the fruit on the farm has been harvested. Aerial baiting can be more effective than ground bating since an entire area can be targeted ('blanketed') on the same day, every 10 to 14 days.
Using a fixed winged airplane or helicopter, one aerial baiting application can replace two ground bating applications during the fruiting season.
Contact Richard Myburgh on 082 825 1239 or email [email protected]