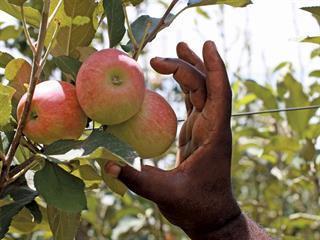 Pitso Sekhoto's connection to agriculture goes back to his father, who speculated in cattle while Pitso was growing up. Now chairperson of the Deciduous Fruit Development Chamber (a Hortgro affiliate), and a busy commercial farmer in his own right, Pitso has made large strides in his farming career.
In 2008, Pitso bought Makolobane, a farm near Senekal in the Free State. At the time, there was a 5ha block of apples under irrigation, a Charolais herd, a small Dohne Merino flock and 700ha planted to sunflower and maize. Since then, the cattle herd has grown to 500 Charolais/Boran crossbreeds and a small Santa Gertrudis herd.
This season, because of the drought, the crop lands lie fallow. In 2011, Pitso's daughter, Nono, joined the farming business. Nono came to farming from the the banking sector, bringing with her some useful experience in financial management.
The father-and-daughter team focus on apple production, specialising in the Royal Gala and Granny Smith varieties. Makolabane's orchards supply local and export markets.
Although Pitso and Nono Sekhoto run a mixed farming operation, they concentrate on apples.
Markets and transport
After Nono joined the business, the Sekhotos focused primarily on apple production, marketing the fruit through the Johannesburg, Pretoria and Springs fresh produce markets. Without on-farm cold storage, however, harvested apples had to be held over, stored outside and transported as soon as possible. Transport was expensive, too. Holding produce would have allowed Pitso to cut costs.
A business contact at retailer Pick n Pay suggested to the Sekhotos that they contact Maluti Fruits, an apple packhouse in the eastern Free State that supplies the retailer. They now have a relationship with Maluti, a company that packs apples for markets at home and abroad. Maluti's marketer, Fruitways, has a number of clients in South Africa and in countries further afield.
Pitso and Nono then took another step forward by building their own cold store on the farm; this has the capacity to hold a truckload of fruit.
Ideal apple climate
Warm days, cold nights and high average annual rainfall makes the eastern Free State's climate ideal for apples. A bonus for Free State producers is that apples in this area can be harvested two weeks earlier than those in the Cape.
"Most of the apples on supermarket shelves are not freshly picked, and some may have been stored for up to a year," says Pitso. "The only time you're guaranteed fresh apples is if they come from this region."
The start-up costs of an apple orchard are about R500 000/ha, although they can go up to R800 000/ ha, Pitso says. These costs include soil analysis, trees, irrigation and nets. It takes about six years before apple orchards become commercially viable. Trees are in the nursery for three years and in the orchard for another three before they yield their first harvest. He stresses that choosing the right apple variant depends entirely on what the market wants.
Labour and production
The Sekhotos have a permanent staff of eight workers but numbers swell to 30 at harvest. Pitso says that the rule of thumb is to employ one permanent worker/ ha. "Farming apples is labour-intensive and can't be mechanised," he explains.
Because apple trees need so much attention, the greatest cost on the farm is labour. Transport comes a close second, following an upward curve relative to the farm's distance from the packhouse or market.
Fertilising, weeding, pruning and thinning are part of the routine orchard programme. Orchards are sprayed year-round.
January to March are harvest months; trees are fertilised from April to May, pruned from June to August and thinned between October and November. In March and April, fallen apples are cleared; these cannot be sold and are usually fed to cattle.
Bees are important pollinators of apple trees and the Sekhotos have an agreement with their beekeepers whereby the latter can keep the honey when the pollination is over.
Establishing an orchard
Successful orchard establishment is highly dependent on soil type, according to Pitso. "Getting advice from specialists is crucial if you are to grow apples in the right environment," he says.
The planting landscape is also important.
"You need to understand the contours," says Nono. "We have frost here; if you plant in a valley it may be too cold. Drainage must be good and air should be able to circulate between the trees. If you plant in a dip, water builds up and the trees get too much. On a slope, water will always run off. Farmers need expert advice for this [type of planning]."
Nono and Pitso agree that a decision made about where to establish an apple orchard should have no emotional component.
"We can see now that the farmer from whom we bought the farm made an emotional decision to plant apples. He planted them despite the fact that the farm is in a very warm part of the Free State," Pitso says.
An apple tree can bear for up to to 20 years, but producers need to start finding replacement trees after 15 years. The lifespan of the tree is to some extent dependent on effective maintenance programmes. According to Nono, the rate of return on apples is high. "Apple producers can make returns of 20% to 24% in good years. But the market isn't constant – there are good years and bad years. Currently, our region averages returns of about 15%," she says.
A sensible choice
Since the Sekhoto's second season on the farm, weather patterns have changed and yield has dropped. Pitso says that as climate change makes more of a mark on agriculture, planting grain becomes too expensive and risky.
"Producers should look to the fruit industry. It offers good yields and the added plus of an export market," he explains.
There are 1 200 trees/ ha with a yield of 25t/ha at Makolobane. The orchard's earlier yield was 40t/ha but warming weather
over the past three years has led to a decline in production. Ideal yields are set at about 60t/ ha. Because of declining offtakes, the Sekhotos have decided that moving to a more suitable climate, in areas closer to Harrismith, Bethlehem or Memel, is the best way to carry on farming apples.
Drought in the orchards
The past three years of drought have taken a toll on the Sekhotos' apple production. This season, temperatures have been extremely high and there is now little chance of a reasonable harvest. High night-time temperatures are particularly bad for apples. "It must be hot in the day and cold at night," Pitso stresses.
Apple trees need cold winters to trigger, and maintain, dormancy, which ensures tree recovery. But with winter temperatures relatively high in 2015, trees started flowering in July.
One consultant said that flowers must be removed to force dormancy. No flowers means no fruit where the flower was removed. This means that much of this year's harvest was in fact lost as far back as July. The leaves on the trees at Makolobane are burnt and shrivelled and some trees have no fruit at all.
REMOHHO: transformation success story
A partial solution to the unfavourable weather that has eroded the productivity and profitability of Pitso's farm may be found in Remohho (Eastern Free State Apple Development). Remohho is a Maluti Fruits project run by a group of eastern Free State apple farmers, the Department of Agriculture, Forestry and Fisheries and the department of Rural Development and Land Reform. The project is coordinated by Pitso, Nono and Hein Punt of Maluti Fruit.
The project's aim is to transform apple production in the area and expand the current 400ha under apples in the Free State to 2 000ha. The first trees will be planted this year and Pitso and Nono will take control of an area of 100ha where the climate favours apples, such as Harrismith, Memel or Reitz.
Remohho has enough sponsored trees to plant 20ha and plans to harvest the first crop in 2019. Trees come from a specialist nursery. "A juicing plant will be part of the project, and plans to make apple concentrate in a deal with Distell are in the pipeline. The planting of the 2 000ha orchard and the juicing plant may create 4 000 to 5 000 jobs," Pitso says.
"It's important in agriculture now to see where the climate is going. We are moving with what is happening," Pitso says.
Maluti Fruits currently uses Fruitways for their marketing and will keep that affiliation with Remohho. Tru-Cape is also due to become part of the project. Although there is local competition between Tru-Cape and Maluti Fruits, the two companies have different export clients.
'Government's approach must change'
"My experience tells me that black farmers will not be developed to be commercial farmers if government is not involved," says Pitso. "Government needs to change the way it operates."
He is against a paternalistic approach by government and says that projects must be developed in partnership with farmers.
"They shouldn't think for us. The agri-parks concept, for example, was developed by government. Farmers didn't come up with this idea."
Farmers are already working on the ground and know what is needed. Pitso says that government should go where farming is happening and find out how they can help develop successful projects.
He acknowledges that the government's new approach of managing farmer development on a district basis is closer to the farmer's own way of thinking.
"Districts can impact on locals and locals can decide on the future of their area. Farmers will also have more control and know what's needed in their area," Pitso says.
Farmers working together
He feels strongly about developing relationships between black and white farmers but says that certain things cannot be forced.
"It's a process, not an event. We need to engage with each other. They must understand me and how I see the future of South Africa, and I must also find out how they think.
"Relationships are critical when bringing communities together. You have to build a strong relationship and trust before you can do business."
Phone Pitso Sekhoto on 083 453 7690 or email [email protected].