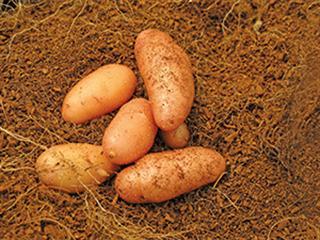 Nine greenhouses in different locations in South Africa have taken on the task of propagating pathogen-free potato mini-tubers. "Mini-tubers, multiplied on seed potato farms and sold as seed to commercial growers, become our country's potato crop some four years down the line," explains Ferdi Breytenbach, general manager of Advanced Potato Propagation (APP).
Founded in 1996, APP is owned by the APP Workers Trust and First Potato Dynamics (Pty) Ltd, also known as FPD.
The company currently employs four permanent workers and about 12 seasonal workers during the planting and harvesting seasons. FPD represents two Dutch companies, Agrico and Meijer BV, which breed and release new potato varieties every year. The FPD-owned APP company trials the new varieties at selected South African sites and evaluates them to determine which will be commercially viable. Once varieties have been selected, the plant material is imported from the Netherlands in sterile tubes and shipped to Pretoria where it is tested for pathogens.
Stringent tests are performed by the Department of Plant and Quality Control and the Agricultural Research Council (ARC). Plant material is quarantined for three months before being released for multiplication. "Tiny plantlets, each about two centimetres high, are then planted in the APP tunnels," says Ferdi.
Setting up greenhouses
The infrastructure for generation zero (G0) tuber production depends on the capacity needed by the producer. Generation zero potatoes are the parent generation potatoes. "In the greenhouses we use plastic crates, stacked on iron tables," says Ferdi. "Sterilised coir is our plant medium of choice. Coir can be re-used after being washed, cleaned and steamed.

Ferdi feels for potatoes in their coir bedding, as part of a checking process.
"Some potato mini-tuber operations use vermiculite, which is not re-usable, or sawdust which can also be re-used after it has been steamed. We can grow different potato varieties at any one time, as needed by our commercial companies at FPD." APP currently grows 11 varieties: Fianna, Markies, Almera, Konsul, Gourmandine, Lady Rosetta, Marimba, Salad Blue, Highland Burgundy Red, Pink Fir Apple, and Asparges.
Production process
Sterile potato plantlets of these varieties are planted at APP in March and September and the potatoes are harvested in January and July. Fertiliser, scientifically formulated to include all the macro- and micro-elements needed, is continuously applied through the irrigation system. "Fertiliser concentrations and ratios are specifically calibrated for each growing stage. More nitrogen is needed in the early growth stages for three to four weeks, and then we reduce the nitrogen level and use more calcium to facilitate subsequent tuber growth.
"Planting and harvesting potato seed is hard work and labour intensive," Ferdi explains. "We prepare a greenhouse for a month, and it takes another month to plant. The coir level is constantly topped up to cover most of the vegetative growth of the potato plants, continuing until the crates are filled to capacity. After planting and coir filling, we have two months when there is less activity inside the greenhouses. Staff members use this time to monitor pests, regulate fertigation and conduct general maintenance tasks in the tunnels."
After harvesting the mini-tubers, the coir bedding is taken out of the planting crates and thoroughly washed to remove nutrients. It is then sterilised by a steaming process. "Coir is an effective growth medium. It is affordable and can be recycled after each harvest," says Ferdi.
Controlled conditions
Ideally, potato growing and propagation needs temperatures between 6°C and 26°C. Up to 30°C can be tolerated, but anything lower or higher is corrected. "Controlled conditions give high yields," says Ferdi. "We plant about 75 plantlets/m2 of coir and harvest an average of four tubers per plant. The tuber count differs from variety to variety and also from season to season." Even in the controlled greenhouse environment, losses due to climatic conditions or human error are possible. "It was incredibly hot and dry this year and a few potatoes in the top layer were scorched by the high temperature."
Next step
From the greenhouses, mini-tubers are sold to farmers in remote locations, who multiply seed for commercial use according to market demand. G0 mini-tubers are very expensive. They are priced according to tuber size and sold on that basis. G1, G2, G3 and G4 seed potatoes are sold per 25kg bag.
Pathogen-free
The Potatoes Certification Service has set protocols which must be followed to obtain disease-free certification. "Samples from APP's crop are sent to Pretoria for disease testing," says Ferdi. "Should they test positive, all the mini-tubers from that greenhouse will be rejected. If the pathogen tests are negative, the tubers will be certified. So far, APP has a proud record."
The most common bacterial disease in potatoes is caused by Erwinia. "It's ubiqitous and manifests under favourable environmental conditions.
When a cultivar is inspected and certified disease-free by the Potato Certification Service, it can be sold to early generation seed potato farmers." Water also has to comply with certification requirements. "We use borehole water, but I add Sporekill to it to eliminate any possible fungal or bacterial build-up in the system. The floor in the greenhouse must always remain dry. A damp floor may compromise the disease-free environment."
Special precautions
Anyone going into the greenhouses has to undergo a prescribed sterilisation procedure before entering. Ferdi has set high standards and his protocols ensure that a sterile environment is maintained.

Salad Blue potatoes have distinctive blue-coloured skin and flesh.
Supplying the market
The primary aim of G0 mini-tuber producers is to produce virus free mini-tubers. Greenhouse registration and regular inspections are required by the Potato Certification Service. Greenhouses need to be approved before propagation can start. The FPD Group focuses on supplying speciality potato varieties to the market. New varieties, such as Markies for French fries and Marimba for table consumption, have been introduced.
Current commercial varieties include Fianna, used for frozen French fries and Lady Rosetta, used for potato crisps and chips. Exotic varieties such as Salad Blue with a blue skin and flesh and Highland Burgundy Red with red skin and flesh, are bred for colour on the plate. Other exotic potato varieties are Asparges and Pink Fir Apple, long oval-shaped potatoes called 'fingerlings' that are good for roasting, boiling and salads.
The Future
APP focuses on producing quality, disease-free mini-tubers for early generation seed growers. The company is strategically important to the FPD Group in meeting market demand for mini-tubers. Going forward, APP sees growth opportunities in propagating and marketing its varieties.
APP Workers' Trust – grown in South Africa
The main business of the FPD Group is trading in seed potatoes. This entails a marketing and an administrative function. APP has empowered its employees to become shareholders in the business. Ferdi presented the idea to workers, who were keen to become shareholders. The permanent workers and Ferdi compiled a business plan for APP and the APP Workers' Trust, under the guidance of the department of agriculture. They submitted the plan and obtained funding from the department for an empowerment deal in 2011. A share of 30% was allocated to the APP Workers' Trust for the four permanent workers to own part of the business. The shift from being an employee to being a co-owner of a business has had a positive influence on staff members.


FPD Potato varieties grown in South Africa
Carisma – A unique low GI potato variety with a creamy, smooth texture and a buttery flavour ideal for boiling, steaming and salads.

Asparges

– 'Fingerling' potatoes with a yellow shiny skin and yellow, waxy flesh suitable for boiling, roasting, baking, frying and for salad.

Fianna

– A versatile variety used for roasting, baking and mashed potato. It's also ideal for French fries and crisping.

Gourmandine

– Waxy with a pale yellow flesh, this potato is the first choice for potato salad and highly rated as a culinary potato. It has won the French Saveur de l' Annee quality award three times – in 2009, 2012 and now in 2013.

Highland Burgundy Red

–

A good general purpose potato for chips, mash or wedges. The burgundy colour of the skin and flesh is retained when cooked.

Lady Rosetta

– Ideal for jacket potatoes, baking and mash, this potato has a red skin and tasty yellow flesh. It is also suitable for crisping.

Markies

– Ideal for fries and wedges with the skin on. It is a favourite chip/home fry variety.

MARIMBA

–

A bulk yielding potato suitable for boiling, roasting and salads.

Salad Blue

–

A medium-starch potato good for various uses, from mash and potato salad to chips and wedges.
For more information visit www.fpd.co.za and www.aboutpotatoes.co.ca