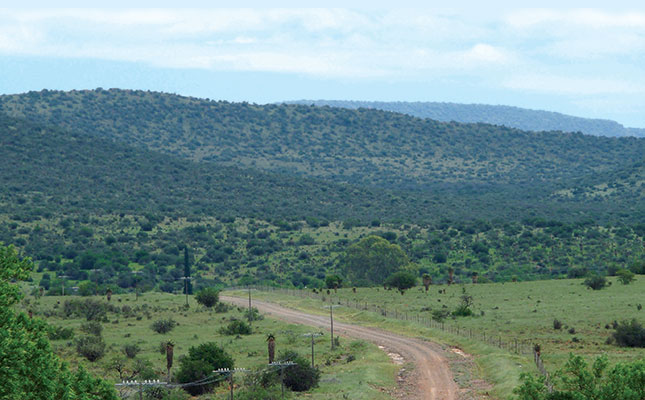 Pretoria-born Lyell van Rensburg and lawyer husband Richardt settled on their farm, Rietvlei, in 1986 after renovating the derelict 1817 Cape Dutch home there.
By 1988, Lyell had 200 blooming rose bushes decorating her garden, a hobby that she soon transformed into a commercial business on the advice of friend and then-president of the International Rose Federation, Esther Geldenhuys.
By 1990, part of the werf on Rietvlei had been put under shade-netting tunnels for a further 2 000 roses sourced from Ludwig's Roses in Pretoria. Today she produces about 250 000 cut roses a year from 10 000 plants under 0,25ha of shade netting.
In 2010, Lyell won the Landbou Weekblad Sanlam Female Entrepreneur of the year award. "I wanted something green on the farm," she says matter-of-factly. "In Pretoria you have beautiful gardens. I wanted that here."
Managing the Karoo's challenges
"The major productive constraint on Rietvlei is its alkaline water, which needs to be treated to keep soil from becoming saline," says Lyell. "The soil must also be well-aerated and well-drained."
From the start the deep red sandy loam soil on Rietvlei – with a natural pH of 7.4 – had to be acidified. This was done by adding large quantities of organic matter such as pine needles, milled pine bark, compost and high-fibre horse manure or sawdust-enriched pig manure.
Gypsum was also added to the soil to combat saline conditions and further enhance soil structure. In addition, superphosphate and bone meal were added to ''feed the soil at root level''.
To further acidify the soil and supply sufficient nitrate, the roses are fertigated with 8:1:1, or ammonium sulphate, while added potassium sulphate addresses potassium deficiency.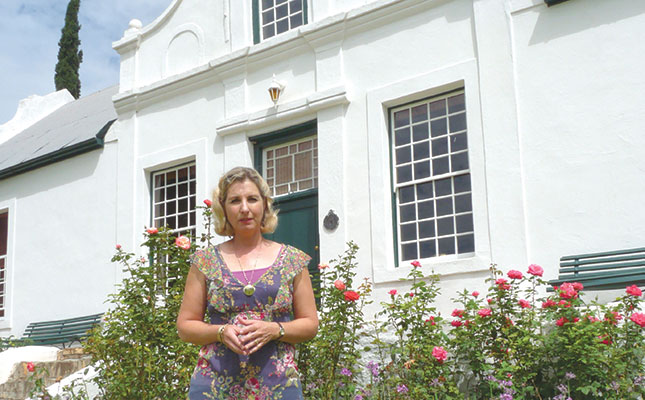 Because the water is alkaline, iron and microelements aren't readily available to the rose plants. This causes chlorosis (yellowing) of the leaves. To counter this, Libfer SP (a soluble iron chelate containing 6% iron) is administered. This is done via Israeli-developed mini sprinklers with vibrating pins which "knock" lime out of the water, keeping the sprinkler nozzles free of lime deposits for effective irrigation.
Roses are planted in 1m-deep trenches to ensure effective drainage, counteracting the accumulation of sodium.
The soil is also flushed of salts by over-watering once a month.
Rietvlei's roses are grown in tunnels covered with 35% black/white Alnet shade netting, which protects them from wind and the dry hot weather conditions, while allowing rain to pass through.
"My tunnels aren't plastic because I want to use every drop of rain in this arid area," Lyell explains. "In other areas too much rain promotes diseases such as black spot, rust and downy mildew. But here I want the rain."
The shade netting also filters out certain UV rays, protecting the rosebuds from being burnt while enhancing a humid and productive growing environment.
As for disease and pests, the dry Karoo climate means Rietvlei's roses have to undergo a preventative spraying regime every five to seven days, which combats mostly powdery mildew, thrips and red spider.
"We also try to spray with more environmentally friendly soft chemicals," she says. "I have birds nesting in my rose plants."
Manipulating the flush for impressive results
"Producing 25 buds a year from each of the 10 000 plants at R2/bud is good business, and with shade netting, tunnels pay for themselves in one season," Lyell says of her annual summer crop of cut roses.
"It's an excellent additional income for the farm."
Of the 14 different cultivars grown, red and pink roses account for 60%, with the balance consisting mostly of cream, white, peach, yellow and orange roses. Dallas, Eliza and Durbanville Flame are the best sellers.
Roses are picked early in the morning according to bud size, then bunched in groups of 10 according to stem length.
The bunches are then placed in buckets of cold water with a teaspoon of bleach added to kill bacteria, and stored in a cold room at roughly 2°C, ready for the market.
Ready for market
Lyell's marketing plan has always been to control the entire value chain by selling most of her roses through her wholesale outlet in Graaff-Reinet, where sales of 2 000/week are not uncommon.
Selling directly to the public ensures top quality at a reasonable price.
It also generates more profit than if she sold to a wholesaler, who would only pay about 80c for a rose that would then be resold for between R5 and R10, she explains.
"People want quality, affordable roses. I do not overcharge, and by selling in volume I enable people to have a big bunch of roses in the house every week. Rietvlei
Roses are always fresh and, if cared for, can last up to three weeks."
A qualified florist, Lyell adds value by creating flower arrangements for special occasions, using extra flowers and foliage from Multiflora and other growers. Her arrangements are especially popular at wedding destinations in the Graaff-Reinet and Nieu Bethesda districts.
She produces fresh roses on demand by manipulating the average six-week flowering flushes of rose plants.
Short-stemmed, small-bud varieties flower every 40 to 45 days, while longer-stemmed, larger-bud varieties flower every 56 to 60 days, depending on the weather.
So, for example, Lyell prunes the roses back to the fourth leaf on the flowering stem on 16 and 17 December to generate a flush in time for Valentine's Day. "I prune and then cross my fingers to hit the jackpot," she says.
Labour problems
Quality, willing labour is scarce in Graaff-Reinet. "Marketing is not the problem, labour is," says Lyell about the obstacles to expanding her labour-intensive enterprise to export levels of at least 1ha.
"Our land goes down to the tarred road and at the bottom end we have a strong water supply. I was keen to establish this huge rose project with plastic tunnels, and to create work for the townspeople. Now I am not so sure, because labour is a problem."
Lyell normally employs about seven workers, with five more in peak production – critical periods during which she cannot be let down.
With Richardt running a law firm in town, she also manages a herd of 70 Afrikaner cattle and a flock of over 2 000 Dorper and other sheep.
But she has been unable to source labour during critical production periods.
"The last three Valentine's Days have been a nightmare," she says. "With government grants, the women just don't want to work. That's the bottom line, and it is going to impact heavily on me.
" I started rose farming partly to create work for women, but I am currently working with a team of men. With women getting a grant for each child, they're all sitting in town doing nothing."
She has strong feelings on the issue, which she recently expressed on Radio Sonder Grense during an investigation into labour and alcoholism problems in the area.
During the programme, Lyell stressed the implications of the child-grant system that enables women to remain unemployed despite job opportunities.
"When there were no grants, women were proud and enthusiastic to work because they earned wages, the same as their husbands," she says.
"Now I offer employment and nobody's interested. But 1ha of roses will create more than 30 jobs."
Contact Lyell van Rensburg on 049 891 8001 or 082 579 1037, or e-mail [email protected]
Issue Date: 8 April 2011