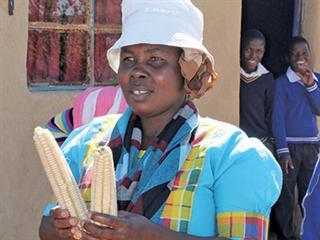 The limited availability of land has not deterred Nto Mdluli from becoming a successful farmer. With only 1ha, she is the winner of the subsistence category in the Grain SA Developing Farmer of the Year competition for 2013. Nto is part of Grain SA's mentorship programme in KwaZulu-Natal and attends monthly classes, where she learns everything from fertiliser requirements to what kind of seed to plant.
"I used to plant what we call old Zulu maize, which is open- pollinated. We kept seed back every year to replant the next year. But the yields weren't good," says Nto. "Last year, after learning about the importance of using quality seed at the Grain SA classes, I decided to save up to buy a bag of Monsanto's Roundup-Ready maize. I also bought a knapsack sprayer to spray the fields with Roundup."
READ MORE: A round of applause for the agri sector!
Nto walks 2km to fetch water from the communal tap in 20l buckets to mix the herbicide. She then sprays the herbicide to clear the land before planting. After two weeks she ropes in her children to start the planting process. "I walk down a row and open the soil with a hoe. One son will then add a handful of fertiliser, the next will drop in the maize seed and another will cover it with soil."
Nto says that with the old variety of maize, the harvest was not big enough to feed her family for a year."After my first
harvest with the Roundup Ready seed, I can fill at least ten 50kg bags with maize, which will feed my family for a year, and then still have another ton which I sell to make a profit. This really opened my eyes to the difference proper farming practices can make."
Nto takes her maize to Winterton to be milled – a trip that is costly and tiring as she has to carry the 50kg maize bags to and from the taxi rank, which is about 3km from her house. However, during a recent farm tour to the area, Monsanto pledged to put up a micro mill at Nto's home to save her and other small farmers in the area the trip to Winterton.
READ MORE: Monsanto donates micro mill
"Subsistence farmers can survive on their own – they just need the training on how to farm efficiently," says Jurie Mentz of Grain SA's mentorship programme.