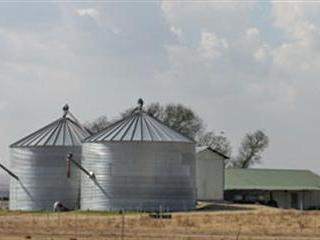 Stoffelsrust farm near Warden in the eastern Free State is a picture of serenity on an autumn morning. Hendri Jansen van Rensburg wastes no time starting up the engine of his Case IH 2388 combine harvester, instantly turning the serene farm into a hive of activity. Hendri stands on the harvester, hand outstretched to help Kerneels (4) into the cabin. Together they sit side-by-side, Kerneels watching intensely as his father manoeuvres the harvester between the rows of maize.
Kerneels later reveals that he has 'skipped school today' to help his father on the farm. "We only play with clay at school, but we have mud on the farm and that's better," he explains. Kerneels's passion for Stoffelsrust is evident and, watching Hendri go about his work, it is clear that the apple does not fall far from the tree.
Winning points
Hendri has a talent for igniting a love of farming as the judges of the Young Farmer of the Year competition noticed. Nant Yzel, member of the adjudication panel said: "We were impressed with how positive Hendri's labour force is. They have a generally good attitude and have clearly been well trained." Hendri's eight permanent workers and their families live on the farm. He aims to employ young workers so that he can train them, but admits that it has become increasingly difficult to find workers.
"They often only last about six months before they give up working because they get government grants anyway. "But I still go to a lot of trouble to train everyone and spend a lot of time with them. In the end it just makes things easier if they are properly trained." Hendri rotates responsibilities between workers so that everyone gets a chance to take on the duties of a manager for a day. "This way there isn't anyone who only dishes out work, but doesn't do any."
Rotating crops
When Hendri steps off the harvester a few hours later he is smiling. "Looks like 7t/ha," he answers, unable to contain his satisfaction. The latter is justified considering he plants non-genetically modified (GM) hybrid maize under rainfed cultivation. The area gets 700mm of rain annually. He gets a premium for non-GM maize as the demand for it is high from the United Nations World Food Programme and food companies in South Africa.
The maize is planted a sufficient distance to neighbouring farms to prevent cross-pollination between Hendri's maize and GM maize on other farms. A silo capacity of 1 000t on the farm means that Hendri can keep the maize GM-free until it is sold. He saves on transport costs, as the buyers collect the maize from the farm. Hendri trials 10ha maize annually, then selects the best-performing cultivar to plant commercially. He explains that non-GM maize does not require more chemicals than GM maize, adding to profitability.
He sprays Karate pesticide for stalk borers and cutworm and Metachlor herbicide to control weeds in the maize lands. Both are applied at planting and again six weeks later with the addition of Atrazine. Hendri plants 450ha maize and 400ha Roundup Ready soya beans, rotating the two lands annually. Soya beans are cultivated on a no-till basis and yield 1,7t/ha, which is higher than the district average of 1,5t/ha.
"No-till has meant that I can start planting soya beans earlier. There is sufficient moisture in the soil and I don't have to wait for rain first." Hendri plans to fully convert to no-till, but until the humus content of the soil has been built up he still rips the soil and adds lime and fertiliser before planting maize. Lime and fertiliser application is based on the results of soil analyses. On-farm silo capacity enables Hendri to retain the harvested soya bean crop until the price is right. He holds back about 30t of soya beans every season as seed for the next crop.
Beef production
Hendri runs 300 breeding cows of mixed breed with 12 Beefmaster bulls. He obtains most of his breeding stock from his father Kerneels, a well-known Beefmaster stud breeder, as well as at the national Beefmaster auctions. "Selection and good genetics are keys to producing a quality carcass," he explains. "It is important to arrange finance before going to an auction.
I can't let an opportunity pass me by. If I know it is going to be a good auction, I speak to my bank manager beforehand for credit, should I need it." Hendri prefers Beefmasters as they wean heavy calves that he sells to feedlots in the area. The calving season is timed with the soya bean harvest in early May so that the cows can graze on the soya stover. When the cattle have grazed the soya stover they are moved to the recently harvested maize lands to graze.
"Soya stover has a high nutritional value, enhancing the cows' milk production so the calves grow up strong. This in turn means that I can breed the heifers sooner and market the others a month earlier for a better price." By August most of the stover has been grazed and the cattle are put into a 220ha Eragrostis curvula pasture to carry them through the cold Free State winter.
Determination
Judges of the competition were impressed that Hendri had achieved so much success on land that was not inherited, but rather bought and financed through careful negotiations with the bank. "I started small 14 years ago by leasing land. Whenever I had a bit of spare cash I bought decent implements," he recalls. But he is quick to point out that a positive attitude has made all the difference. "I avoid any negativity. If I remain positive then it is easy to spot a good business opportunity."
Hendri and his wife Rona have already discussed succession planning on the farm. "If the children (Kerneels (4), Francis (2) and Hendrik (2 months) don't want to farm, we will sell Stoffelsrust when the time comes. We won't force them into it, because if their hearts are not in it, then it will be a disaster." Although it is still early days, Kerneels's heart already seems to be in farming. This is evident by the way he walks up to each farmer at a farmers' union meeting and gives them a handshake, without being prompted to do so by his father. Farming must run in the Jansen van Rensburgs' blood.
Contact Hendri Jansen van Rensburg on [email protected]