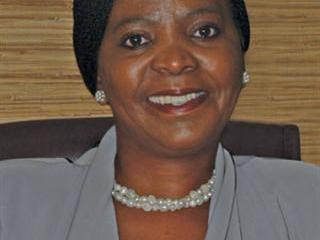 You've just released the Gauteng Plan on Labour Intensity in Agriculture to help create and save jobs within the sector. What are the reasons for job losses in agriculture in the province?
There was job shedding in the past, and we have to conduct a scientific study to tell us why. However, recent statistics by Statistics SA indicate that in the past year there were job losses in other sectors but not in agriculture. The statistics showed that jobs in agriculture in the past year increased by over 70 000 nationally. Gauteng and the Western Cape have the highest numbers.
How many jobs does the department aim to create through the implementation of this plan?
We had a target of 1 880 jobs. However, we exceeded that in the 2011/2012 financial year, reaching 1 925. The department is also indirectly involved in job creation in other sectors. For example, when we do infrastructure development, we help our service providers to create jobs. This means that there could be more jobs that the department helped to create.
What is your view on perceived stringent labour laws? Role players in the agricultural sector, including farmers, agricultural economists and bankers, say labour laws are inflexible as they don't allow for easy hiring and firing, and deter job creation, especially for unemployed youth.
This is what the farmers are saying, and it is very important for us to listen. But we need farmers to specify which laws they consider stringent. There are the Basic Conditions of Employment Act and the Labour Relations Act. The first looks at things such as the number of hours an employee works in a day, and issues concerning leave. We have these laws to ensure that there is fair labour practice on the farm, both for the employer and employee.
The Labour Relations Act looks at ensuring that fair labour is practised. For example, if one needs to fire, there must be procedures followed to do so. However, I would like to point out that in Gauteng, the majority of the farmers we interviewed listed things such as poor infrastructure and high electricity tariffs as their major challenges. Labour laws are at the very bottom of the list.
A year or two ago, the department launched the maize triangle project. Please explain what this is about and what you aim to achieve through it.
In 2009/2010 the Premier, Ms Nomvula Mokonyane, announced that Gauteng was going to revitalise the maize triangle project which had existed some years before. This project at one stage included Gauteng, North West and Free State, but collapsed when the new government took over. The reason for this is that in Gauteng, agriculture was at the bottom of the priority list – people wanted houses, jobs and so forth.
But we have now re-launched the project in the province, covering three regions: Sedibeng, Metsweding and West Rand. The main reason for the project is to increase maize production in Gauteng by providing support for emerging farmers and building capacity among them. This should help to ensure food security in the province and create decent jobs. Maize is the staple food of our people and is also the main ingredient for animal feed.
Has the plan delivered any results yet, and if so, with what results?
We've achieved some of our goals, but there is still a lot of work to be done. For example, when the project began in 2009/2010, we provided implements, such as tractors, ploughs and planters, and also other inputs such as diesel, fertiliser and pesticides. At the end of the season, farmers told us that through the help of the department they were realising profits for the first time in years.
Through the intervention of government, this project increased production from year to year. But we are also saying that farmers' involvement should not end only at primary production. Because of the project's results, we are encouraging farmers to look at agro-processing to increase the value of their products. But the department has also managed to work with other departments such as the Department of Roads and Public Transport, which is upgrading roads in the maize triangle. It's also working on a transport plan for the maize triangle.
What progress has been made on establishing agro-processing businesses in Gauteng?
We've been working with farmers to get them involved in agro-processing, and there are now two maize milling plants, one in Pretoria and the other in Sedibeng. The Tshwane milling plant belongs to a youth co-operative that is producing pig feed and exporting it to Zimbabwe. The co-operative is also exploring the possibility of exporting feed to Mozambique.
In 2010, the Department of Agriculture, Forestry and Fisheries (DAFF)announced a programme to help emerging farmers mechanise. Is this programme improving production for Gauteng farmers?
The department started off with about 12 tractors that we made available to farmers in the maize triangle, and the results have been good. This financial year we were allocated 72 tractors by DAFF. We think we still need to do more in terms of providing the right equipment to the farmers.
What are your thoughts about the e-toll and its effect on agriculture?
Farmers are often on the road transporting goods to and from their farms and they have come to us with concerns on how this will affect them. They've raised valid points and it is my job to listen and try my best to address them. This is why we raised these concerns with the executive council, which helped contribute to the reduction of the proposed tariff.
Does your department meet regularly with organised agriculture?
Yes, we do. I don't think the department can do anything without involving both farmers and farm workers. We developed a strategy in 2009/2010 on how to engage with farmers and decided to meet quarterly after MEC and NEC meetings. We discuss issues of concern and find ways of addressing them. And before we draw up any policy, we engage with organised agriculture on this platform. Apart from the quarterly meetings, we also have an annual summit.
Are Gauteng youth interested in the sector? And are there any successes among the department's efforts that could lure them there?
Many young people are involved in agriculture. One example is a group of young poultry producers in Tshwane who've formed a co-operative. We are assisting them to build an abattoir. We also have another group, the Bambanani co-operative in the West Rand, who were farm workers but through the equity scheme acquired a 50% stake in the farm and are doing very well. So, young people are involved. However, many are interested in secondary and tertiary production rather than primary production.
Recently, your department merged with the Department of Health and Social Development. Why?
This is not a merger. These are two departments each with its own management and budget, but under one MEC. The Department of Health and Social development was separated so that special attention could be given to the health department due to its many challenges, such as the death of babies in public hospitals and the non-payment of service providers.
My department was found to be a suitable department to work with the department of social development. Although they are separate, they converge in that social development is responsible for helping to take people out of poverty – and one way of doing that is to work with the Department of Agriculture and Rural Development through the agricultural programmes.
Contact Shuenyane Tsepiso on 071 608 4112.