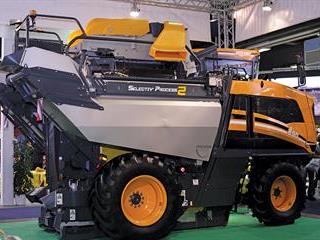 Agricultural mechanisation is an ongoing phenomenon worldwide. Farmers from Europe to America and Australia have long looked for ways to reduce labour and improve efficiency. Now, with rising labour costs and strikes, the trend had taken root in South Africa, according to Anton Swanepoel, sales director of VB Agri, who spoke to Farmer's Weekly at the recent EIMA International expo in Bologna, Italy.
However, SA farmers still had some way to go to catch up with their counterparts overseas, he stressed. "In Europe, there's a shortage of workers, so farming families have to do everything themselves. Equipment, in effect, is much more specialised than that used in South Africa, and those farmers will only use one or two machines where we in South Africa use three or four tractors."
This was especially evident when it came to spraying equipment. "In the past, most South Africans used a 1 000l spray tank to spray their orchards or vineyards. Today, however, more are opting for a two-row or three- row sprayer," he said.
A traditional one-row sprayer is priced at about R100 000, while a two-row sprayer costs about R300 000 and a three-row sprayer about R400 000. With multi-row sprayers, fewer tractors and workers are needed, saving on wear and tear as well as fuel costs. Swanepoel estimated that a farmer using these larger sprayers would break even in two or three years.
He added that cost was the biggest limiting factor when it came to buying new machinery. "Labour is still relatively cheap in comparison with other countries, and the wine industry is in a cost-squeeze. Farmers in general opt for cheaper, simpler mechanisation." Here are some of the mechanisation trends showcased at EIMA International.
Improvements
Farm implements are becoming ever more sophisticated, so that some procedures formerly carried out by hand can now be done mechanically. One of these is weeding in rows. Swanepoel explained the operation of the weeder brought out by Faza, the Italian agricultural machinery manufacturer.
"The basic models consist of weeding blades with a sensor that prevents the blades from harming trees or vines. As soon as the sensor touches a hard object, the blades move out of the way," he said.
The weeder can be attached to almost any other implement, from a mulcher to a grubber. The depth at which the weeder works can also be adjusted. The only drawback is that it cannot be used on young weeds.
Because younger vines and trees are very fragile, the weeder should not be used on them until they are at least three years old to avoid damage.
Pruners
While pruning implements are more widely used in South Africa than before, many farmers still opt for mechanical pruning shears because of the high cost of the implements. A self-propelled machine is priced from about R2 million while a towable model starts at about R800 000. Some types of pruning require greater accuracy than is currently possible with a machine, so physical pruning is here to stay, at least for now.
Electronic or pneumatic pruning shears are the answer in this case, as they speed up the physical pruning process.
Swanepoel said that he preferred electronic to pneumatic pruners. With the latter, the pace of the slowest pruner determines the speed of the group, as all the workers in the group use the same compressor. With electric pruners, each worker has a battery pack and can therefore work at his or her own pace. Danie Degenaar of Southtrade, a South African company that sells both pneumatic and electronic pruning shears, told Farmer's Weekly that the choice depended on the farmer's needs.
"A compressor can also be used for other functions on the farm, such as pumping or lobbing and chainsaws. Fuel cost is
also not that high – it works out to about 2l to 3l of diesel per day. So far, we've found that most farmers who buy pneumatic pruners buy more of them later."
An electric pruning shear costs between R20 000 and R25 000, compared with a pneumatic pruning kit with six pruning shears and a compressor, which is priced from about R55 000. According to Degenaar, it usually takes at least a year for a worker to become proficient in the use of a pruner. Electric shears require only slight pressure compared with the opening and closing motion needed for ordinary pruning shears.
Better for the environment
As a result of increased pressure from the EU, machinery is becoming more environmentally and user-friendly. Italian agricultural machinery manufacturer Nobili introduced its new Antis sprayer range at the expo. The sprayers have fan units with front suction. This is especially useful for tractors with open cabs, as it prevents drift from blowing over the driver, according to Stefania Astratti, Nobili export representative. The fans also reduce leaf suction problems.
Another innovation from Nobili is its pneumatic mist blower, the Ventis, which disperses chemicals more uniformly. The Nobili turbine used in the Ventis can reach airflow speeds of between 120m/s and 180m/ ss. This micronises the liquid into very fine droplets using the Venturi effect, the phenomenon whereby constriction of a fluid decreases pressure and increases velocity. These fine droplets provide better crop coverage than traditional low-volume machines.
Recycling chemical drift
A variety of sprayers that recycle chemical drift were also on show. Filippo Lavelli, general manager of Italian exhibitor Maschio Gaspardo, claims that the company's Unigreen mist-blowers used up to 50% less chemicals than a traditional atomiser, because the spray-drift was recycled. A farmer could therefore spray significantly more rows per tank than with a traditional atomiser. Lavelli estimated that the savings made on chemical would result in the sprayer paying for itself in two to three years.
Swanepoel pointed out, however, that this equipment was very expensive and therefore not economically viable for most farmers in South Africa. The recycling sprayers are available in two-row or four-row models, with the two-row option costing approximately €50 000 (R688 000).
All-in-one solutions
Various companies also offer all-in-one machines that consists of a basic unit with various add-ons that can perform different functions. This allows it to be used for chemical application, pruning, thinning and weed control. However, these machines, whether self-propelled or trailer-towed, are expensive. According to Moni Sandro of French specialised agriculture group, Pellenc, the company's harvesters range from €100 000 (R1,4 million) to €200 000 (R2,7 million).
A basic multi-functional three-row machine costs about €80 000 (R1,1 million). The winter trimmer costs about €60 000 (R800 000), the green trimmer approximately €12 000 (R165 000), and the weeding application about €25 000 (R300 000). Although these machines are designed for multiple rows, harvesting tends to be carried out in one row only to simplify operation. Due to the size of the harvester, more than 8m is needed to turn it around the headland to harvest more than one row at a time.
Despite the advances in technology, electronics and performance over the years, one aspect of vineyard and orchard machinery remains unchanged: they are still powered by internal combustion engines, according to Sandro. "Pellenc tried to manufacture an electric greener a few years ago, but it didn't work. The engine burnt out. So I don't think they will come up with a viable alternative very soon," he said.
Phone Anton Swanepoel on 082 852 1364 or email [email protected], or phone Danie Degenaar on 082 214 0883 or email [email protected].