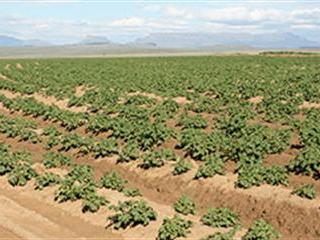 "It's all about planning. Whether you're organising farming duties with your sons or managing crop rotation, you have to think long-term." Kiewiet Ferreira speaks from the heart; he has had considerable experience – and success – in both these aspects. He and two of his sons, Theo and Neilus, run the family farm together, and have found that good organisation, communication and patience are all critical to success.
Kiewiet bought Grootdraai near Harrismith in 1984 and has grown the business to accommodate his sons Theo, Neilus and Johan. The latter will join the enterprise after his studies, and Theo and Neilus are each responsible for his own duties on the farm.
"It's important to allow each son to be involved in the type of farming he's passionate about. You get better results – and it prevents conflict!" explains Kiewiet. Theo takes care of the sugar beans, maize, wheat and potatoes, while Neilus runs the family's Bonsmara stud and a commercial beef herd, as well as looking after the 25ha apple orchard.

Theo, Neilus and Kiewiet Ferreira work efficiently together by separating their duties and planning carefully.
"Sharing equipment must be managed carefully," says Theo. "We try to keep things professional, and family issues out of the business. And we make decisions quickly."
Rotational: Key to success
The Ferreiras practise extensive crop rotation, and the benefits have been significant. This year, they will plant 550ha sugar beans, 500ha wheat, 2 200ha maize (of which 135ha is irrigated) and 300ha potatoes. Average annual rainfall is 700mm, so most of the lands are rainfed. Theo explains that with a variety of soil types in the same land, optimising its use is difficult. "We do soil sampling and analysis on a grid pattern every year between crops and apply inputs accordingly. And we conduct precision analysis every three years," he says.
Gaseous ammonia (NH3) from Omnia is applied to all lands during the primary tillage stage before planting. "This is so effective that it eliminates post-planting nitrogen (N) application. Ammonia is one of the nitrogen sources that leaches the least," explains Theo.
He plants Dekalb yellow (DKC73-70B) and white (DKC78- 17B) maize on rainfed lands and Pannar 3Q-740BR on lands under irrigation. While Monsanto's Dekalb cultivars grow well on the farm and produce a good stable yield, the Pannar is an ultra-short grower that is best under irrigation. Maize is planted in October.
Lime is added before planting – according to the results of the soil analysis – and chisel-ploughed into the soil, followed by 80kg/ ha of NH3. Depending on soil analysis, liquid fertiliser – 40kg/ ha N with 25kg/ ha phosphorus (P) and 12kg/ ha potassium (K) – may be applied at planting. The maize is harvested in July and averages about 6t/ha. It is transported to Afgri's silos at Eeram from where it is marketed.
Potatoes
If potatoes are to replace the maize, Theo first puts cattle on the lands to eat the stover, then rests the soil for a year to build up moisture. After this, he sprays two applications of Roundup to control weeds over the following four months. In January, he disc-ploughs the lands and in February applies lime where necessary, before chisel-ploughing and applying Roundup once more.

A total of 130 employees work in Grootdraai's on-farm potato packhouse.
In June, NH3 is applied according to the soil analysis – usually at about 80kg/ha. During the potato planting, an additional 60kg/ha of N is applied, along with 45kg/ha P and 90kg/ha K. Theo plants the lands diagonally across the contour lines to facilitate water run-off and prevent waterlogging. Between September and November, he plants Mondial potatoes, spraying them every two weeks thereafter for fungi, early and late rust, and potato moth. He alternates pest control products to prevent build-up to resistance.
Potatoes are harvested between February and June, using two mechanical potato lifters. Seventy seasonal workers are employed to pick up the potatoes. The Ferreiras' eventual aim is to mechanise most of the harvesting process. The potato yield is 60t/ha under irrigation and 35t/ ha on rainfed lands. "We supply the market with potatoes from Monday to Thursday but not on Friday as there is traditionally a weekly oversupply by then and the price is far lower," says Theo.
The farm has its own potato packhouse and 130 people are employed seasonally to wash and pack 14 500 bags a day of 10kg each. Half of the farm's potatoes are despatched to fresh produce markets around the country and the rest are marketed directly to retailers.
Beans
Sugar beans are planted in November and December. Theo rotates this crop with maize as it releases nitrogen into the soil and thereby increases the maize yield of the maize. In addition, the market price of beans is favourable. The lands are disc- and chisel-ploughed and then planted. The crop is liquid-fertilised at planting with 45kg/ ha N, plus 15kg/ ha P and 8kg/ ha K.
Theo soon learnt that picking beans by hand was awkward and also led to significant theft. Mechanisation solved both these problems, and reduced the labour force required from 150 to 50. The yield averages 1,8t/ha, and the crop is harvested between March and May and marketed through Beanex.
Wheat
In July, after resting the maize lands for a year to build up moisture in the soil, Theo plants these lands to wheat. He then uses Roundup for weed control and disc-ploughs the lands once. In February and March, the lands are chisel-ploughed and 40kg/ha NH3 is applied. A combination of 20kg/ ha N and 15kg/ha P is added at planting. The average yield for wheat is 2,5t/ha but this can reach 4t/ha if rainfall is abundant. Theo claims that planting maize after wheat increases the maize yield by at least 1t/ha.
Future
The Ferreiras aim to increase mechanisation and upgrade the skills of the workers accordingly to increase productivity. Theo adds that, with a positive attitude, there is a big future for agriculture in this country. "It doesn't matter what I do, there will always be positive and negative aspects. I just have to deal with them," he concludes.
Contact Theo Ferreira at [email protected]