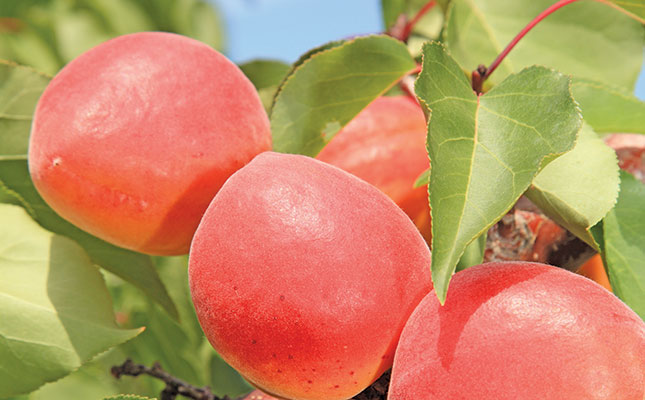 With their relatively small farms, fruit producers Pierre Burger and Sam Sieberhagen realised there was only one way to compete with larger producers: find a niche product.
They not only succeeded in doing so, but became pioneers of a new variety of apricot in South Africa that could revolutionise production of the fruit in this country.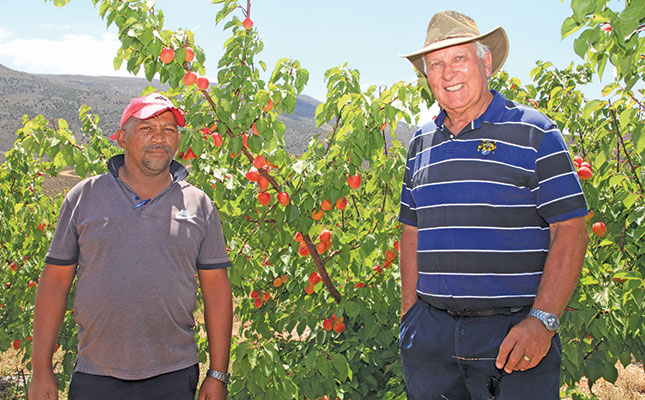 The variety in question is the Carmingo, a range developed and owned by International Plant Selections (IPS) in Spain and France. These bicoloured apricots not only have excellent blush and eating quality, but lengthen the traditional November-December apricot picking season up until mid-March, when the market is relatively empty.
As a result, income from these varieties can be up to three times more than for Bebeco and Imperial, South Africa's principal apricot export varieties.
Burger and Sieberhagen, who farm on Protea and Leeuwenhoek respectively in the Koo Valley near Montagu in the Western Cape, have found that the Carmingo varieties suit them well due to their high chill requirement of 800 Infruitec chill units.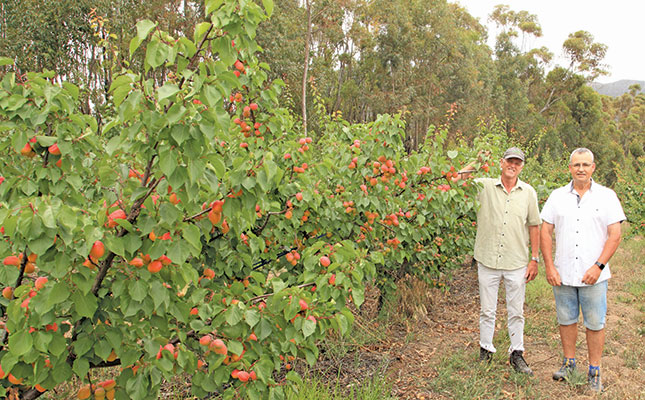 The valley's dry, cool weather makes it an ideal apricot production area, as its minimum temperature seldom rises above 12°C, even in summer. This fosters the good colouration and unique red cheeks of the Carmingo varieties, which help ensure they remain in high demand.
Niche product
Burger planted the first Carmingo trees in South Africa in 2011. "Up until then, I only had apple, Bebeco apricot and pear orchards, and I struggled to compete with bigger players from the Ceres Valley and Elgin, Grabouw and Villiersdorp.
"I planted 18 trees as a trial, and then another 1 000 in 2012 for which the Stargrow Group needed a site. I only had to pay for these three years later," recalls Burger.
In 2015, he accompanied the IPS operations manager in South Africa, Michael Oosthuizen, on a visit to Carmingo orchards in Spain, and it was this trip that convinced him to further expand his plantings of the Carmingo varieties.
"The Spanish Carmingo orchards were covered with good-sized, well-coloured fruit, opening my eyes to the true production potential of the range," he says.
Today, 4,5ha of his 22ha under fruit production are planted to the Carmingo cultivars Faralia and Farely. The rest is under pear, apple, Bebeco apricot and plum production.
"It makes sense to farm a range of fruit to diversify market risk. Apples, however, are not very lucrative for me, so I'll phase them out."
Sieberhagen bought Leeuwenhoek in 2013, and two years later decided to plant Carmingo apricots after seeing a photograph of Burger's spectacular fruit on the cover of a magazine.
"I knew I was looking at something extraordinary, and became even more convinced after reading that the Carmingo harvest falls outside the traditional picking season," he recalls.
He has 10ha under fruit production, of which 3,5ha are under the Carmingo cultivars Faralia, Farely and Farlis.
"I'm planning on planting another hectare of Carmingo in 2022, but will plant plums this year to diversify production."
Growing pains
Producing these varieties has not been all plain sailing. In the early years, Burger struggled to acquire good-quality plant material, with most of the trees being smaller than the industry standard.
"It took four years instead of three to produce a commercial yield, which was a significant financial setback," recalls Burger.
The problem has since been addressed and farmers are now able to order good-quality trees from Stargrow. He adds, however, that the trees should be ordered up to a year in advance.
Burger also ran into problems because he initially tried to force the trees into a minimal pruning system to reduce labour costs.
"I tried to push fruit production by skipping winter pruning, but this effectively halted tree growth. I now treat Carmingo trees exactly the same as Bebeco, removing water shoots in summer and excessive plant material, which prevents light penetration in winter," he says.
Rootstocks
He regrets grafting the Carmingo trees onto Royal rootstocks, although this has not proved to be a major setback.
"The trees are performing exceptionally well, but I wonder if they wouldn't have done better if they'd been grafted on Mariana rootstocks, which I used for Bebeco," he says.
Sieberhagen's Carmingo varieties are grafted onto apricot seedlings of other cultivars and are thriving under the harsh Karoo-like conditions on his farm.
Oosthuizen explains that farmers in Spain have trialled Carmingo varieties grafted onto 25cm interstems and found a 25% increase in yield. The effectiveness of this practice will be evaluated under South African conditions this coming season by planting out the first trees with interstems.
By the time Sieberhagen ordered his trees, most of the problems with substandard plant material had been addressed. Unfortunately, he then suffered his biggest setback: almost a third of his plantings were eaten by grey rhebok.
"I planted 2 000 trees in 2016, of which 367 were grazed to the ground over a weekend. The orchards were enclosed with ordinary fencing, but we had to enclose them with game-proof fencing after that," he says.
He has managed to avoid other problems by learning what he can from Burger and making use of consultants.
"While our farms are less than 20km apart, my average annual rainfall is around 250mm, while Pierre's is more than 500mm. So I can't duplicate everything he does; I have to adapt to my production conditions."
Production
Sieberhagen and Burger use the same irrigation, fertiliser and pest management programmes as for Bebeco, and the Carmingo cultivars are pruned into an open chalice shape to enhance light penetration, which is critical for optimal fruit colouration and quality. The trees also require a minimum of 4 000m³ water/ha a year.
"Production costs and labour are relatively similar to that of the older apricot cultivars, but establishment costs are significantly higher, working out at about R80/tree, as the plant material is subject to royalties," says Burger.
The fruit may be exported only by licensed exporters, which in South Africa are Icon Fruit, Delecta, Cape5 and Stems.
While the trees can be planted at a higher density, Sieberhagen and Burger plant about 800 Faralia trees/ha.
"My in-row spacing is 2,5m to give the trees enough room to grow tall. The inter-row spacing is 5m to enable tractors to move easily," says Burger.
Sieberhagen planted his Farlis trees at a density of 1 000/ha, spaced at 2,5m in the row and 4m between rows, as these trees have a more upright growth.
These apricots are best suited to the fresh market, and Burger exports about 70% of his harvest.
"Production was low at first, but has since increased to between 25t/ha and 30t/ha. My aim is to push production to 40t/ha, on par with Bebeco. Spanish growers achieve more than 50t/ha on mature orchards," he says.
So far, he hasn't experienced any alternate bearing problems with Carmingo but, equally, he has never had this with Bebeco, probably due to climatic conditions and production management.
Oosthuizen says that farmers who have planted the Carmingo varieties have not yet experienced any cracking of the fruit, even after 20mm of rain shortly before harvest.
Burger has sent some of his fruit to the dry market, but the dried product has an exceptionally dark colour because of the red blush, and this has not found favour with processors.
The fruit is sensitive to higher temperatures, so should be picked early in the morning  and sent to cold storage as soon as possible to maintain shelf life.
"We pick the fruit based on colour, when no more than 15% green background is left," says Burger.
The first harvests were all exported by air, but a large quantity will be transported by sea from this year, as trials have established that Carmingo varieties have the shelf life to cope with the longer storage period.
Email Pierre Burger at [email protected],
Sam Sieberhagen at [email protected], or
Michael Oosthuizen at [email protected].