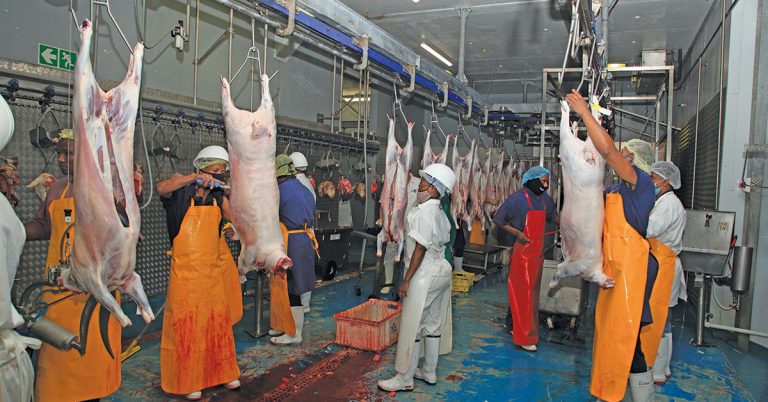 The Tomis Group, based near Hermon in the Western Cape, had humble beginnings. Established in 1993 as Tomis Abattoir by Tommy Moolman and Isabelle Terblanche (later Moolman), it started out as a small sheep abattoir with the capacity to slaughter just five animals a day.
The business grew steadily, however, and in time expanded its services to include a feedlot, a cattle abattoir, and deboning, packing and composting plants.
On the night of 21 November 2017, disaster struck: an electrical fire broke out and wiped out almost the entire operation.
"It was a tremendous blow. The insurance didn't cover all the damages, leaving us at a crossroads: whether or not to continue the business, and if we did carry on, whether to reposition ourselves," recalls managing director Laurie Terblanche. Terblanche, who is Isabelle's son, joined the family business in 1998 after completing his BAccLLB at Stellenbosch University.
The decision was made not only to continue operating, but to develop a new vision for the group based on an evaluation of the changing market.
The family had identified a trend towards centralised production facilities in the retail market, brought on by rising concern over food safety issues, especially after the listeria outbreak of 2017 and 2018, the costs of keeping a butchery, and the shortage of skilled butchers and blockmen.
"Equipping a butchery with processing and packaging machinery costs at least a million rand, making it too expensive to buy for many in-store butcheries. The human factor also makes it difficult for in-store butcheries to produce a uniform safe product, let alone manage food safety throughout the value chain," says Terblanche.
Their vision was therefore to produce meat of uniformly high quality that in-store butcheries would find difficult to match.
Recovery
Getting back on their feet was no easy task, however. Without slaughtering facilities, they were forced to rent an abattoir in Ceres and cut back on production.
"We slaughtered only sheep. We had to do this to show our clients that we were still serious about business," says Terblanche.
Remarkably, the company did not have to lay off a single employee during this period. Staff numbers nevertheless almost halved as workers found more convenient employment.
"We supplied our employees with transport, but having to commute 100km to and from Ceres every day wasn't easy for our workers. It was also in the opposite direction to our main markets, so added significantly to the cost to our operations."
Another challenge was to get retailers and wholesalers to buy into their new vision.
"We told them about our plans to create a centralised distribution point, and they
liked it. But nobody wanted to commit to the idea until they could see it in operation, which meant that we took all the risks and greatly extended ourselves without having a secure market," says Terblanche.
Dramatic improvements, with a setback
The Tomis Group reopened its doors towards the end of 2019, revealing new facilities designed to enhance production efficiencies, improve product flow and comply with the highest food and safety standards. In addition, the abattoir, processing and packaging facilities were separated so that the abattoirs and deboning facility could be halaal-certified.
The timing, though, proved to be less than ideal: the COVID- 19 pandemic and its lockdown restrictions arrived just months later. Fortunately, these proved to be only a temporary setback.
"As an essential services provider, we were able to grow our staff complement from 150 to 380 over the past year. But movement restrictions and protocols made it difficult for us to get ZA accreditation for exports, which meant that we couldn't operate at our full capacity," says Terblanche.
ZA approval finally arrived earlier this year, allowing the business to export meat to countries in Africa, the Middle East and Far East.
Today, the company can slaughter 2 000 sheep and 150 cattle a day, and its feedlot capacity is being doubled to accommodate 18 000 sheep at a time.
Up-to-date equipment
The group has invested in the latest processing technology and modified-atmosphere packaging equipment to add value to its meat products.
"Ordinary packaging might result in a refrigerated product, such as mince, lasting only two days, whereas our modified atmosphere packaging can extend a product's shelf life to six days," explains Terblanche.
They also make use of traceability technology.
"It's not good enough to say you practise food safety measures. You need to be able to trace the source of an outbreak and prove that the problem isn't due to negligence. For this reason, everything from the labels to the cleaning chemicals is barcoded, enabling us to trace the exact origin of every product that goes in and out of our premises."
In addition, the group's pre-packaged products are labelled and priced before leaving the facility, so that retailers have to do nothing more than pack the products on their shelves.
Reducing waste
The Tomis Group focuses on using its resources as efficiently and responsibly as possible throughout the value chain, from feedlot to composting site.
Various interventions have reduced the facilities' energy footprint. They include the installation of a 430kW solar plant that delivers up to 45% of the company's energy consumption, significantly alleviating the impact of load-shedding.
In addition, ammonia refrigeration is used in the cooling facilities.
"It's more expensive, but significantly more energy-efficient in the long run and also the most environmentally friendly form of refrigeration," Terblanche explains.
Water is used in a closed system and recycled to prevent pollution and reduce waste. It is treated up to three times during the process and purified again before being piped to the composting site, where it is used to keep the windrows moist.
Tomis was one of the first abattoirs in South Africa to compost its waste, introducing the process in 2008.
"The Green Scorpions were not impressed, as it wasn't recognised at the time as a solution for the abattoir industry," recalls Terblanche.
"But after a while they realised it was much better than burning or burying the waste. Composting has now become one of the preferred solutions for waste treatment."
Tomis Edel-kompos is sold in bulk, mainly to fruit farmers, but also to gardeners in 20ℓ compost bags.
"Farmers prefer using our compost to chicken manure, because it's already composted. This means it doesn't extract nitrogen from the soil before yielding its soil-building and fertilisation benefits, as would be the case with raw manure or dung. It's also rich in calcium because of the added eggshells, which are associated with tree health and fruit quality."
Animal welfare
The group embraces the animal welfare practices of US-based animal behaviourist Dr Temple Grandin.
"We treat our livestock as humanely as possible, not only because stress affects meat quality, but because we think it's the right thing to do. Sheep in the feedlot, for example, are walked to the abattoir with goats who know the route," says Terblanche.
In accordance with Grandin's approach, there are no sharp corners in the handling facilities; curves are used to change the direction in which the livestock move, mimicking their natural behaviour.
The handling facilities are designed to keep agitation and stress to a minimum. Livestock
are highly influenced by what they see, so chute walls are solid and high enough to prevent animals from becoming distracted by people, moving equipment and changes in light. The flow is also designed to facilitate movement from darker to more brightly illuminated places.
To avoid agitation, the pen floors and races are fitted with non-slip surfaces, and the animals move through a restrainer conveyor that gently cradles them before they are electrically stunned. The process is quick and efficient, with the animal immediately behind the stunned sheep being unaware what has happened in front of it.
No easy solution
Having an intensive feedlot service and abattoir might seem like a relatively straightforward way to make money, but it is far from child's play, explains Terblanche.
"Farmers often ask us for advice on how they can add value to their operation by establishing a feedlot. Many don't like to hear that they should think twice before doing so, because running a feedlot requires considerable skill, major investment and great attention to detail. Otherwise, the livestock will eat into your profits and you may sit with quality and, worse, disease problems.
"On top of this, you need to establish a market for your animals and cope with fluctuating prices that can fall below what you initially paid."
Instead of building a sheep feedlot, farmers should rather go in the opposite direction; they should opt for more lambing seasons by selling non-market-ready lamb at 28kg to 33kg, rather than using their scarce resources to fatten up lambs.
The group runs only a sheep feedlot, as the Western Cape is not optimal for a cattle feedlot because of its cold winters.
"It might be easier to run a cattle feedlot in the north of the country where there's an abundance of cattle. The Western Cape doesn't have as many cattle producers and we'd have to source maize and soya bean feed from other provinces to finish the cattle, which would drive up costs."
The Tomis feedlot accepts sheep of all ages and finishes them for up to 45 days to a weight ranging between 40kg and 48kg. The animals are fitted with radio frequency identification tags on their arrival and electronically weighed each week to separate strong and weak growers. Very poor growers are slaughtered as soon as they are identified.
"You can't throw money at something that doesn't grow," says Terblanche.
Growth and slaughter data are used to reward farmers for good quality.
"We pay a premium for fast growers and for sheep that have been placed on creep feed before they're sent to us to prepare them for the feedlot."
Once the animals arrive at Tomis, they are given roughage for five days to help them adapt to the pre-formulated pellets. The feed is weighed to measure intake and irregularities. The feed supplier is also informed automatically when feed volumes run low.
The auger feeder automatically adds new feed to the troughs to ensure the sheep always have access to enough, and so prevent feed competition.
Running an abattoir is even more challenging than having a feedlot, says Terblanche, especially due to the health and safety regulations introduced over the past few years.
"One of the biggest lessons we've learnt over the years is that there are no short cuts to success, no matter what you do. As Tommy says, and we've experienced this first-hand, he who walks slow, walks far."
Email Laurie Terblanche at [email protected].