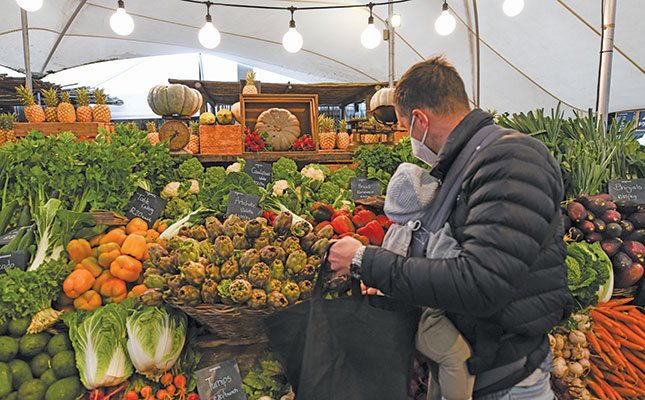 Taking the power back
The Oranjezicht City Farm Market (OZCF Market) grew out of the Oranjezicht City Farm, which was established in 2012 to improve the safety of the Oranjezicht neighbourhood in Cape Town.
Sheryl Ozinsky, one of the founders of the farm and the owner of the market, says the reasoning behind the establishment of the farm was that a community garden on vacant land would bring neighbours together, instead of their becoming increasingly isolated behind ever-higher walls.
The residents of Oranjezicht persuaded the City of Cape Town to allow them to turn a neglected bowling green in the neighbourhood into a community food garden.
"The bowling green was ideal, as it was located on the site that used to be part of the historical Oranjezicht Farm, which belonged to the Van Breda family for seven generations," says Ozinsky.
Residents volunteered their time and resources to develop and maintain the food garden, and in 2013 opened a market where the community could buy some of the produce.
The OZCF Market, as it was called, was a hit from the start, but the farm was unable to produce enough to supply it, so additional fruit and vegetables were sourced from two or three other farms.
Today, the market is located in Granger Bay at the V&A Waterfront, where it provides work for more than 300 people, including 35 small-scale organic farmers from Stellenbosch, Paarl, Philippi, the Cape Flats and Khayelitsha.
The market is part of Participatory Guarantee Systems, a locally focused quality-assurance scheme for organic produce. The market, in effect, certifies supplier farmers so that consumers can have peace of mind that the produce they are purchasing is indeed organic.
Responsible consumption
Ozinsky says the growth of the OZCF Market has been driven by consumers' desire to know more about where their food comes from, who grows it, and how it is grown.
"By choosing to eat what nature is offering, and what's grown or produced locally in a short and transparent supply chain, consumers can support a new approach to food. It's a new relationship with cooking and eating that can be found in consuming responsibly."
She explains that civil society activists are concerned that supermarkets, while they have lowered the cost of food, are increasing the risk of health-related diseases by providing unhealthy, calorie-dense and nutrient-poor food.
"Supermarkets are supplied predominantly by large-scale industrial agriculture, which is ecologically unsustainable; it reduces soil health and biodiversity, contributes to the pollution of our waterways, and makes a significant contribution to climate change."
She adds that the food system is dominated by a few large farms that sell their produce to a few large processing companies, who in turn sell that food to a few large supermarket chains.
"About 20% of the 30 000 commercial farms in South Africa produce about 80% of our food. The big food companies are extremely efficient at delivering cheap food, but they're not efficient at delivering food that's healthy."
In effect, the OZCF Market is an attempt to change the way people eat. "We established it to offer smarter, healthier alternatives to the traditional supermarket model by reinstating small farms as the food source for the community."
This is achieved by forging close relationships with local fruit and vegetable farmers, and providing services and infrastructure for the distribution of fresh, mainly organic, high-quality produce to consumers.
"Our mission is to try to ensure that small farmers regain their economic foothold in the marketplace, and that the knowledge and choice of local food becomes the norm, not the exception," says Ozinsky.
The model
Traders at the market are charged about R500 (excluding VAT) per table or 10% commission on sales, depending on their daily income. The market is open throughout the year on Saturdays and Sundays, as well as Wednesday evenings in summer.
"Producers are welcome to chat to us to see if there's a market opportunity for them. But the idea is to supply the market with food from as close to home as possible. Therefore, it might make more sense for farmers to pull together and start their own markets on a similar model in towns near them," says Ozinsky.
The market closed down for five weeks during the first COVID-19 lockdown, but when the management team saw that items such as Coca-Cola were still being sold, they decided to register as an essential service provider and from there "clawed their way back".
Ozinsky says they have realised at OZCF that the shared language of food is a unifier, resulting in relationships developing between people who would not usually interact with each other.
"We feel joy when learners from across the city and different economic backgrounds visit the farm and learn where their food comes from, and we're humbled when people of all ages work together to sell fresh produce or plant heirloom cabbages [for example]. What's most exciting, however, is that we're growing a community."
Phone Sheryl Ozinsky on 083 628 3426, or email her at [email protected].
Creating a circular economy
The Hermanus Country Market was initiated in 2006 by Liza Copenhagen, who had co-founded the Sedgefield Market and wanted to replicate its success in Hermanus.
The market started out at Fernkloof Nature Reserve with 15 traders, who sold mainly fresh
and value-added produce. Four years later, according to Michael Bayer, the current owner of the market, it was moved to the local Montessori School when Fernkloof became too small to accommodate the growing crowds that attended each Saturday.
A year after that, the venue was moved to the local sports field to allow traders to put up more permanent structures, and today it accommodates 85 to 90 traders every Saturday.
Market trends
The Hermanus Country Market has seen its ups and downs over the past few years.
"Seven years ago, it rained for 14 weekends in a row, leaving the market infrastructure knee-deep in water," recalls Bayer.
"The closure of the market affected 300 people directly, and I myself almost went bust without a venue to sell my roasted coffee. Liza, however, came to our rescue, working harder than anybody I'd ever seen, to clean up and dig ridges to drain the place."
Copenhagen also played a major role in keeping things together during the COVID-19 pandemic. Sadly, however, by January 2021 the situation had become untenable, even for her, and it seemed that the market would have to close down.
Bayer explains that many of the vendors had no income and the market was unable to operate to its full potential during the lockdowns. At the same time, however, debts had to be paid and infrastructural maintenance was required.
Bayer decided to meet the challenge head-on and took over the market. He and his wife Elaine then visited 14 farmers' markets across the Western Cape to identify trends and gaps and get some new ideas.
"During these visits, fresh produce emerged as the heart of the markets. People come to farmers' markets to buy good-quality fresh produce. Everything else, such as the [other] food, coffee and other drinks, are add-ons. Fresh produce, as such, should represent at least a third of the turnover of a farmers' market," he says.
Another revelation was that a market can easily lose its attraction if the wrong products are sold.
"You have to keep up with consumer trends, otherwise it can easily turn into something similar to a church bazaar. The market cannot be turned into a dumping site for things that no one wants."
Farmer participation
While fresh produce is often sold by third parties at other markets, most of the farmers at the Hermanus Country Market still run their own stalls.
"People who visit our market are searching for a deeper connection with their food and therefore cherish the relationship they build with farmers at the market.
"There's also no one who can talk to people more passionately about the origin of their food than the person who produced it," says Bayer. While this might seem like a lot of time away from the farm, Bayer points out that most of their suppliers farm less than 100km away. Moreover, market days take place only once a week, and farmers usually set up their stalls by 6am and are sold out by 11am.
"For many, the market has actually become a nice social outing, and an opportunity to spend some quality time with family and friends."
In addition, many of the suppliers have clinched valuable direct contracts with some of the local restaurants, eateries and shops as a result of spending time at the market.
"These outlets might be smaller than big retailers, but they generally pay better," says Bayer.
The model
Traders are charged R250 per stall, or 10% of their turnover if it exceeds R2 500 for the day. The average daily income ranges from R6 000 to R12 000, and may even double during the December holidays. The market accommodates an average of 2 500 visitors each Saturday.
With the Saturday market being well established, Bayer is considering also starting a Wednesday market from January 2022, where they would like to try out new products such as meat and fish.
To him, the real beauty of a farmers' market is that it creates a circular economy.
"Hermanus is a tourist town. So instead of tourists spending all their money at a big retail group, money is now being spent on small local businesses and kept in the community for longer," he says.
Email Michael Bayer at [email protected].